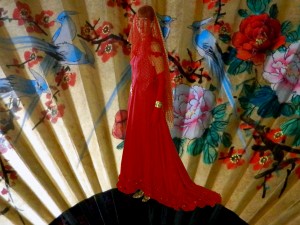 IN 1993, on my birthday April 1, Salvador and I got married after being together for 25 years. The idea came really from Nancy (Mehagian), she knew Marshal Ho who was a Tai-Chi master a.o. things, (we used to go do Tai-Chi in the park where he was teaching on certain days) but he was also a legal minister- and so that is how it happened.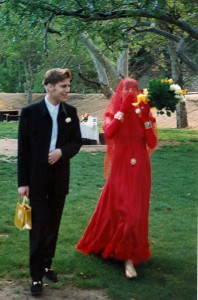 A TAO ceremony in the most beautiful Cathedral "The Park" in spring, in the "City of Angels", on a gorgeous day.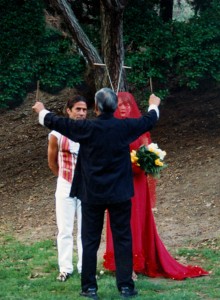 It was a great ceremony and great to have our friends around to share that special time.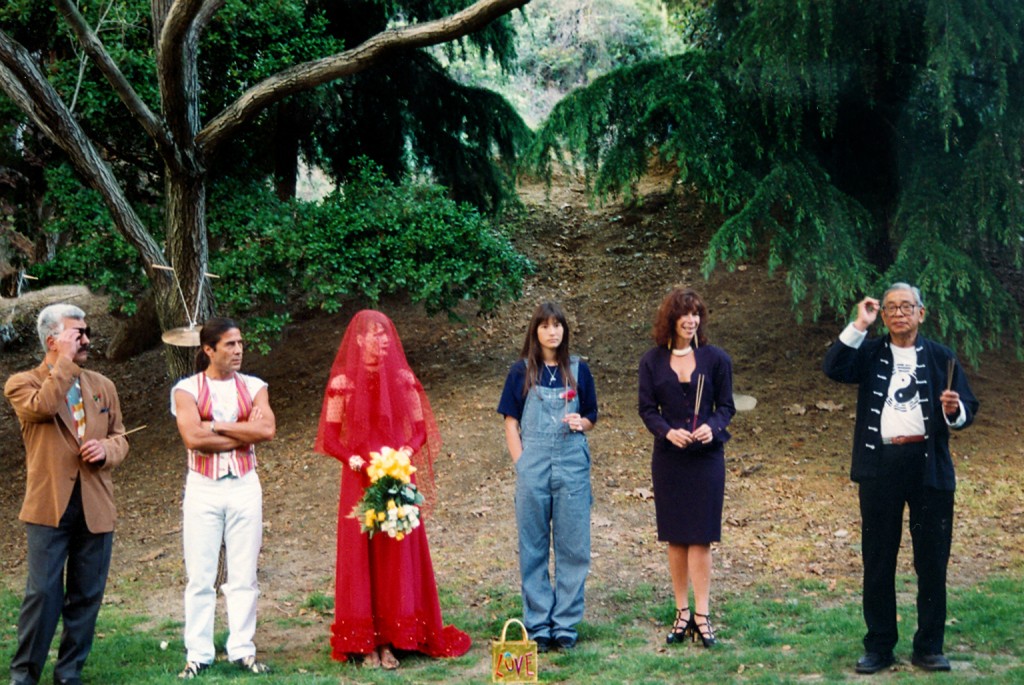 Armen, Salvador, me, Alegria, Nancy and Marshal Ho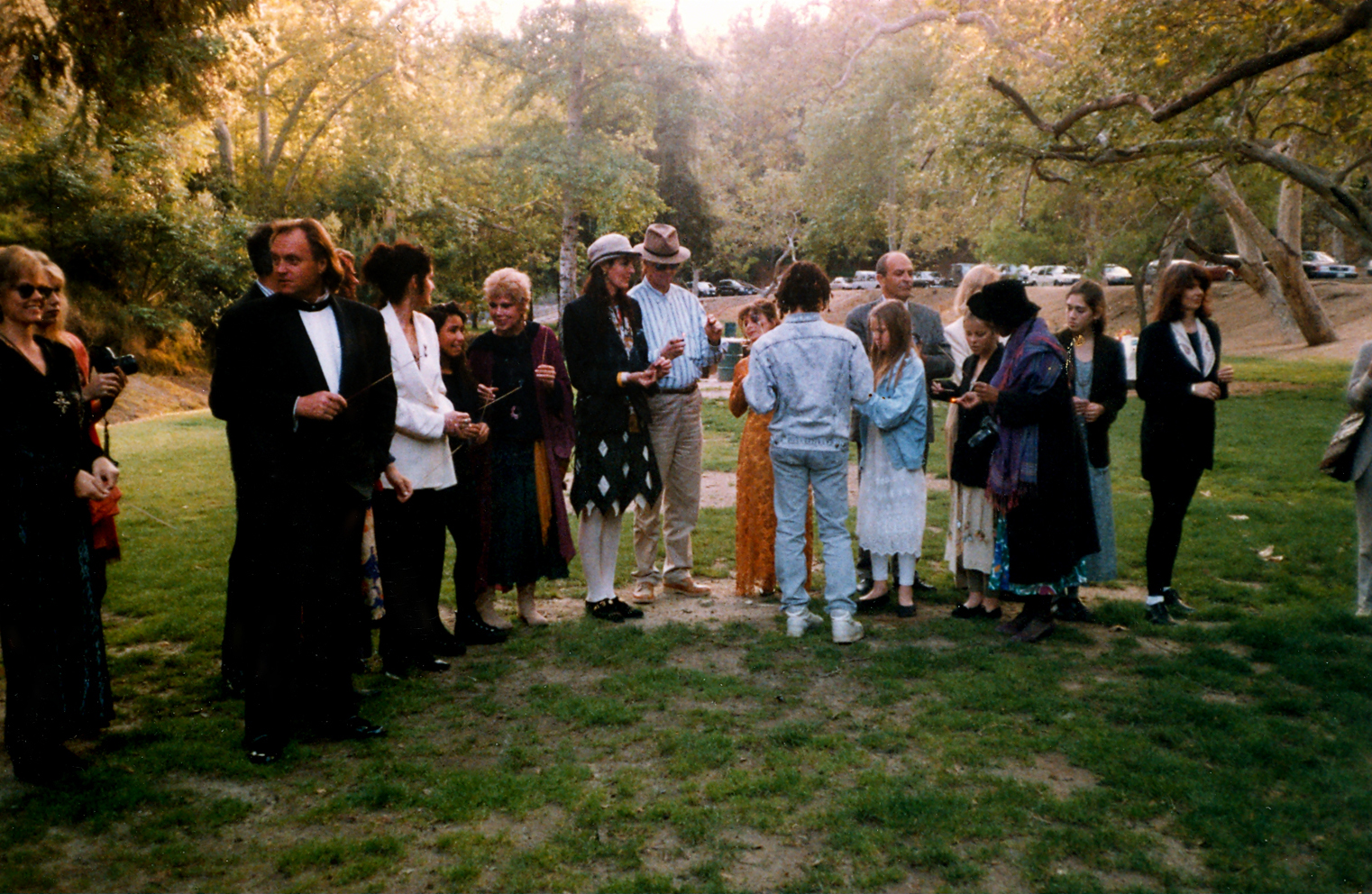 The Incense, part of the ceremony sharing here with friends of which some had come from Amsterdam or Paris and you can see Paula Abdul there and the lovely actress Betsy Palmer ( we were staying in her beautiful property for a while)….
Friends, Coco and Peter Conn, had opened their house to us and all our friends. Their house was near the park so it was easy for the guests to get there and so after the ceremony we all went there to celebrate and have dinner…. And what a dinner it was, not just any dinner but great specialties of "Nancy the amazing cook", assisted by her friend (who was then the cook of Kevin Costner) and the overlooking eye of Nancy's mom, also an incredible cook. They started the day before and they cooked for hours on end but for everyone who was there, it certainly was an unforgettable feast.
The next big thing that really shook us was the Northridge Earthquake of 1994. I had just that evening come back from a trip to Madrid and after celebrating  till around 3 I fell asleep totally exhausted to be woken up a little later by an incredible sound of rumbling and it came more near and louder and yes, wow, the house was shaken like a toy. We usually sleep on a futon on the floor and I had pain in all my bones for weeks because of the shaking, a painting fell on our head and you have no time to think… Alegria had a friend staying with her in her room and they came running pale and shocked into our bedroom…. the sound was really very impressing. The house we were living in was made mostly of glass, a beautiful  60-ties House designed by a known architect and the sound of all that glass windows breaking, plus all the bottles in the kitchen where wine and olive oil were mixing on the floor… it was incredible and yes, I was very scared! A little later when the sun came up we got the courage to go to the street and have a look. Ventura Blvd had lots of people standing in the middle of the road in pajamas and with bags, shop windows were shattered and fires were going on nearby…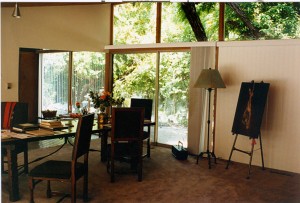 house made of glass..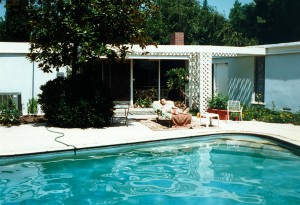 The aftershocks were so big that I saw the water in the pool go up like an enormous wave and fall back in…
After all that excitement came the truth, the house was inspected and declared "dangerous" because she had moved from her foundation and so the owners decided to sell rather then restore. We did find a buyer for them but we could stay still for months.
Salvador went to Canary Islands to prepare an exhibition ( read here all about it) and me with my friends Susan Bottomly and Dr. Patricia Snyder set up a company and we started to sell the crosses I was making. In Spain I had started to make jewelry of plexiglass, love that material, so much to do with it and the colors so beautiful.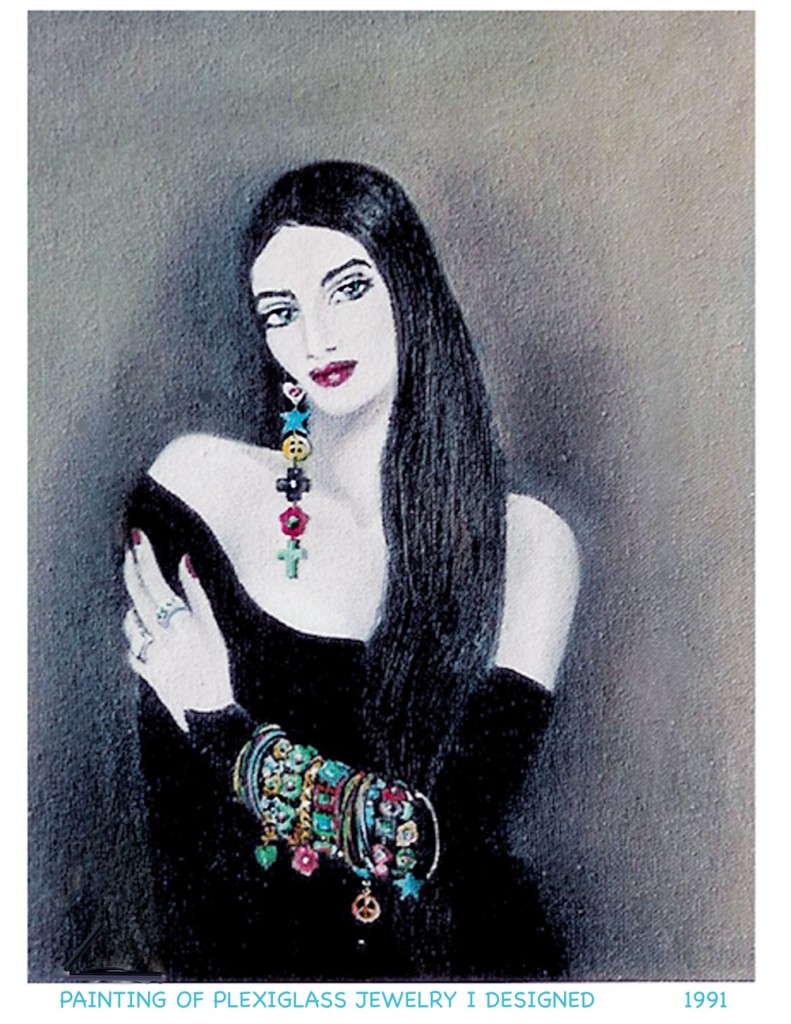 mostly crosses and now I was also making crosses of Fimo clay, stuff you bake in the oven. I was making them, Susan, who knew everybody, was selling and Patricia was doing the marketing and so on.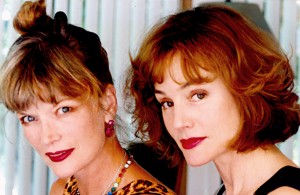 me and Susan          ( pic. salvador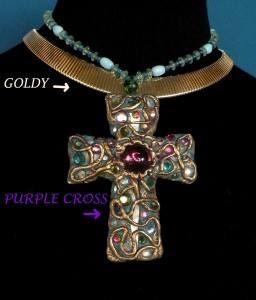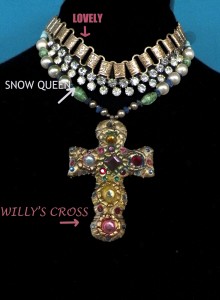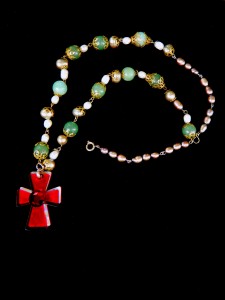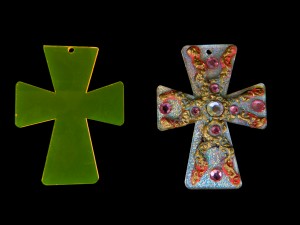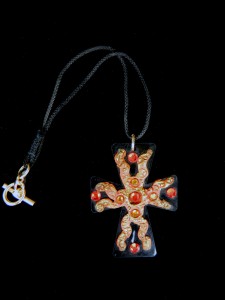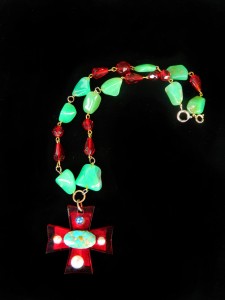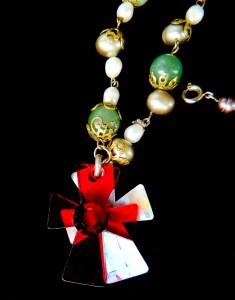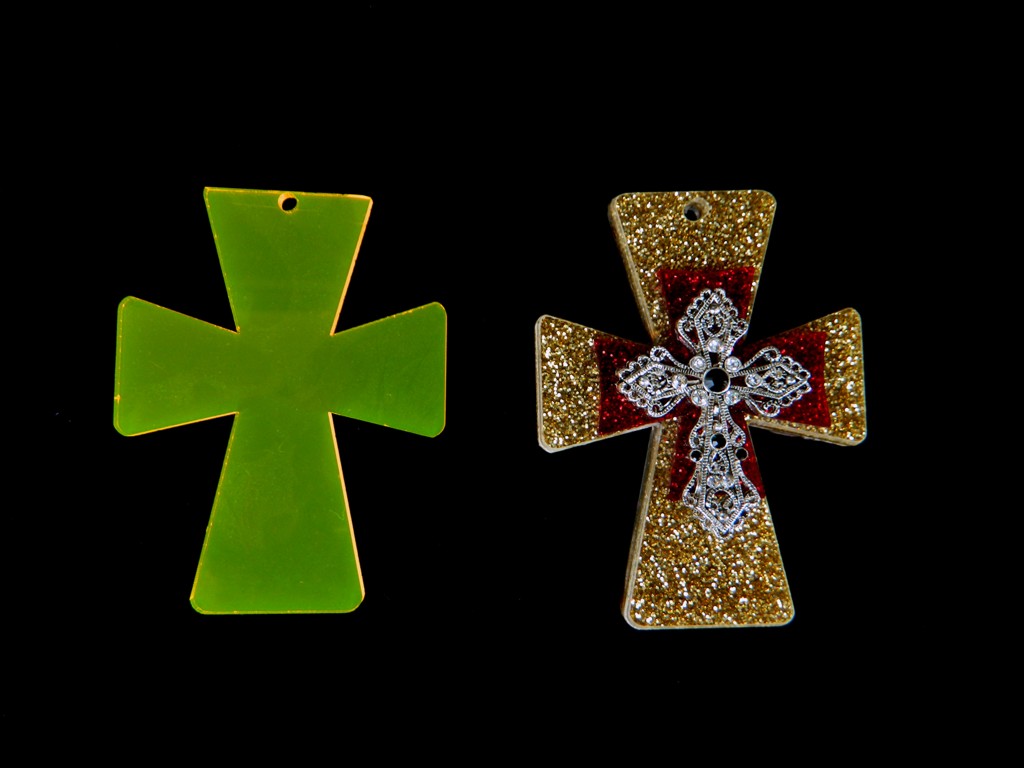 Some of the jewelry went to interesting people and the magazines were ready but we could not do it without investment.. we tried and we worked very hard but it was not to be, too complicated! Susan moved to Hawaii and when Salvador came back from Spain, we moved to downtown LA and I started to design for BCBG…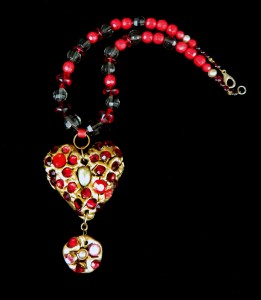 LOVE and PEACE