OK, I already told you I am new at this and the other blog I had before was apparently not the good one, the difference being that in the one I had first you are somehow not in total control but in this one you are! There are more widgets and Plug-ins too ( yes, I am learning)! The thing is that I am so lucky that my "daughter" Roshanda Gilmore has a website where she teaches just that and she knows a lot! As soon as I know how, I will put her link because it is really incredible, she sees my screen and I see hers and together with her guidance you go from one thing to the next. Honestly, after 3 hours I was totally computer exhausted but here I am. Still lots of things to do but you will see the progress!
What I have in mind is to make a sort of "reality" blog, you know, everyday something happens, either in your mind or in your daily life. We, my husband of whom I will talk later and I, live in Oregon, USA, in the country about 16 miles from Portland, in  a district called Sherwood ( like in Robin Hood) not to far from Mount Hood! The best Robin Hood movie is with Errol Flynn, the father of a friend but not for that reason. My husband, Salvador Maron, is an artist painter and we have a son, Alejandro, who is a Fashion designer in Madrid (Spain) and a daughter Alegria who lives in Los Angeles and is an artist and a business woman and a mother of 3 children. Alijah is a girl of 12, Dashaun is a boy of 5, Amara is a girl of 9 months.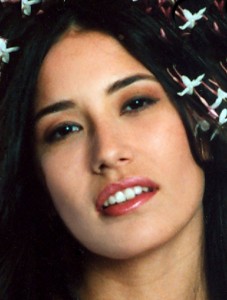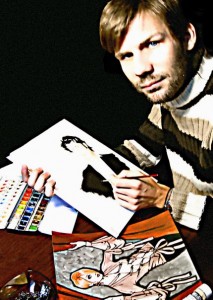 Alegria by Rory Flynn                                                        Alejandro by me
Ok,tomorrow is an other day and there are a lot of  things to do. Right now maybe look at a movie and oh, the other day we saw a really good one, "The Chess Players" directed by Satyajit Ray. The movie is from the seventies but it plays in 19th century India. It is so well done and such a gorgeous costumes and images, very soothing. Ray is an Indian ( from India) director and considered a master, which he is. OK, hopefully tomorrow I will be able to change the background colour and the letters and put some Links, URL's,Plug-in's,Tags, Widgets, Custom-fields, Ping-back or Draft-back ……….., wonderful!