Yes, I love shoes, I adore shoes and must confess I am a shoe freak!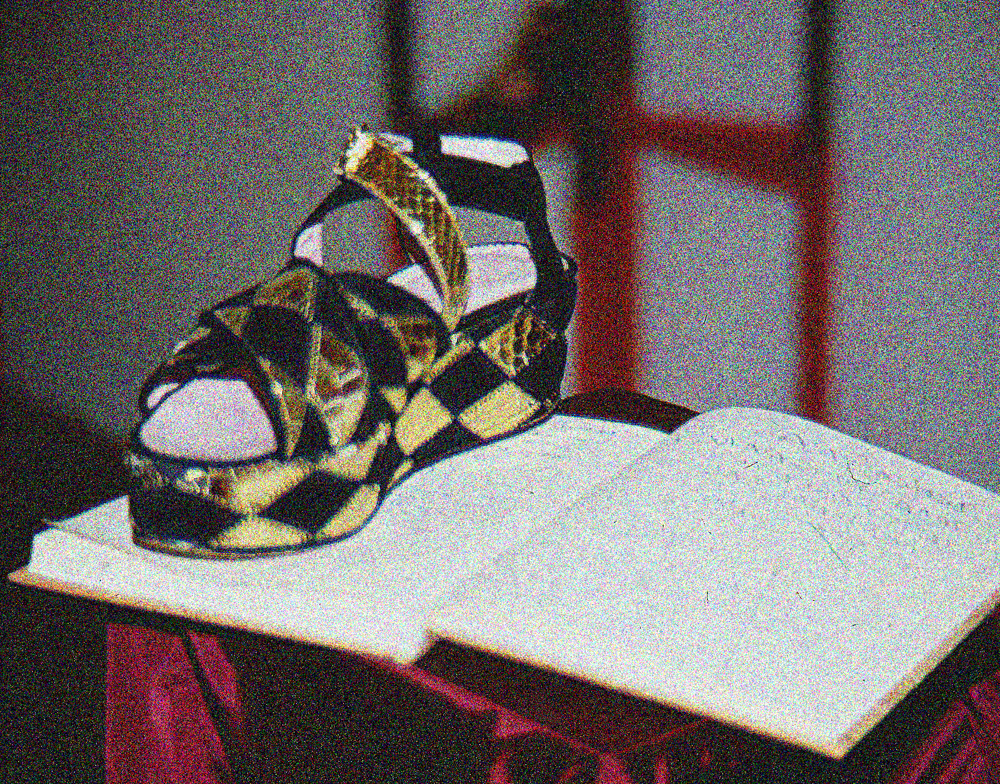 I remember so well the first pair of shoes I actually bought in a shoe store, had eyed them for weeks on my way to school… moccasins, they looked so soft and comfy. In the war I was a little baby and not wearing any shoes at all I guess and later in the Orphanage we got to choose, group by group, from a mountain of used shoes in the middle of the "fitting room" ( more like a sewing room) and you were allowed 2 pairs, for the winter or summer season, and so you were lucky if you found something you could live with and was your size! So shoes was an issue for me, …clothes I already was working on, having discovered a sewing machine with pedals, a Singer, that nobody was really using and it worked great. Soon learned how to sew and cut so that was fine but the shoes….… My next pair had little heels and was of very nice light grey leather, my friend Sophie van Kleef and I went together and bought the same shoes. She was my friend in school and we were both Fashion freaks, her mother had a bookstore where she sold all the foreign Magazines so we would have a great time looking at the fashion pictures in Vogues and Elle. She became a famous model and actress in Holland and always stayed in Holland. But then.… When my older sister Lisa came back from a trip to Italy and she had bought there a pair of high heels of which the heel was so thin one would think it would break and a very pointy toe, that was new, never seen, I was fascinated, wow!
Later when I earned some money with modelling I had my dream pair made up by a shoemaker in Italy. I wore them to pieces, literally! They were gold leather with a purple platform, like a short boot with cut out heel and toes, tight with a string so they were snug… A pair of golden boots followed…- Love gold leather always, always-
When I started modelling in London I found this ordinary shoe store but saw somewhere in the window in the back on top a glimpse of Gold that called me so I followed my instinct and went in and can you imagine she had 7 beautiful, outrageously beautiful, pairs of original Ferragamo models that had been there for about 20 years and they thought nothing of it and no one was interested, FERRAGAMO! He was the greatest in his time, it still exist but is of course not him. They were happy to get rid of them and I got them for next to nothing and they fitted! I have a 7 which was in general the shoe model size, now it is probably a 9. I wore them and wore them, silk satin and silver leather, red suede with gold leather of the best quality……….
If you let me I will slowly tell you all about my shoe experience, designed and produced them for 10 years… but lets have a glimpse of that in a few pictures that I made  of the exhibition of my shoe work in Madrid in 1991. It gives a bit the image of what I was doing.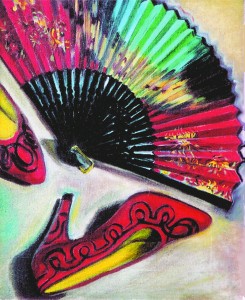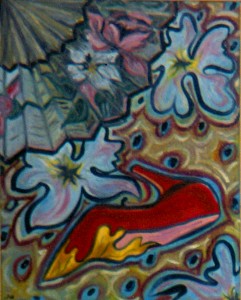 My exhibition in Madrid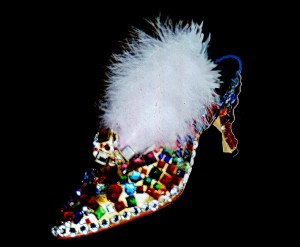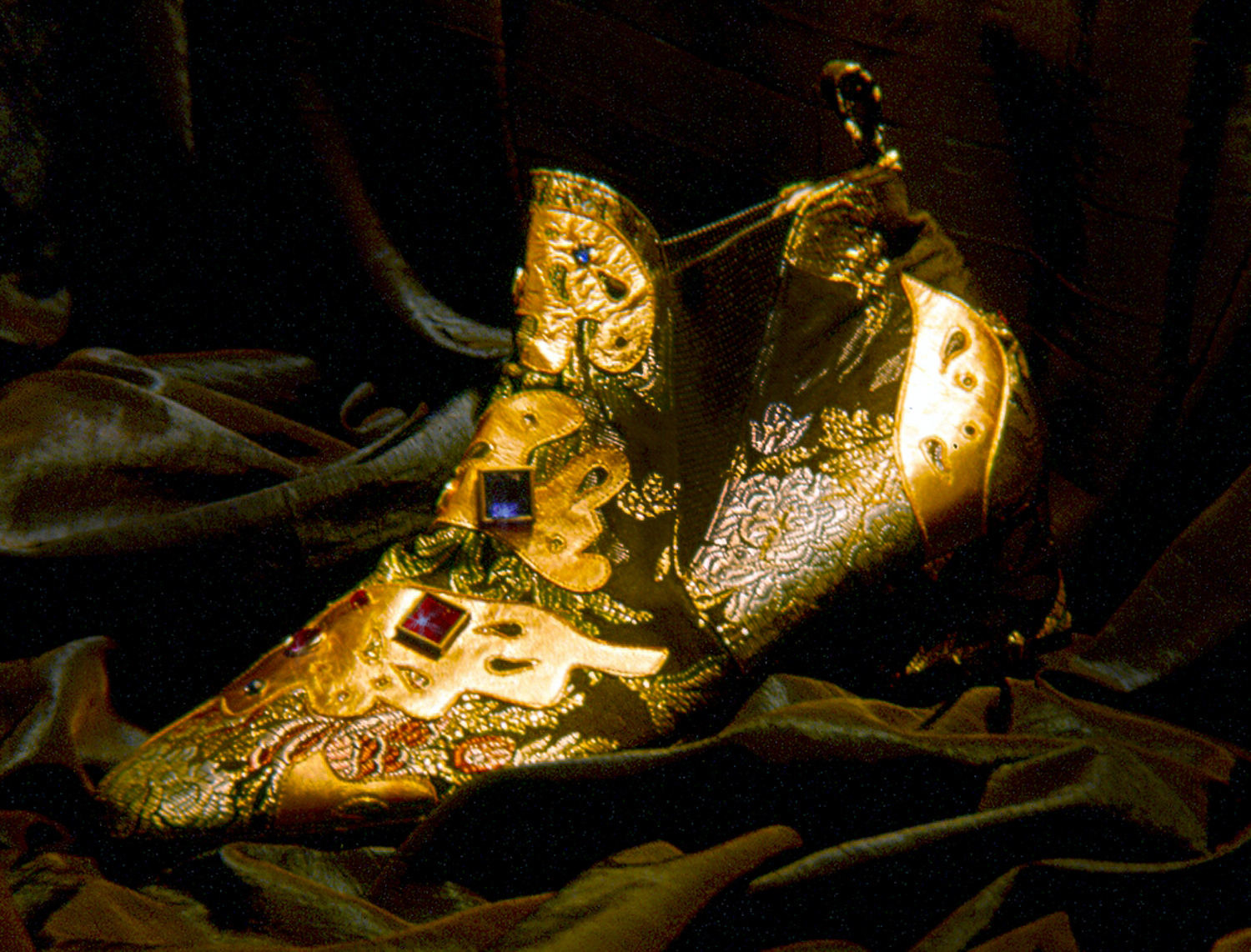 The Number ONE! this particular shoe I sold over and over again

This was 1990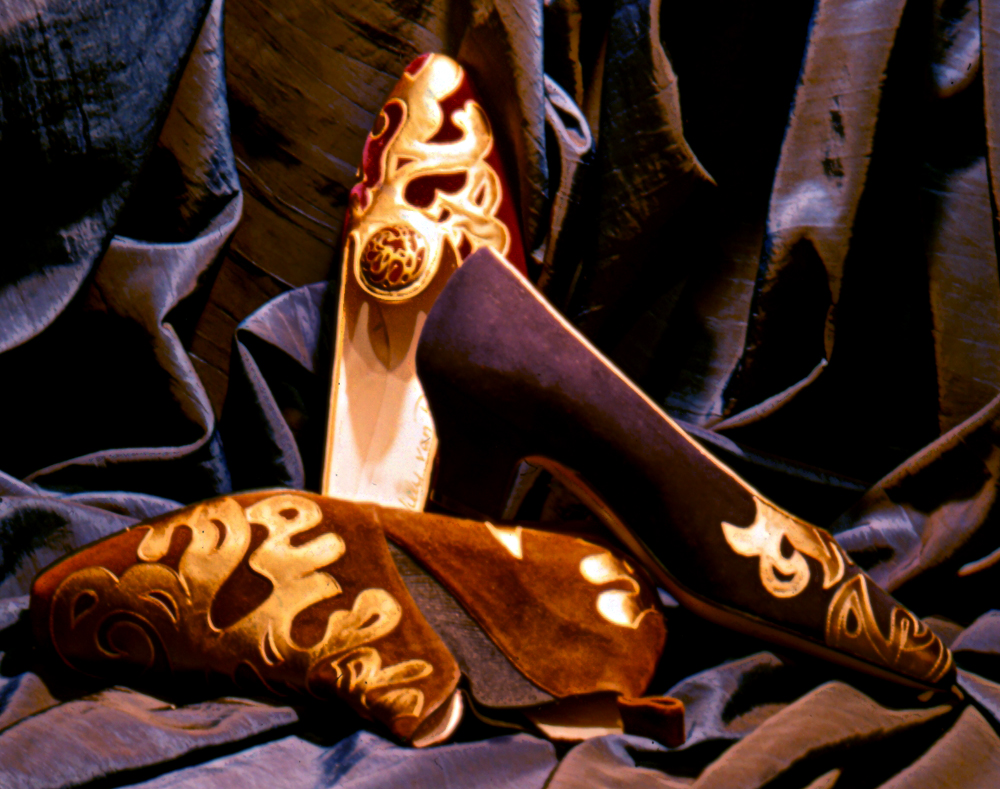 The short booties, softest leathers……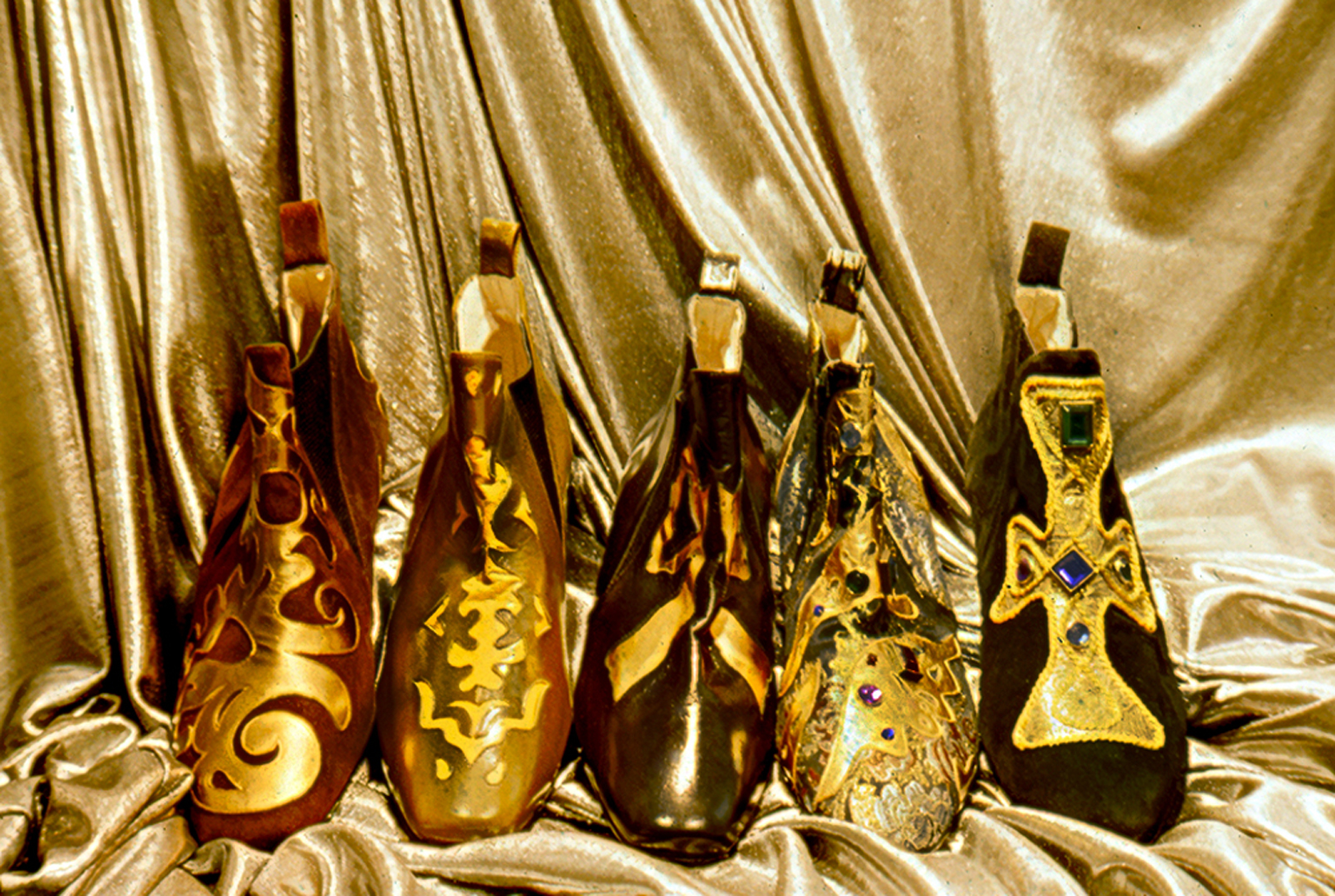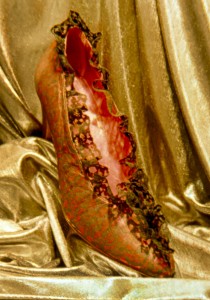 La Espagnola, designed by Salvador, very Spanish….
Bags and shoes and belts in my shop in Madrid, 1988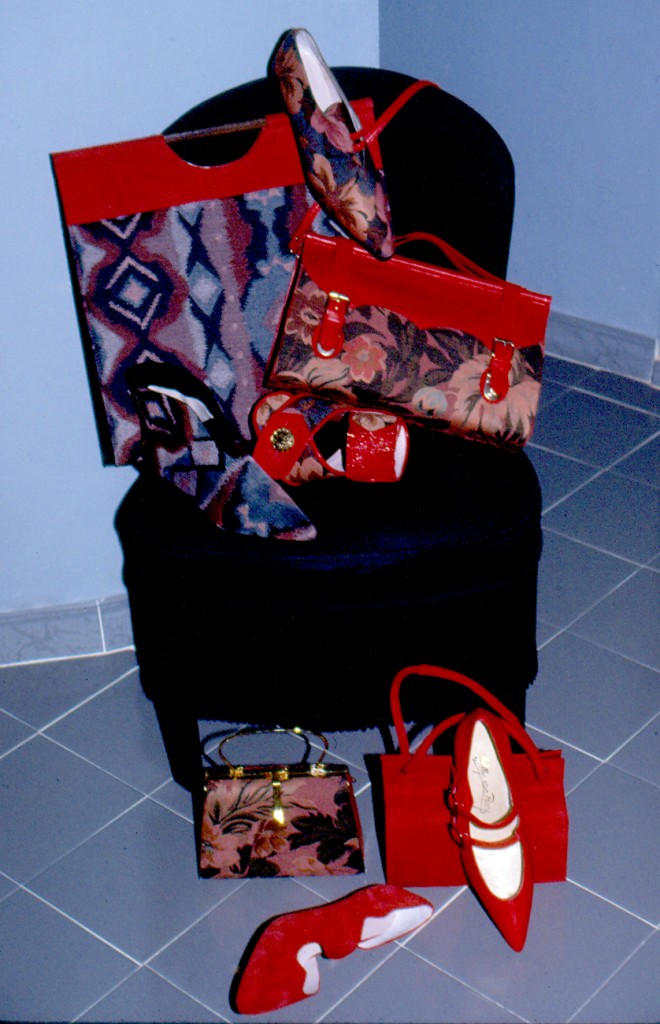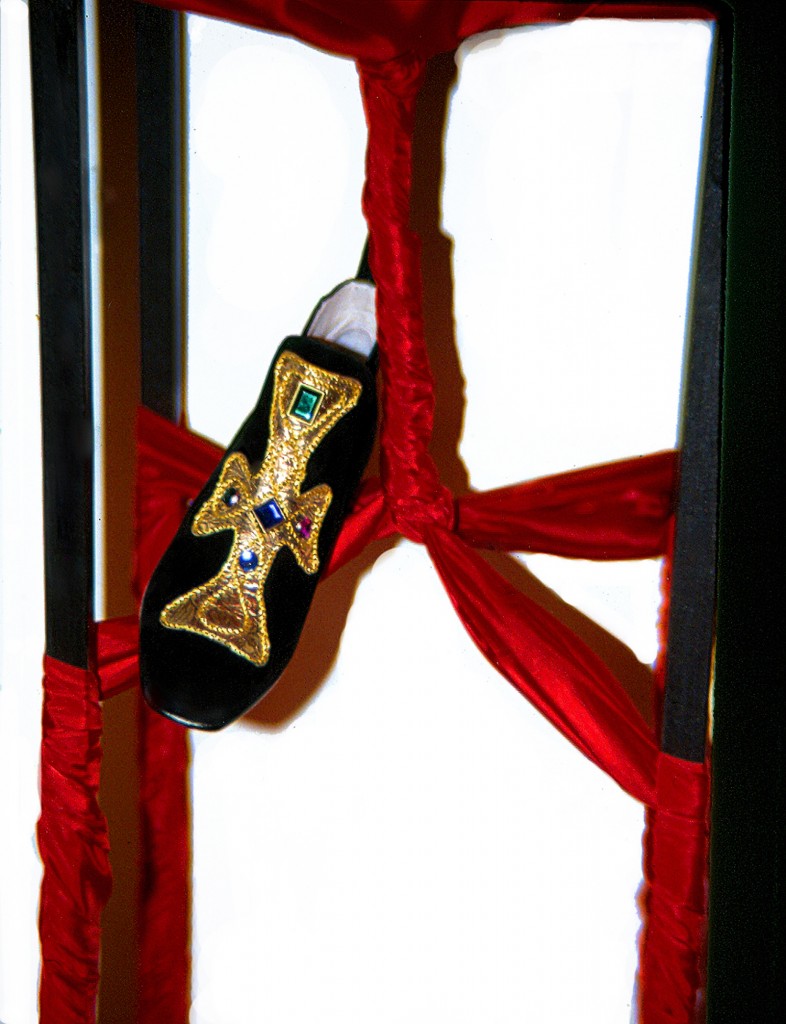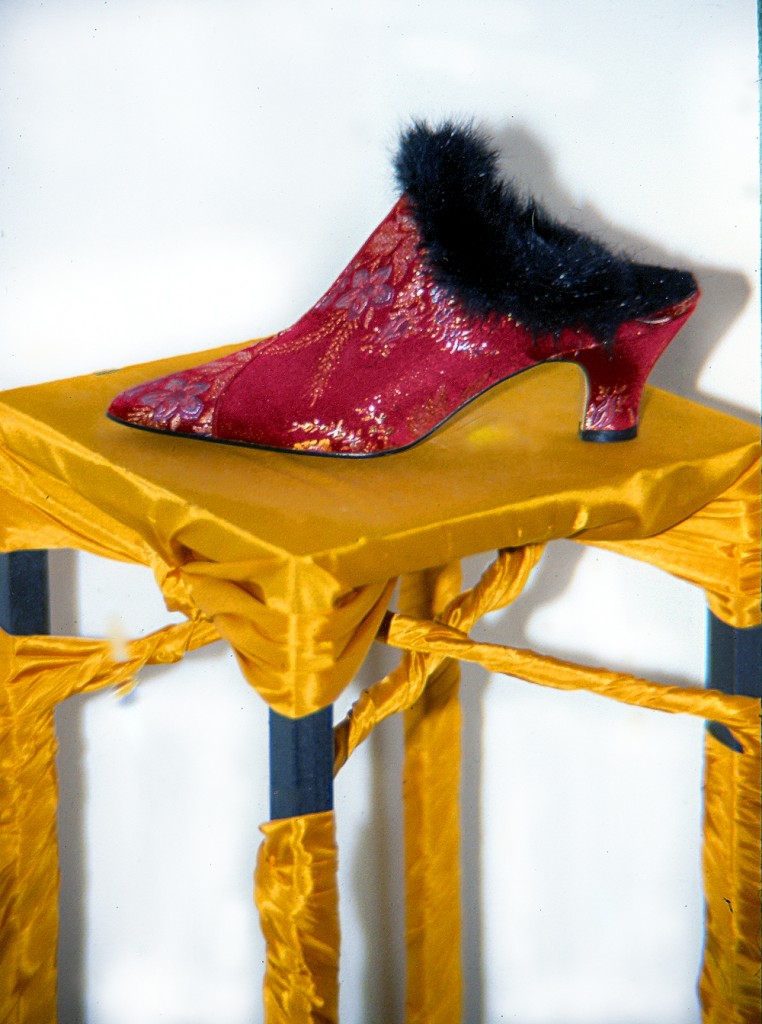 Here we are showing the influences, America:

 Spain.

we also had China and Arabia.
Salvador made the backgrounds, he was always the greatest help and any of anything would not have been possible without him and without Alejandro who did a lot too.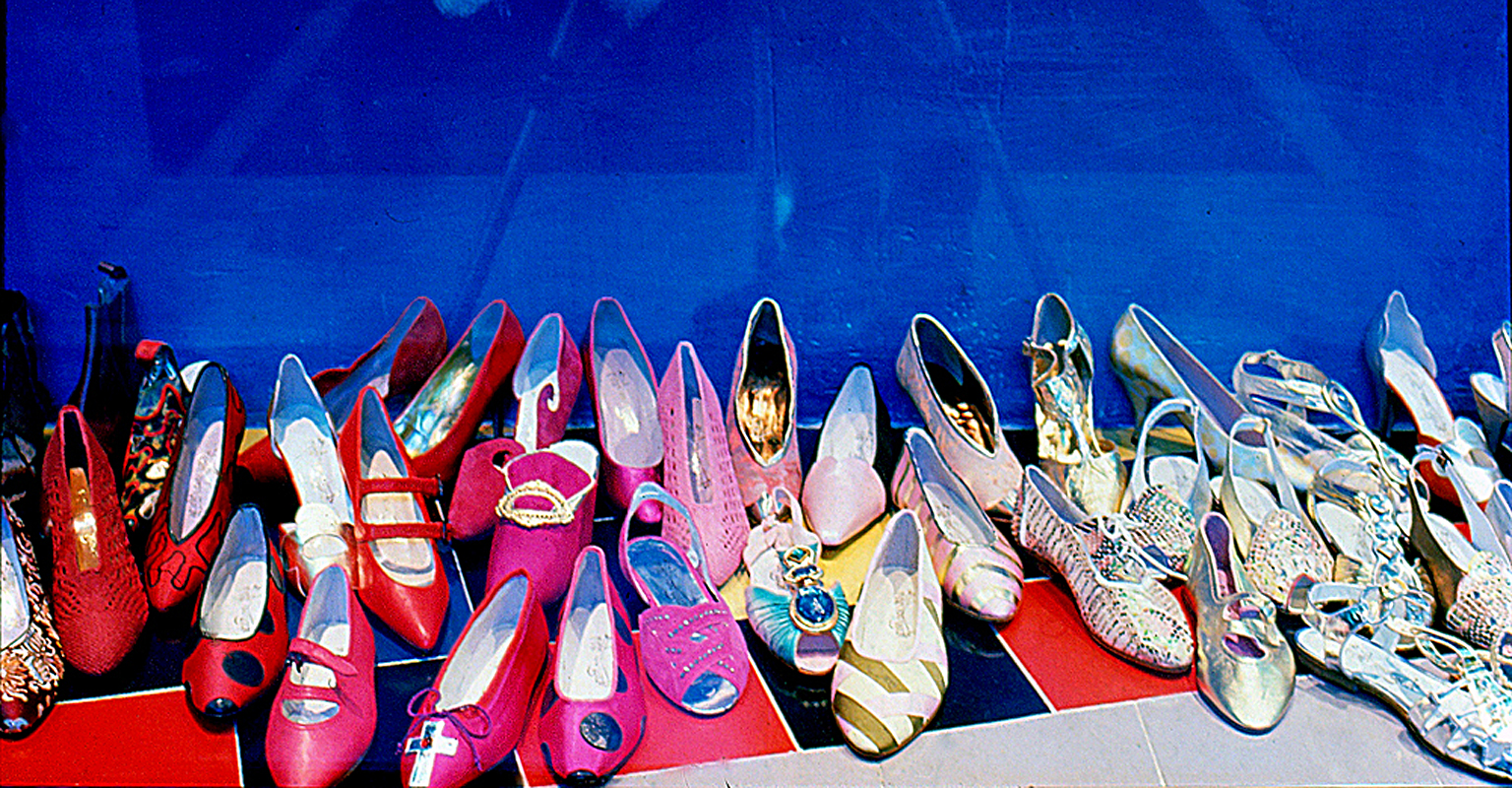 This is the window of my store in Puerta de Toledo, madrid.
I think that shoes are important to a look, you can wear nice clothes and shabby shoes and the whole impression is shabby, but a shabby outfit with wonderful shoes makes the whole thing look better, what do you think?