HELMUT NEWTON.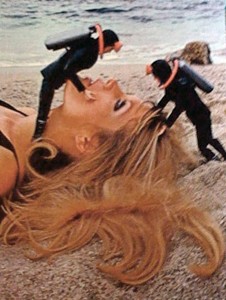 Helmut Newton has a post apart because I worked a lot with him, from the beginning of my time as a Fashion model, and although he had already done some fine work for a.o. English Vogue, Newton still was relatively new too. One of my first bookings with him was the series of the plane flying over my head…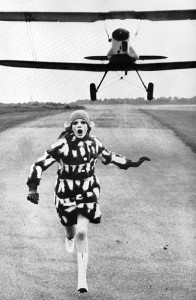 and immediately after that a 16 page spread for French Elle at the Montreal World Fair.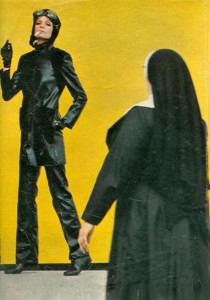 I remember Mdm Lazareff ( Editor and owner of Elle, in that time there was only a French Elle) protested that he could not go so far with only one model, what if it does not work? But Helmut insisted and that series put me on the map. He booked me every day he could and it was when I was on a trip to Morocco with him that I met my husband and did not go back to London with the crew but stayed in Marrakesh. Months later I was invited to disclose my window display doll in London and worked again with Helmut doing the series of me and the dolls,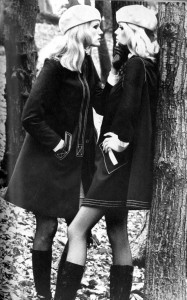 but I left again and this time for 3 years. When I came back to Paris in 1971 we worked a lot together again and did some great pictures for French Vogue,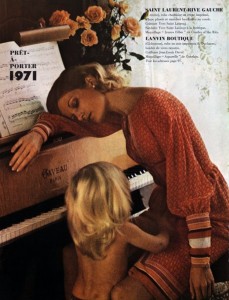 Elle and others, but again I left. If I would not have disappeared trice I would have worked with him much more. He suggested once to put me under contract, something he said, he would never think of with any other model, but I am not a contract person and besides he would always have first option, which was not exactly true because if he would book me for 3 or 4 days for editorials and at the same time I could do a good commercial job, I would choose the latter unless it was not attractive, also there were many good Photographers in Paris I wanted to work with.
Now, here I was again 2 years later and was booked by Helmut Newton for French Vogue.  I was to be at the Vogue studio at 2 p.m., which I thought was a bit odd because usually one is booked from the morning and when I opened the door to the studio dressing room I saw 5 or 6 models there. I remember so well that image, I was shocked like, oh I am no longer the one! But once I got on the paper, dressed up, made up and incredible hair by Jean Louis David himself, things were clear, Helmut sent the other models home. This was an incredible session, all the people working at Vogue came out to look and Helmut was shouting : Marvelous, Marvelous! that's what he used to say when things went his way. Yes, I was back and Helmut told me afterwards that he was scared that I had lost it on my travels and that is why he had asked the other models, to make sure.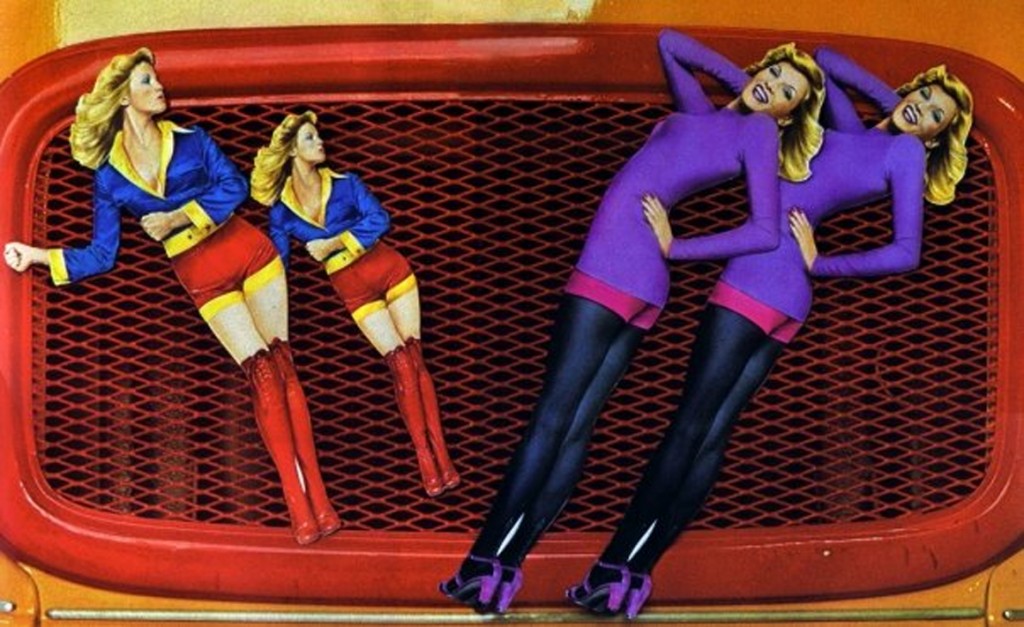 This was the series… Well, part of it…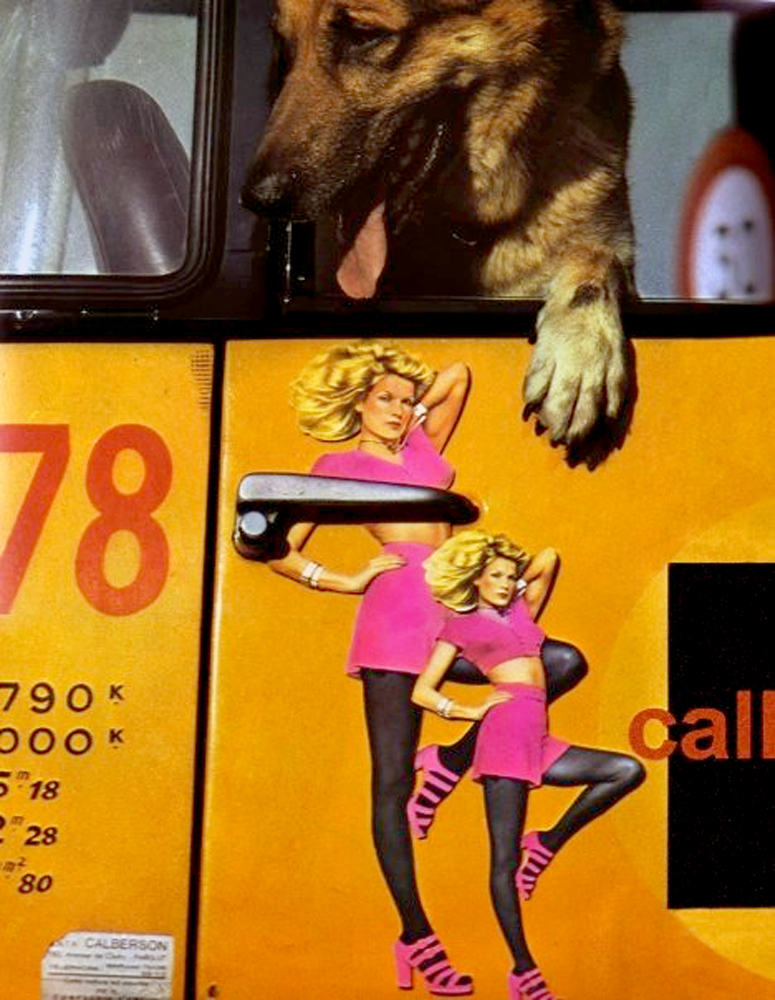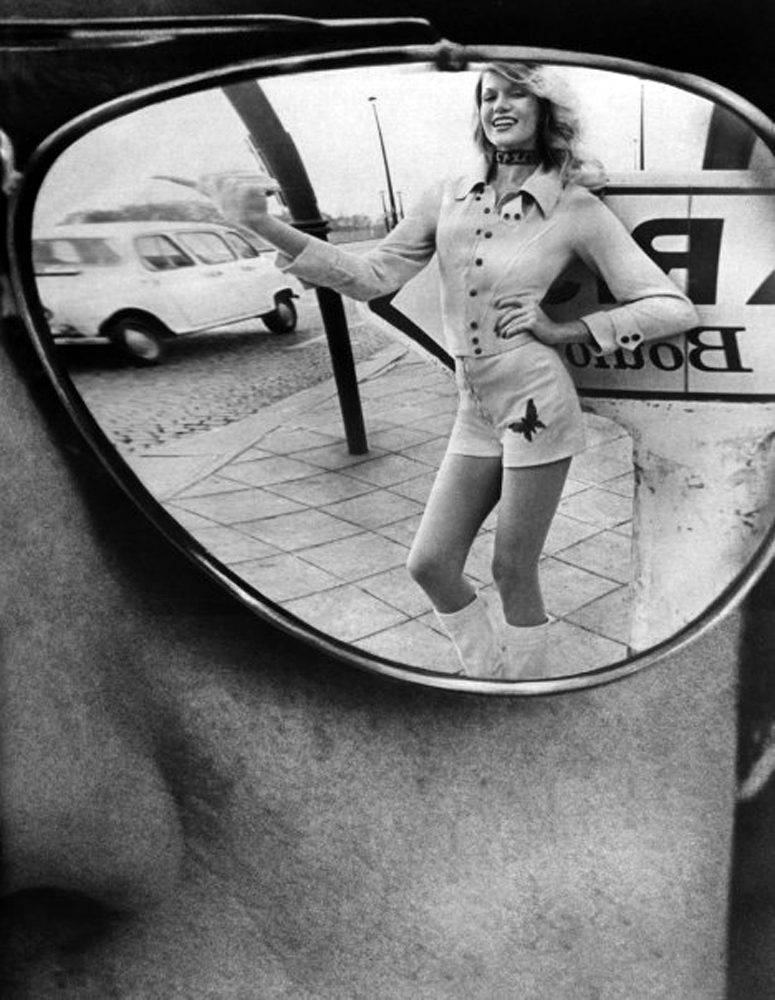 … in Salvador's sunglasses..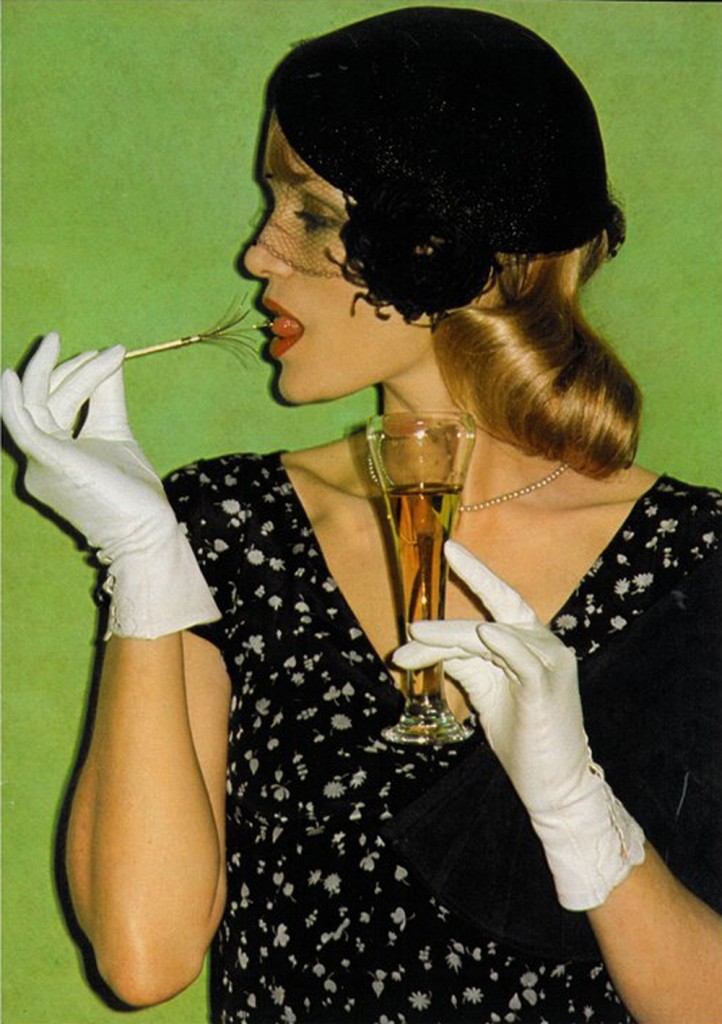 and love this fantastic series in Nova, Caroline  Baker was the name of the fabulous stylist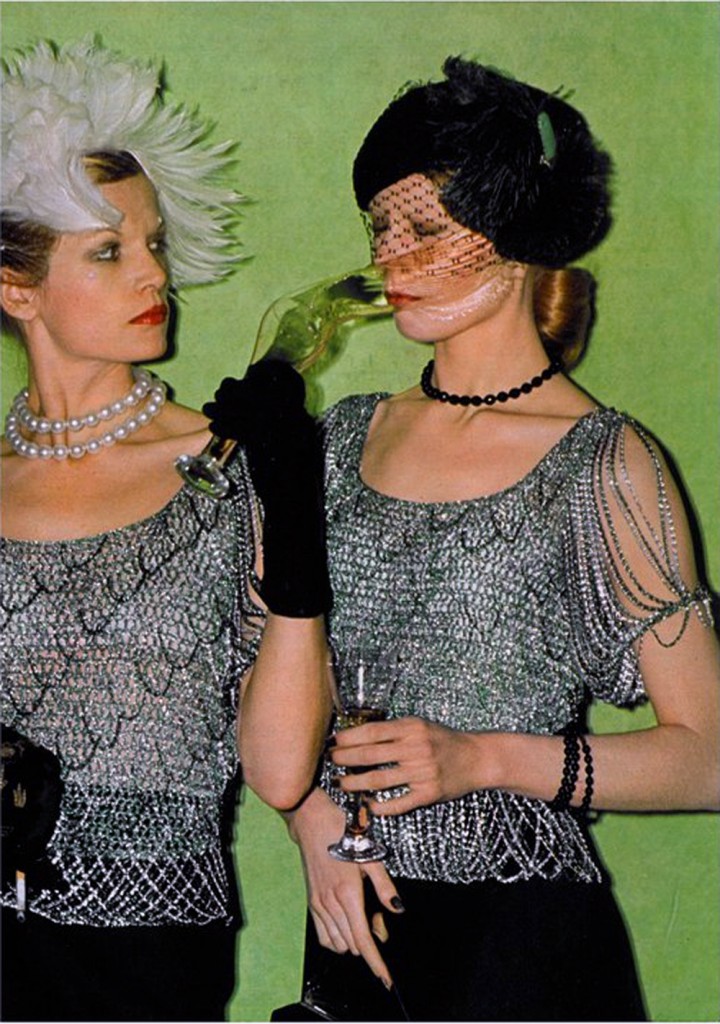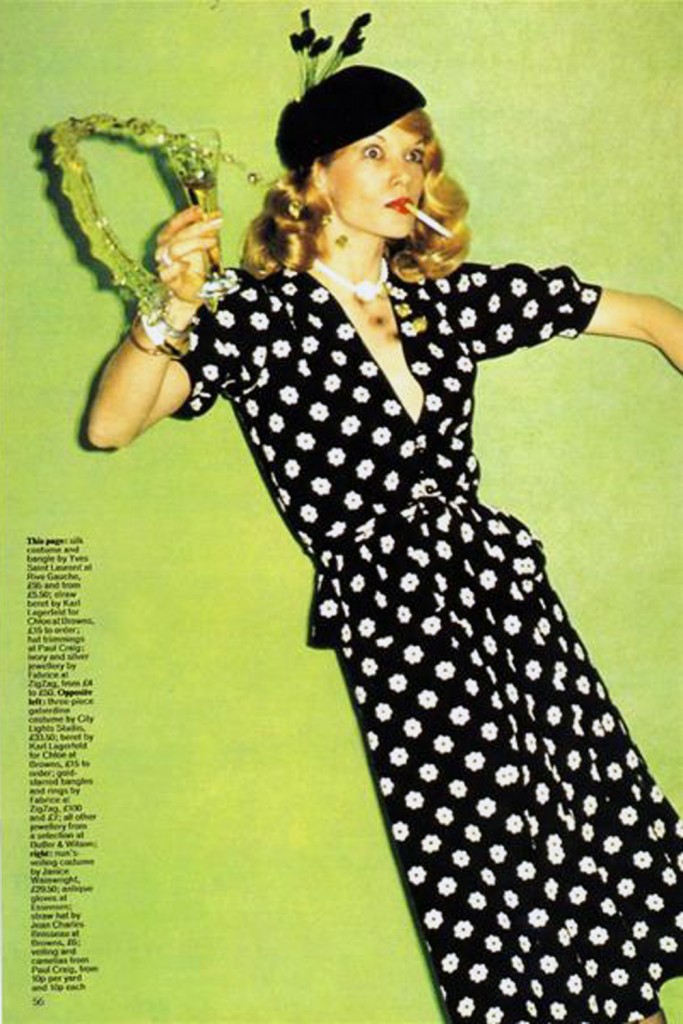 and the following series too… was fun
For me it was great to work with Helmut, he would never shoot rolls and rolls like some photographers, he would not click if it did not look good, he knew exactly what he wanted. It was intense, he would see everything"… that little finger on your left hand"… but it was exciting, something was happening between the camera and me, he sort of disappeared and gave me the space in front of the camera as if I was taking pictures of myself. It worked most of the time but not always, at times it was not right, the clothes, the light, the idea, something could frustrate him and then it was very difficult.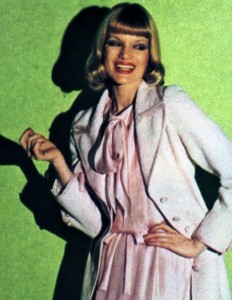 This is one of those, I dislike it but did some Photoshopping and like it better that way,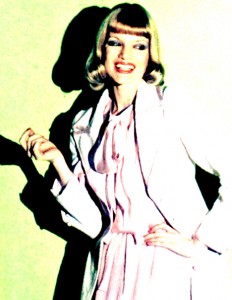 somehow he wanted to get the American Pop thing… with the sharp shadow and the more I look at it the more I like it.
He was a gentle man and to me always very kind, he sort of understood me and so did June. Dear June, his wife( also an accomplished Photographer later) she was almost always there  and a great inspiration for Helmut as they plotted the ideas for the pictures together. We did quiet some work for publicity that were never published and sometimes he would give me original prints or slides ( that years later were stolen from my car in Madrid along with a lot of other precious belongings, probably by a junky who threw it all away). Salvador and I sometimes had dinner at their studio, I really liked both of them although we were never really close friends. When he had had his heart attack I never more worked with him and also he was not doing that much Fashion anymore but started his Nude series and photographing celebrities. In 2002, I was living in Amsterdam, when he had an important exhibition in Berlin and to honor him they had invited from each country the most prominent Photographer and from Holland they had chosen Paul Huf with whom I had worked decades ago but was a friend and when he told me he was going to Berlin I wrote a letter with some nice pictures of the family, a sort of photo shop collage and gave it to Paul who was delighted to give it to Helmut. When he came back he had a letter from Helmut for me in which he said that it was the nicest letter he had ever received  and he was very touched and there was a picture of him and Paul Huf in front of a big picture of me and I in turn was very touched. We went to his funeral celebration in Paris, he was a great photographer, making pictures was his love and passion, it was his life and I must say he left a big legacy.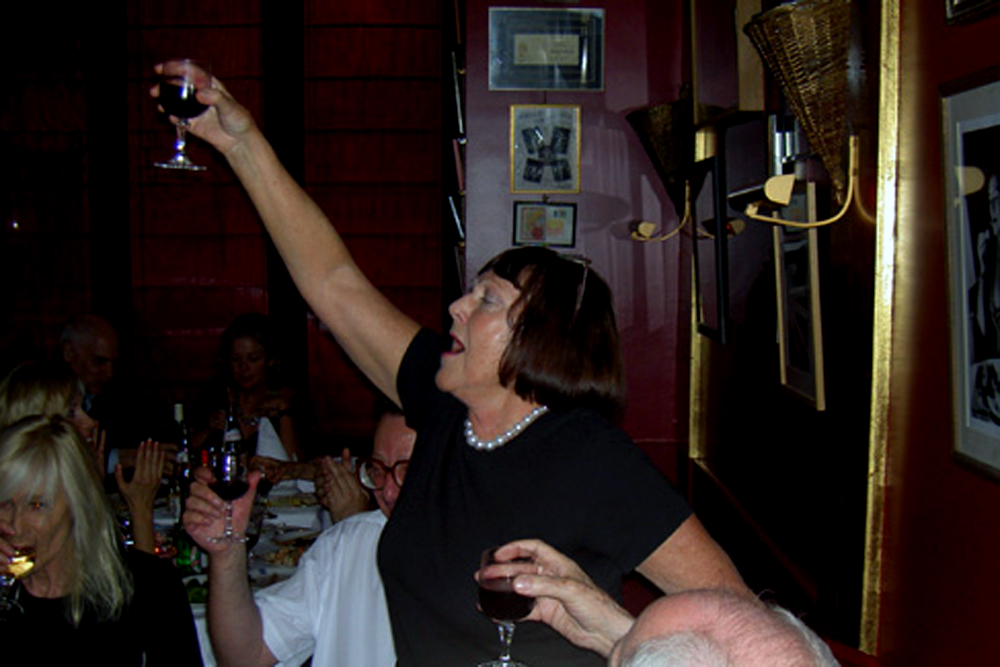 June making a toast to Helmut at that special dinner that followed the funeral celebration.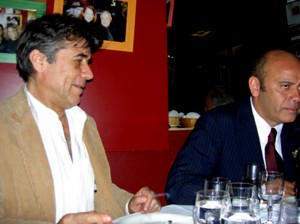 and Salvador at the Dinner table with Christian Louboutin, the shoe designer and below Veruschka, me and Jean Paul Gaultier.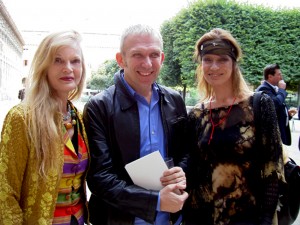 Almost every name in the Fashion world was there, Anna Wintour, Eileen Ford, Tom Ford, Lagerfeld and so on , was very impressive to see June after so many years…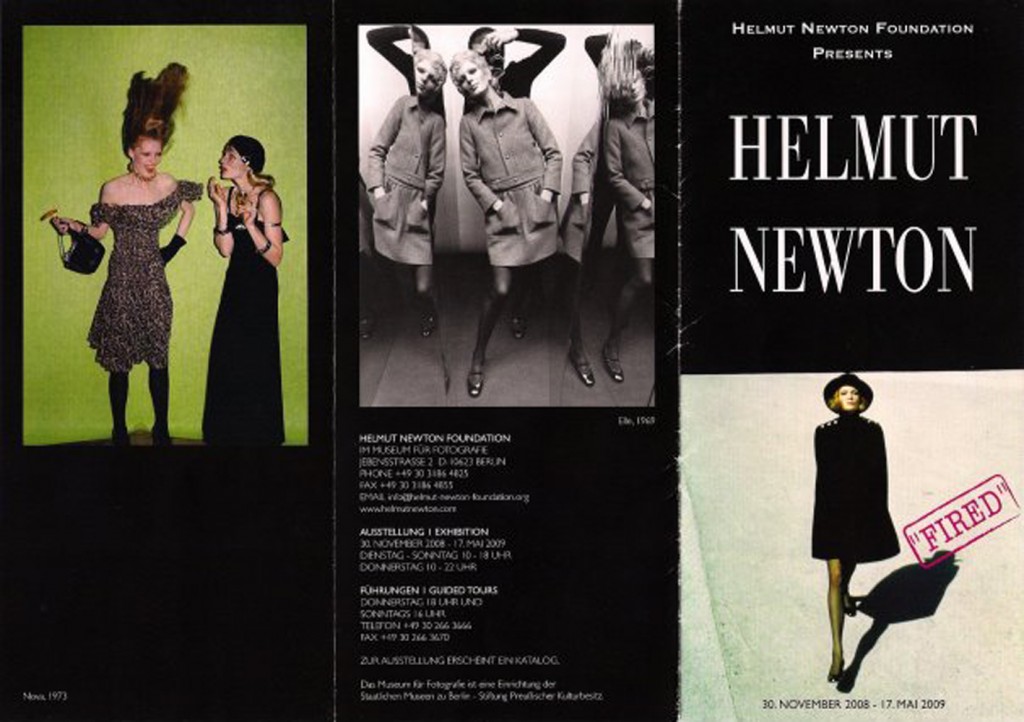 This is an invitation to his latest exhibition in Berlin 2008-9
But we are still in Paris, it is 1973 and I had just turned 32!