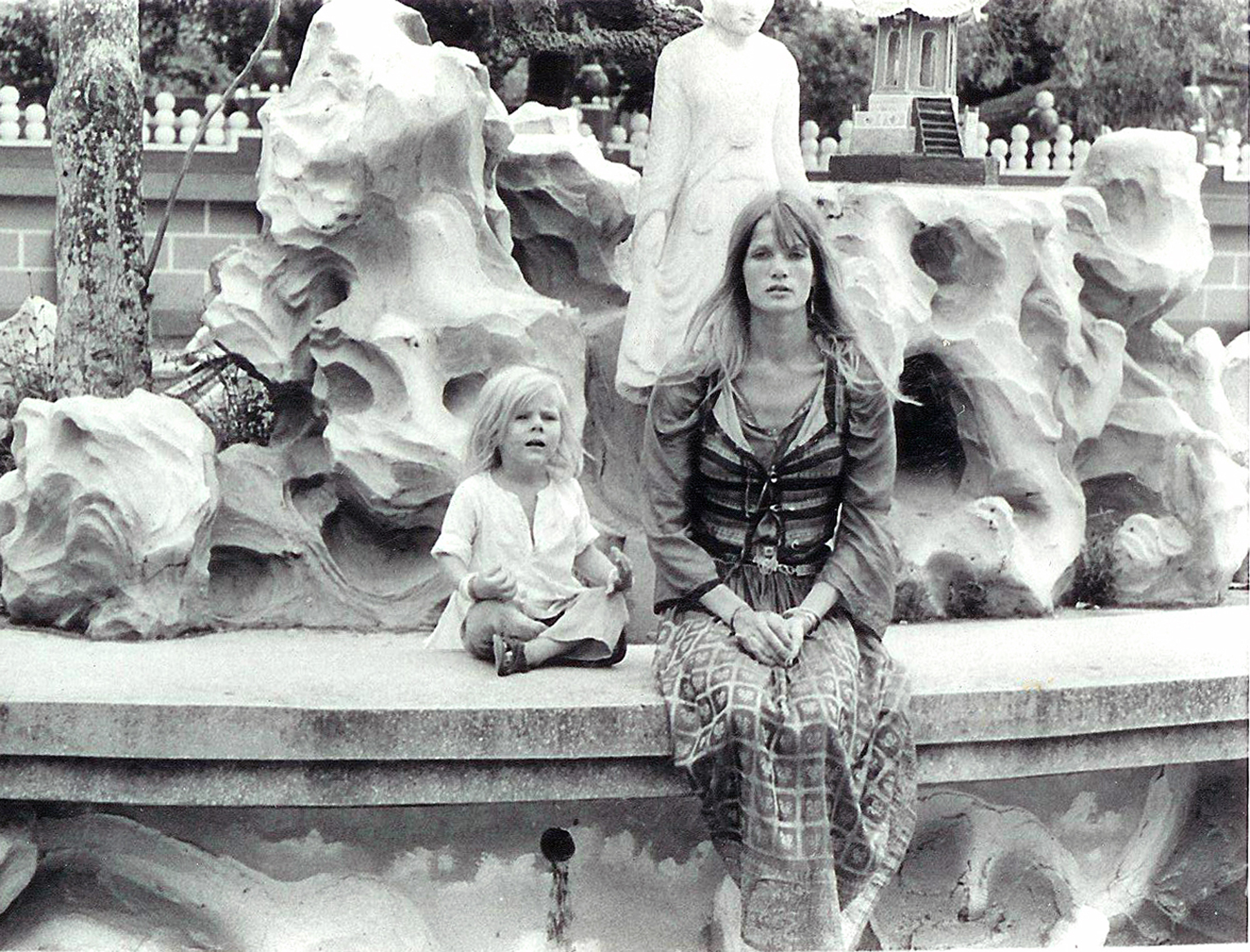 In the Tiger Balm Gardens ( Singapore). I am wearing a little vest I made of gold brocade and black velvet ribbons, lined with bright yellow satin, the blouse is of bright cyclamen (pink/purple) soft thin silk and the skirt remade from an original dark red hand woven satin silk and gold Indian skirt, 2 silver belts. Alejandro is wearing bright green satin pants.
In order to get our visas we had to stay a week or two in Singapore and found ourselves a wonderful old fashioned Hotel with beautiful rooms decorated with original antique Chinese furniture although it was not a hotel De Luxe, rather a "has been", in the downtown part. Singapore was only the beginning of what it is now and the difference between the modern High-rises and the old old part, was striking. It was also very dirty under all the facades. It was here we celebrated the end of 1971 and stepped into 1972. It was very funny when on that evening we were sitting on a terrace and 2 good friends from Spain are passing by. Neither of us had any idea we were there. Alfonso O'Lasso and Kemal, still see the picture in my mind as it was very unexpected.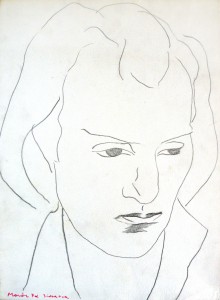 Drawing Salvador did of Alfonso there
On the other hand Alejandro and me got very sick, I mean very sick and I know why. One afternoon strolling the streets and markets we smelled that delicious smell of veggies frying in a wok and yes, indeed there was this little stand on the street corner, very common then and there, with a man frying veggies in a wok! We were hungry and ate it all… Whatever it was that caused it, it was there and it was serious, acute hepatitis, both of us, my poor Alejandrito.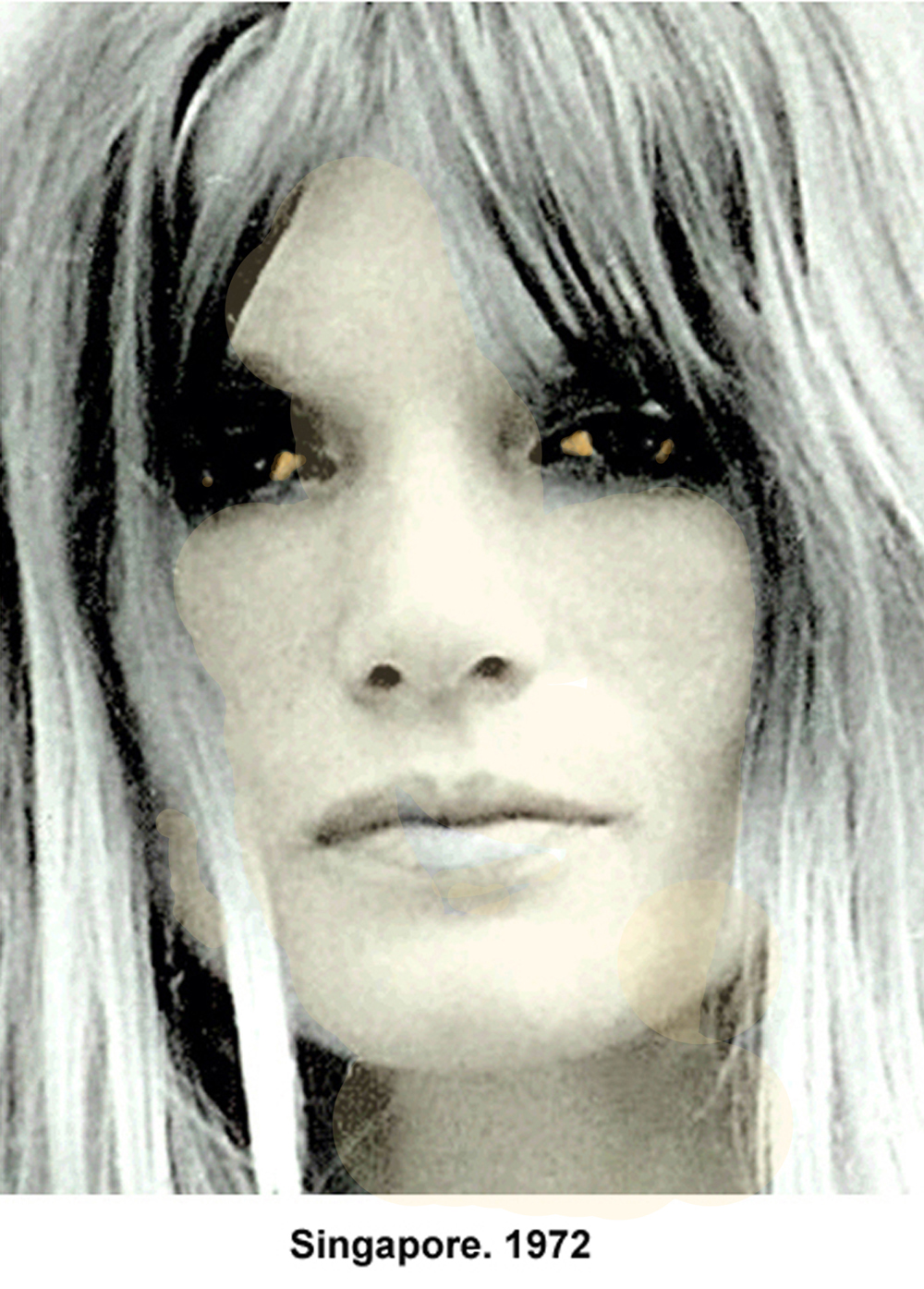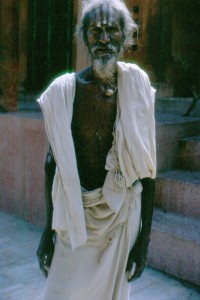 extremely elegant
We had to go back to Delhi, had our return tickets and all our treasures there. Back in Delhi we stayed in a nice Hotel and Alejandro and I were so sick, in the heat with blasting fever, I could not move but saw him from my bed, he was so brave, I remember it well. At a point we could move and went to see a doctor who gave me enormous injections of Vitamins and that was very scary, they were so big and were they clean? And what was it?Looked to me like orange juice but I guess it helped and slowly started to feel a bit better. Alejandro recuperated much faster.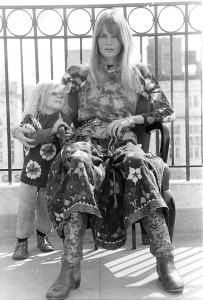 Here I am wearing one of this marvelous hand embroidered coats from kasmir and the golden brocade boots with snake leather I had made up in Delhi.
As soon as we could we took a flight to London where we stayed a few weeks to recuperate and get back from yellow to my normal color. We had sent all our treasures by boat from Delhi to NY. somewhere near the Canadian border as we wanted to go to Canada. It was a very interesting time in London, Tony and Susan Kent were there to produce a play with people they brought over from India and Rufus of the Living Theater was involved as well. Then there were our dear friends Dick Polak and his wife Edina ( Ronay) with whom we spend a lot of good times but by now our luggage had arrived at the other end of the world so we went. Wow, I don't know how we did it, fly there take a  train to get our luggage and from there take the train to Vancouver(Canada) which took 3 days and 2 nights but it first had to cross the border, and that was scary because the Customs took us of all the people to be searched, and we had to open all our cases and as we had some presents for friends that were not allowed, we spent 2 scary hours that it took them but ( sigh of relief) we are on our way again in this long Double Decker train that shows us snow and more snow, snow on the Rockies, snow on the fields – It's winter in Canada…
Love this drawing Salvador did of me in Singapore.