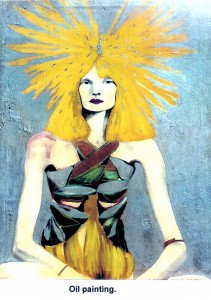 On one of our outings to Central Park a young man approached us and introduced himself as a Wall Street Genius, because they had said so in the papers as he was the youngest ever to make a million that fast.  He loved the way we looked and would we be interested to make clothes and sell them? Yes, we were! So soon our apartment was full of leather and studs and a sewing machine and every thing else we needed.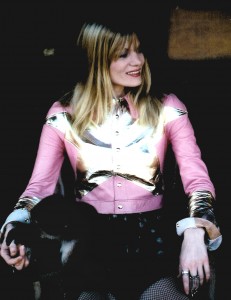 We also got an assistant who would drive us around in a red convertible MG to get us whatever we needed and we started cutting and sewing, Salvador designed the vest I am wearing in the painting and I made it up of colored snake leathers and gold and silver and above a picture of me in my pink Star jacket, I have a monkey on my lap which is hard to see and I don't remember where it came from, funny. When I look at it now I see we were very influenced by America and their super heroes…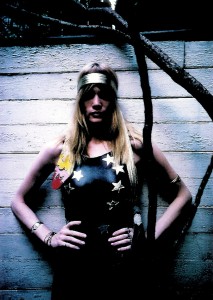 Below picture of what was my SKY jacket, you could snap the skirt on or off, love to make clothes with options and often make things reversible. I decided not to line any of the clothes but feel the leather on your skin and it behaves better around your body…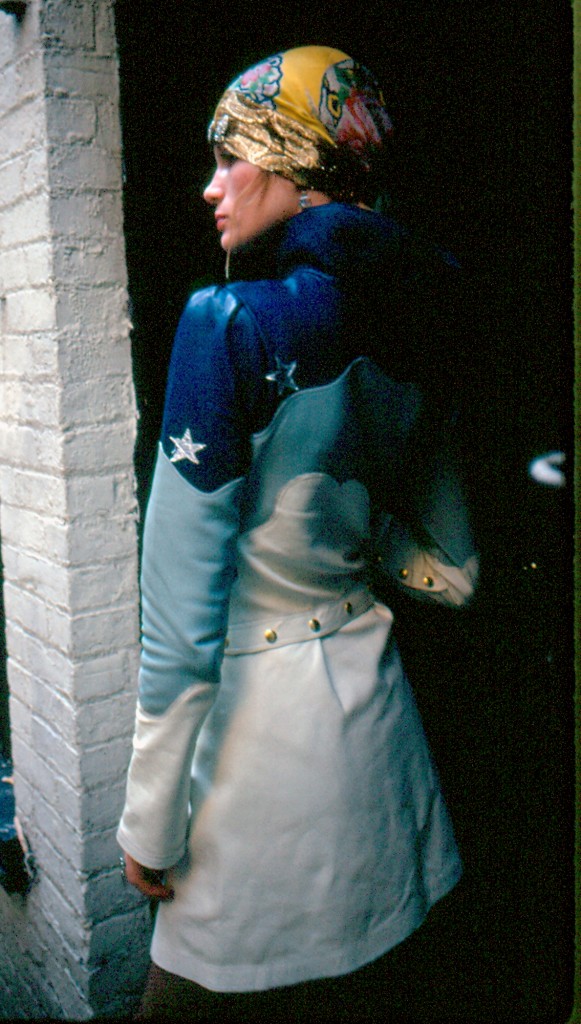 Remember I told you about Olé, the actor of the Living Theater who was staying with us around that time, this is him in the picture below. He liked to sew and one day made a pants for himself which was so hard and stiff it could stand up by itself. It was an amazing sight , this shiny red pants (patent leather) standing in the middle of the room, will never forget that image. Jimmy is no longer on this planet but we remember him fondly.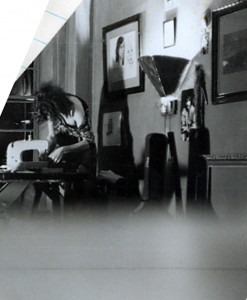 We got some publicity, here the New Yorker with pictures of Caterine Millinaire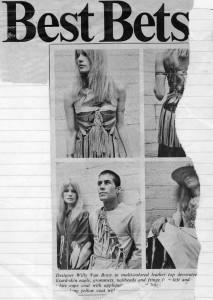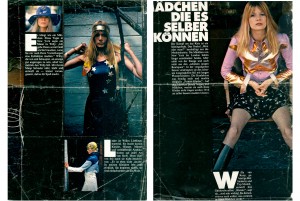 and an article in the German Twen (hottest avant-garde magazine at that time) with pictures by Anders Holmquist
We sold our designs to 2 stores: The Whip and Flukes, Best By and Co and this picture came out in Vogue: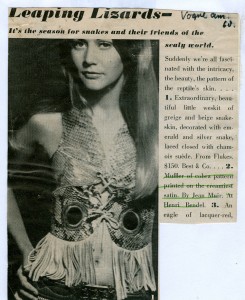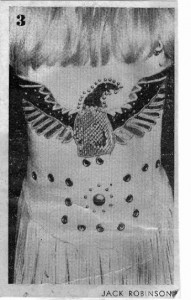 A wrap around Butterfly and the all American Eagle
I know that Bill King did a color picture for Bazaar of the vest that's in the painting, saw it but don't have it, the girl that was photographed in it told me that he loved the piece. Nice! I love his pictures.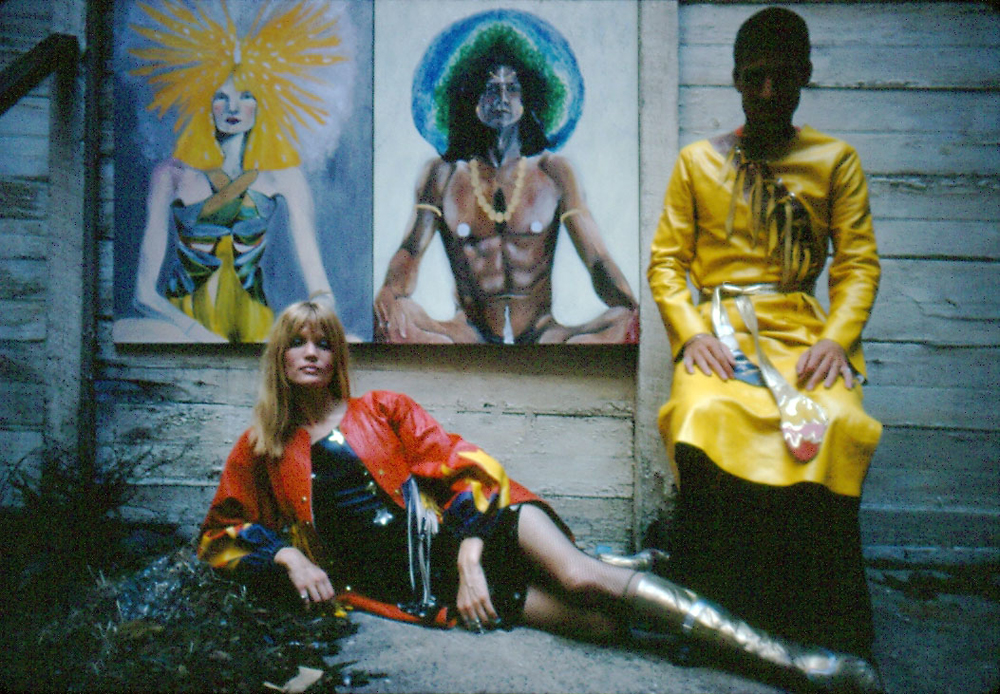 We made a lot of leather clothes especially long coats and pants so when we went to Woodstock we were from head to toe dressed in leather, looking great but once we had found a place in the middle of that sea of people as far as your eyes would reach, it started to rain, but I mean rain! It did not stop the whole night and leather when it gets wet is unbearable, heavy and uncomfortable, so when the rain did not stop the next day either, we decided to leave, which was easier said then done. To pass through that crowd of thousands of people was something else, and I don't remember how we got there but I do remember what it was trying to get out and walking miles and miles along the road full of parked cars… feeling dizzy because of not sleeping, hungry and wet. Don't really remember very well who and what we saw but it was an incredible feeling to be there and it also was a great feeling to get out of there.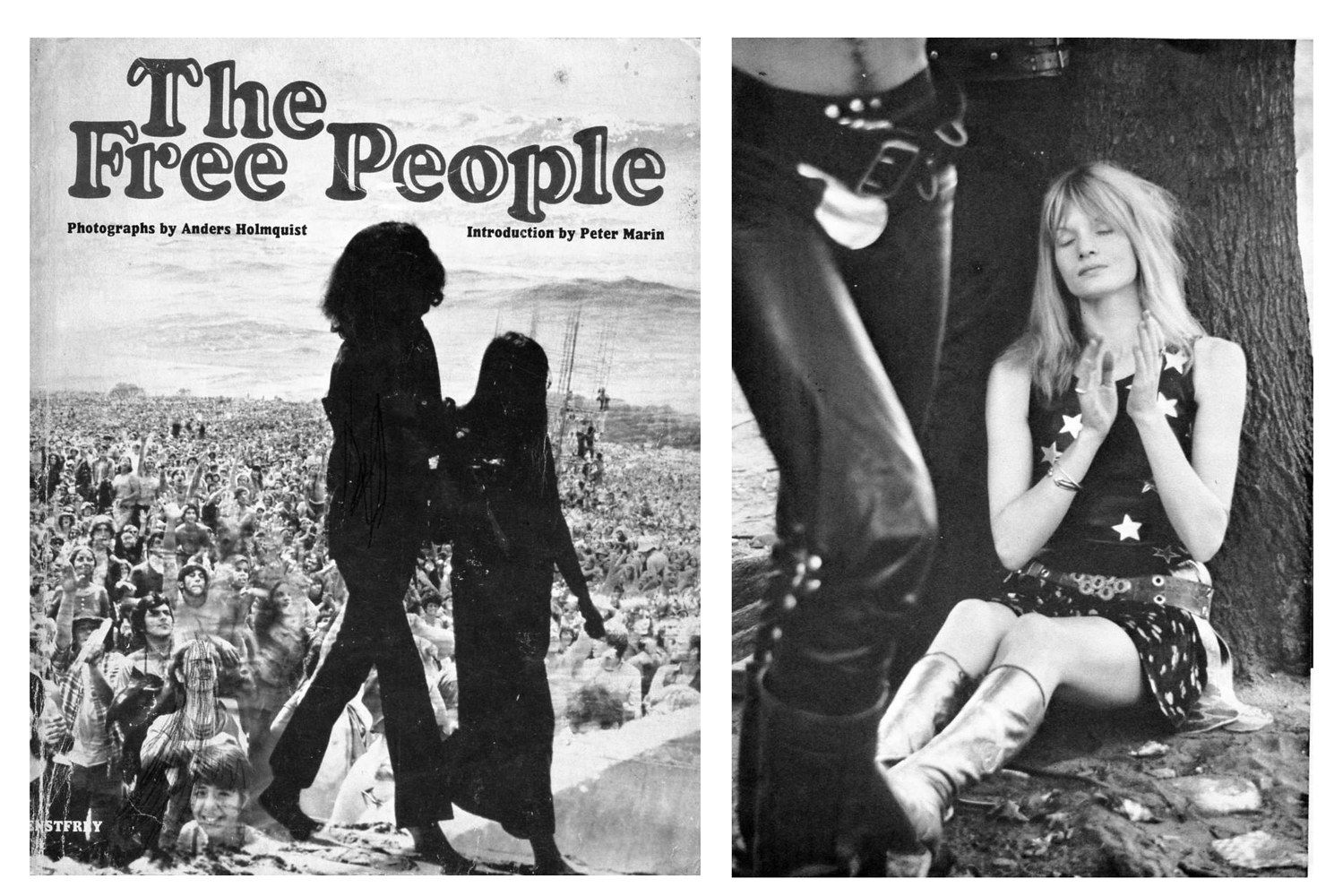 We came out in this book… the picture was taken in Central Park, check Salvador's pants.…
All together it was a great time with lots of funny things happening, like the young man from Wall Street brought us a gun one day, for our protection I guess but it made us paranoid so we flushed the bullets (there were 2 of them) in the toilet ( can you imagine)? And friends made a short movie of us throwing the gun in a river. Sometimes we would go and visit Salvador Dali and Amanda Lear on Sunday afternoons when they would receive friends in their Hotel suite, Salvador knew Amanda Lear from Marbella ( later in Spain I made a short movie directed by Salvador Dali) and well, like I said; crazy times but we also worked, Salvador painted, the clothes we made together and in between I was working as a model of which I will talk about next time…

LOVE and PEACE