This is an interview that appeared in a Bulgarian fashion Magazine. Sept. 2011
This is the story of a Dutch girl who becomes successively supermodel, super mannequin and super designer. Her name is Willy van Rooy. She was born on April 1, 1941 in The Hague. Her career as a model formally begins at age 26, nowadays retirement age,with the measures 89-60-91 and height 173 cm ( 5,7.5) .At that time models were often doing their own make up and hair and went around with large suitcases with wigs, shoes and Gloves.
Before she stood in front of the lenses of Norman Parkinson, William Klein and David Bailey, Willy worked in Spain doing TV commercials of hair products, carpets and so on. In the 70's she walked the shows in Paris for Yves Saint Laurent, Karl Lagerfeld, Thierry Mugler, JP. Gaultier and many others. She appeared on this cover of Vogue and generally on the pages of Bazaar, Elle and all the major Fashion magazines.
They call her the favorite of Helmut Newton.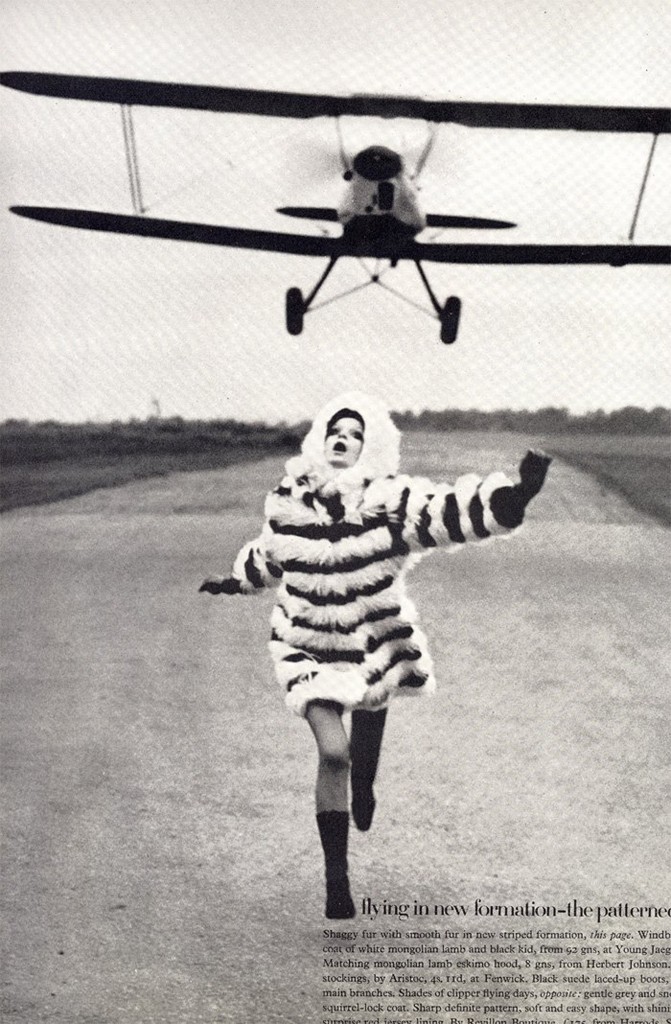 At one point, Willy van Rooy began to think of designing accessories for Yves Saint Laurent and Karl Lagerfeld. In the 80's she settled in Spain and produced her own line of shoes with great success. Her clients were Madonna, Cher, the Pointer sisters and many other celebrities.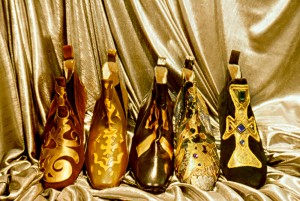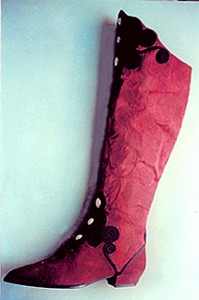 At the end of the following decade, she moved briefly to Los Angeles, where she was the personal designer of Paula Abdul.
Paula Abdul . L.A 1993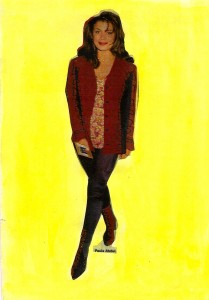 Today Willy van Rooy lives with her husband in LA, California,
continues to make jewelry that sells online at ETSY.com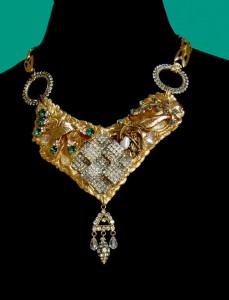 She loves to paint, sew, make pictures and work with the Photoshop.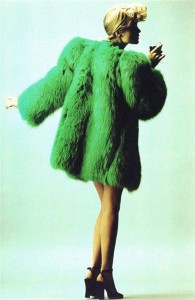 Her career has been immortalized in the French Dictionary of Fashion and books about Yves Saint Laurent, Helmut Newton, Karl Lagerfeld.
YSL Green Fur, pict. by Hans Feurer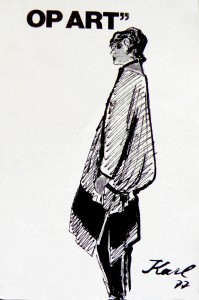 drawing of Anna Piaggi in my dress  by Karl Lagerfeld
Willy Van Rooy on the cover of Vogue, photographed by David Bailey. September 1967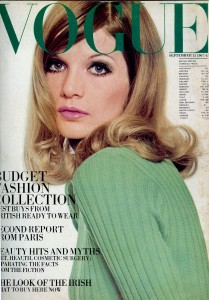 Question:  What does a typical day of yours look like?
WVR; Ha ha, well I get up around 9 and like to go for a walk ( which does not always happen) , breakfast and so on, my husband starts painting and I check my emails and Face book and start doing what I feel like doing, I draw a lot or make a piece of jewelry or sew something for myself or make a hat or work on the computer, time flies. In the evening I often look at a movie, talk over the phone with my daughter or with friends and thats it, mostly home, which I love
Q; What are you currently working on, your newest project?
WVR; working on a book about my shoes and the 10 years I spend making them. I have tons of great pictures and since I started doing it without knowing anything about making shoes, I can tell the how and what of it, at least how it was for me. Hope its going to be funny and inspirational.
Q; What is fashion (business, art, profession, passion, brands, part of culture)?
WVR; I think Fashion is or can be all of that, its for sure a business, and a big one, sometimes it is Art and often a passion, brands? I never cared about brands too much and maybe that has nothing particular to do with Fashion as anything can have a brand name but on the other hand quality often comes with the brand name, like when i get a YSL dress I am sure it is well made or if I get a Mercedes, you know…. Part of a culture? yes of course, through the ages it has been part of life everywhere, that is since mankind started to dress, even the lion cloth or the grape leave….all part of fashion and culture.
Q; How did the definition/notion of fashion change over the past few decades?
WVR; It became much more popular and fashion items are copied in no time and there is much more hype around it in the sense that it is a topic a lot of people are interested in and with all the new communication things go fast and fashion images pop up everywhere but the passion for it is the same I think, there are just many more people now.
Q; Did you like the film The Devil Wears Prada? Did the movie surprise you with something new, a truth, a fact you didn't know or have not observed in the fashion world before?
WVR. I liked the movie ( mostly because I like Merrel Streep)but was very surprised how they interpreted the Editor in chief, I myself have been around to all this offices and never saw anything like that, only know them to be kind and funny but I imagine that now maybe it is a little bit like that, see the documentary of Ann Wintour "September issue".
Q; Isn't it unfashionable to even talk about fashion nowadays, amidst democratization of style, when we have (seen) too much of everything, when it is almost impossible to come up with a fresh, original idea and everything is eclectic, mixing old concepts in a new way?
WVR; Is it? I mean unfashionable to talk about Fashion? We have seen a lot but by far not everything, I keep seeing many new things that were not possible before because the people were not ready for it and I think future inventions of new materials and so on will keep things going. Yes old concepts are mixed with new ones and it has always been like that because we have a body with 2 arms, 2 legs and so on and that is all the space the designers have to work on so it is logic that a dress is always a dress and that's exactly why Fashion is so fascinating, new ideas and images coming out of the same source, which is the body and the time that this body is going through. So I say lets talk about Fashion because fashion is influenced by so many things like politics, art, culture, economics which are all influenced by the time we are living in and that is all so very interesting.
Q; What is style?
WVR; I can not describe style, you have it or you don't have it, you are born with it and carry it all your life and it develops because of many influences that correspond with your "style". So if you are creatively busy it even gets recognizable, " his style is avant-garde" or she has "lots of style" or " that's their style".
Q; How did you develop your own personal style?
WVR; see answer above
Q; What is taste?
WVR; Usually when we talk about taste we mean the eye for finding the good things, the right things, the beautiful things and this has nothing to do with money, you can have a great taste and find far out things in the Salvation Army or have no taste and buy the most expensive just because it is expensive or somebody told you, and there are some who have both and some who have none. (This is a complicated question once you really start to think about it so I leave it at that.)
Q; By the way, do you have any explanation why nouveau riche (in Bulgaria and Russia especially) are so crazy about Versace, Ferre and Cavalli, before any other brand?
WVR; I think because when communism was reigning things were sober and a bit dark and now the people who can, like to show off and enjoy it, both Versace and Cavalli are very Barock and "loud" so to speak and very noticeable, Ferre I don't understand really. I would be very interested to know your vision.
Q;  When you see a person, woman or man, what details of their appearance do you pay attention to?
WVR; The eyes, you can see a lot of things there and of the clothing I think the shoes, but still, it is the air around the person that gives the very first impression.
Q; What is elegance?
WVR; A way of behaving and of carrying one self? Again it has nothing to do with money and you have it or you don't, then again there are many levels which are in the eye of the beholder but in general I think Elegance means harmony, kindness and in a certain way intelligence.
Q; Where do you get inspiration for your designs?
WVR; everywhere
Q; Which are your favorite materials? And colors?
WVR; If talking jewelry its Rubies and pearls, if talking clothing I like silk and cashmere and beautiful cottons and brocades, my favorite colors are gold, red and black but I really like all colors and like to see them mixed together
Q; Do you have a picture in your mind of the type of woman who would wear your creations? How would you define her?
WVR; A rather individual woman , when I had a store in Paris or a shoe store in Madrid my clients were often actresses or singers or woman who like something different and like my "style". There is no age pattern or size that I can put to it, when I made my Tunic Unique in Paris my clients were from 15 to 80 years and thin and big, short and tall, gay or straight, I would say all kinds of woman but they are usually a little special to like my things.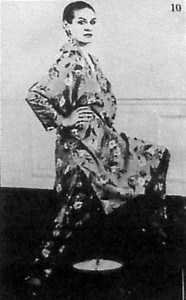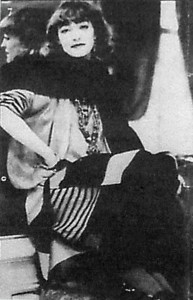 Left; Paloma Picasso                                                 Right; Lou Lou de la Falaise Klowkoski.
Q; How new technologies influence fashion and creativity?
WVR; wonderfully, a whole new way is exploding.
Q; Do you miss the pre-Photoshop reality?
WVR; Not at all, work with it a lot. Now when it is overdone it is not cool but in general I think it is an amazing thing but like with everything else, it is not the photoshop but what you do with it and some people are so good with it they do beautiful work. In the pre PS days they also retouched but it was a lot more work for less effect, I can tell you that they retouched the Vogue covers and beauties as well by hand ( maybe a bit less then now).
Q; Which were the greatest achievements of your generation (in fashion and in general)
WVR; I think my generation brought a lot of freedom, in fashion and in general, a break with the old rules which kept evolving till now and is still evolving and now almost anything goes. There was a lot of spirituality and we were getting more conscious than the generation before of what was going on and that with all the new technology has been growing and growing and no one knows where this will end.
Q; Who are the top models of today that you like?
WVR; Douske and Natalia Vodianova, Karin Elson,  Guinevere, Kate Moss and some other great looking girls I don't know the name of, I always like Linda Evangelista, she is a real Super model.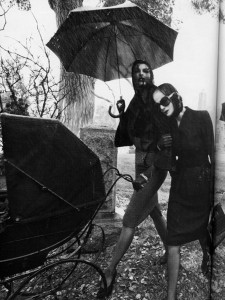 With Linda E for Italian Vogue by Steven Meisel. sept. 2008
Q; One photographer you wish you have worked with?
WVR; Irving Penn. I just love the elegance of his photographs. He did do a fantastic picture of my shoe in American Vogue though and that was even better.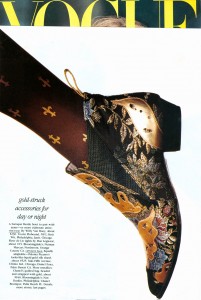 Pict. by Irving Penn for American Vogue
Q; Your best memory from modeling?
WVR; There are too many…..
Q; Would you please describe for us your favorite clothes, shoes and accessories? (or send us a photo:)
WVR; things I make myself, sorry that is very boring but my whole life I only wear my own clothes, some are more then 20 years old but still get compliments on them so it must be all good. Shoes are also my own still find them on Ebay, new in the box, my size, for a scrap of the price they were so I still wear my own shoes too and my own belts , bags and jewelry, I am used to that and feel familiar with them, I never buy clothes or maybe something outrageously beautiful vintage may catch my eye….
with Alejandro in paris 1970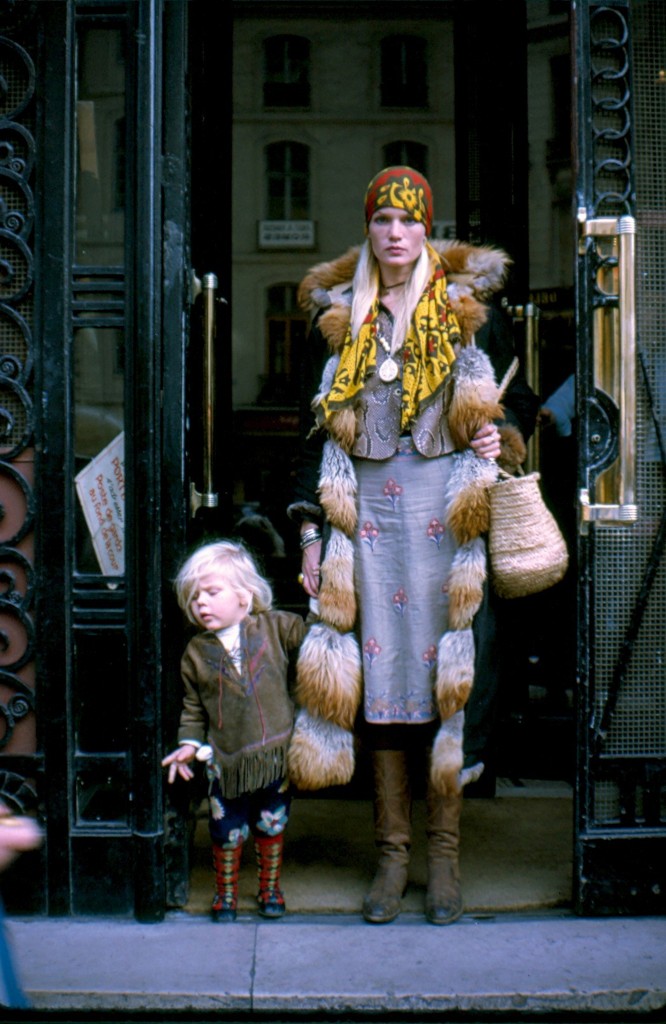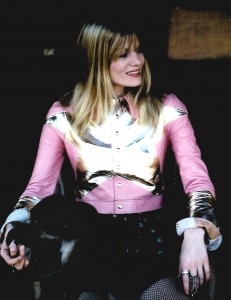 Leather designs in NY. 1968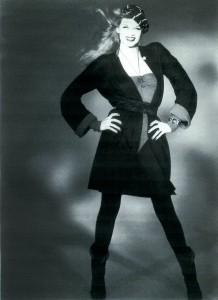 my Tunic-Unique collection, paris 1977. pict. by Francois Lamy.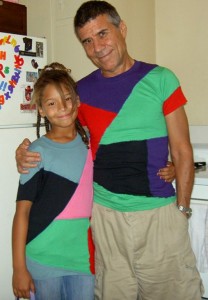 Salvador and Alijah in my Tshirts 2011
Q; What is the future of fashion?
WVR; Who knows? More incredible materials that give heat or cold upon demand and shines in the dark, that are ultra thin and light but still very functional, patterns cut in one go to make a dress in a computerized machine and more of the same for everybody like sort of space suits as in the science Fiction movies, who knows what the weather will be like and the air? and travel into space will make a big step…. Who knows?????
Translated from Bulgarian,  Oct 2011
Interview by Krasi Genova for a bulgarian Fashion magazine Sept 2010
Well this was a special post, I quite liked this interview and wanted to share it with you. Don't forget to check Alegria's blog: Click Here
                                              and like always
LOVE and PEACE