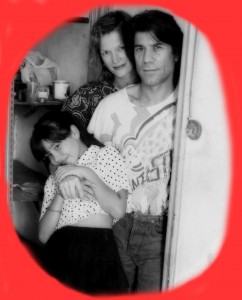 inspecting the new place -picture by Sylvia Polakov
Yes, we found this incredible apartment in Madrid via our lawyer and friend Fernando M. so it was a good time to move and live in the big city for a while. I have to mention a few details about this place we moved into because it was pretty special. A corner building placed in the middle of old downtown Madrid, somewhere between the Royal Palace and the famous Theaters, calle Atocha 14, just a step away from Plaza Del Sol and on the other side the marvelous Plaza Mayor with its terraces and old fashioned boutiques with hats and caps and fans and other famous Spanish goodies and around the corner the popular "Rastro" the second hand market, which was one of my favorite places to visit. First of all the whole building with its 5 floors was more or less abandoned except for the very top and the second floor. On the ground-floor there was a bar on the corner ( it was a corner building), and a small workshop of a guitar maker who was famous for his excellent guitars he made by hand. Each apartment covered the whole floor and had 11 balconies, 8 rooms of which some were enormous. The first floor was empty and had been for years. The second floor was occupied by a lady who was 94 years old and her maid. Every day she got done up with make up and beautiful jewels and sat at the table in her living room that had not changed in the last 30 years, very nice furniture was displayed in all the rooms. She never came out of the house but I would go visit her at times. She paid the same rent as when she moved in in the 1920-ties which came to about 8 US $ a month. We got the third floor, on the 4th floor was a big artist studio with skylights and all but we did not take it because it was very abandoned and there was no water but later a painter came to work there. We had such a big place that we did not need an extra studio. The very top which was the attic had 2 small rooms, one occupied by Dora, who had been the maid of the owner and had lived there since always, she was in her 70-ties but everyday climbed these big stairs to her tiny tiny place where one hardly could turn around, and in half of the place she could not stand up straight because of the roof. She was quite pretty but her life had been to be a maid and to never get married. The other small place was occupied by the family that ran the bar downstairs, they were quite dysfunctional but had 2 daughters more or less Alegria's age so we got to know them pretty well and they were funny. The building was more than 100 years old, a plaque in the entrance said "built in 1881" with a drawing in stone of a horse and carriage. It had been a beautiful high class building but had been empty, except for the people I told you about , for the last 20 years. No one had ever cleaned the beautiful stairway, with a sky light that made the most beautiful light for pictures, or the fantastic entrance. When we first saw the place we were in shock but the space was so incredible that we got enthusiastic and started to fix it up. The marble floors which were completely black became a black and white pattern again and we cleaned and painted till all the rooms were useable. Like I said there were 11 balconies with high French windows and very high sculpted ceilings but no heating except for the old fashioned system, for which you needed a servant to do nothing else than keeping the stove going which sends the hot water through the whole house , working with cole or wood. We tried but it was impossible. Salvador and I each had our fabulous studio, a very happy place to work and we did work a lot.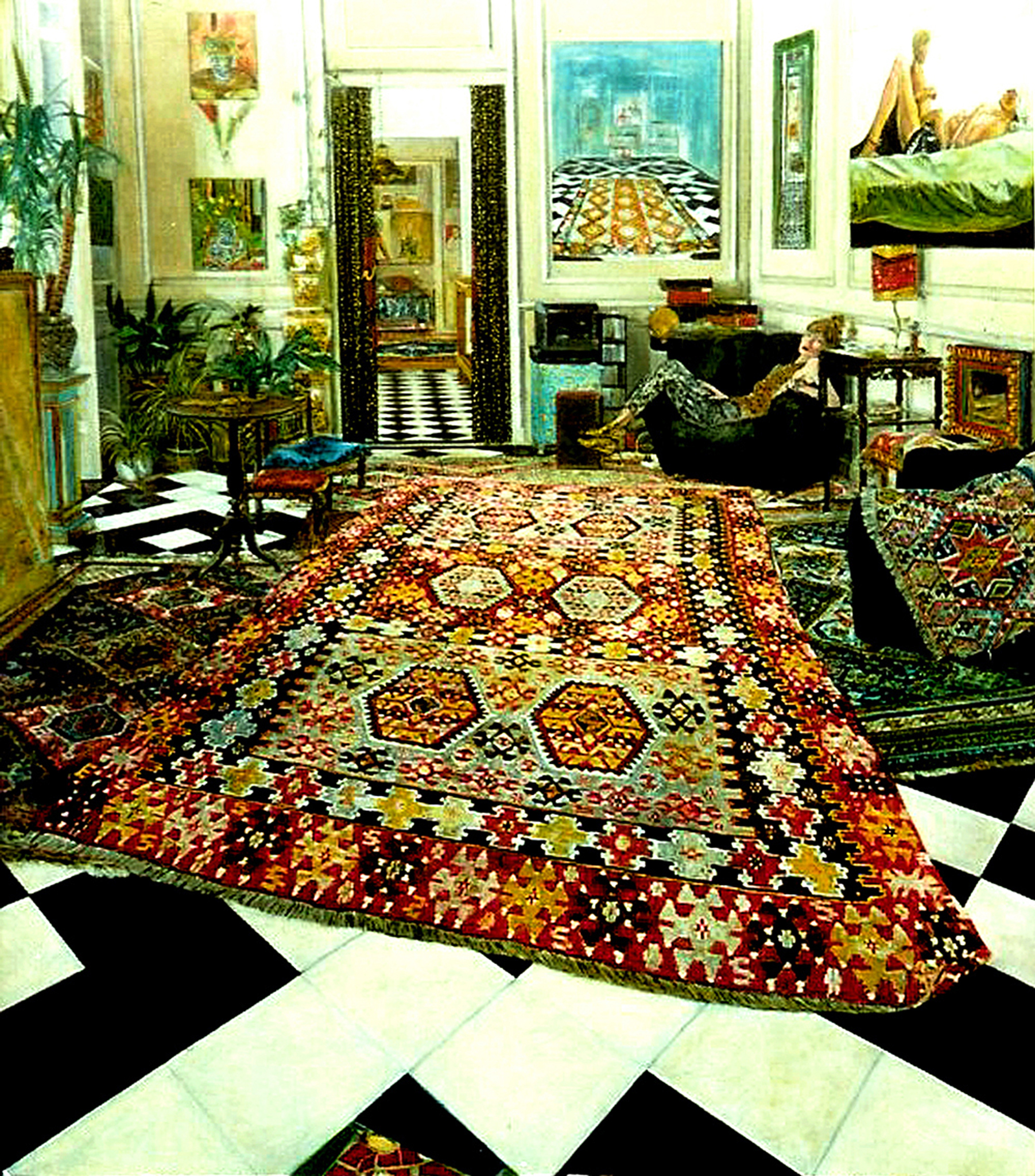 Painting of the main living room by Salvador Maron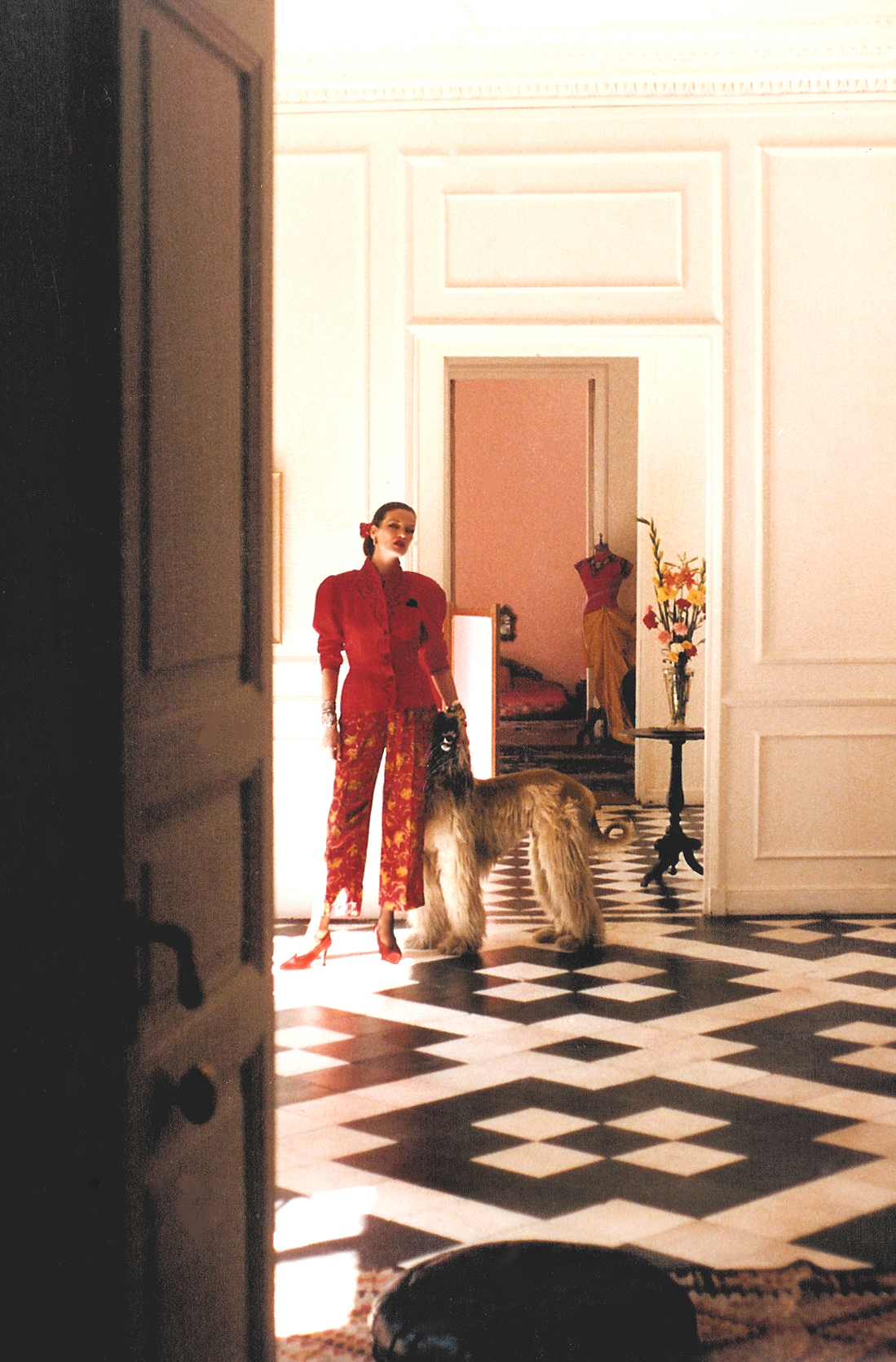 with Kabuli after we just moved in…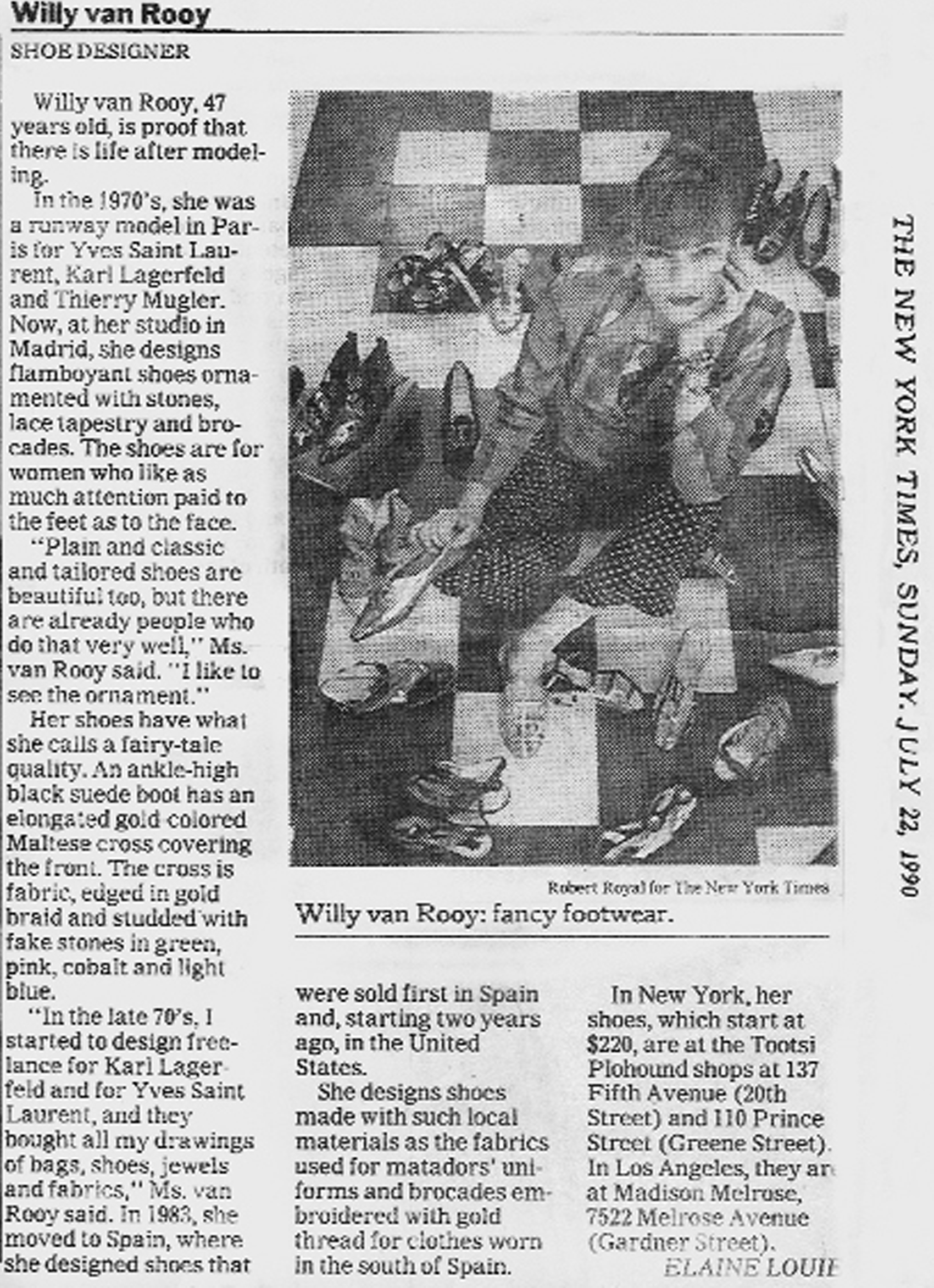 article in the New York Times….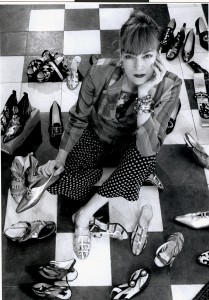 picture by Robert Royal.
In the meantime things were different now in Elda and I had much more time. What happened was, I was approached by a big factory that only made shoes for America, a certain pump which they sold by the thousands. They asked me if I would be part of their factory as a luxury designer which would be publicity for them as they wrote about me in the shoe papers and I had won an award. For them it was a sort of prestige and for me it meant not to have to pay salaries anymore, which was a head-ache every week because we often had to wait very long to be paid and there were lots of bills as well. I didn't need an office anymore, they took care of everything, I only designed, chose the materials, worked with the pattern maker and the cutter and have the models made up, always in my size so I could judge the comfortability which for me was number one of importance. I also took care of the publicity and the sales with our agents. They took care of the sending and the money, I received a salary plus royalties on the shoes sold. I could stay mostly home in Madrid and work there and sometimes go to Elda to do what I have to do and stay a week or 2. An other good thing was that they knew the american sizing well and could do it all in English. The sizing was a bit complicated in the beginning because in Spain it was different from French, american or English sizes. One wonders why they are not all the same everywhere? Once when we had a big order for boots by the then super hot boutique "Joseph" in London, they asked for a lot of boots in size 5 and 5 1/2 and 6, we thought it strange but somehow thought that English girls probably had very small feet or something like that, and we made up all those boots in those sizes and got them all back because they were so small; an English 5 is a Spanish 37 or a French 7 1/2 or an American 7?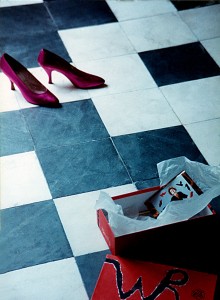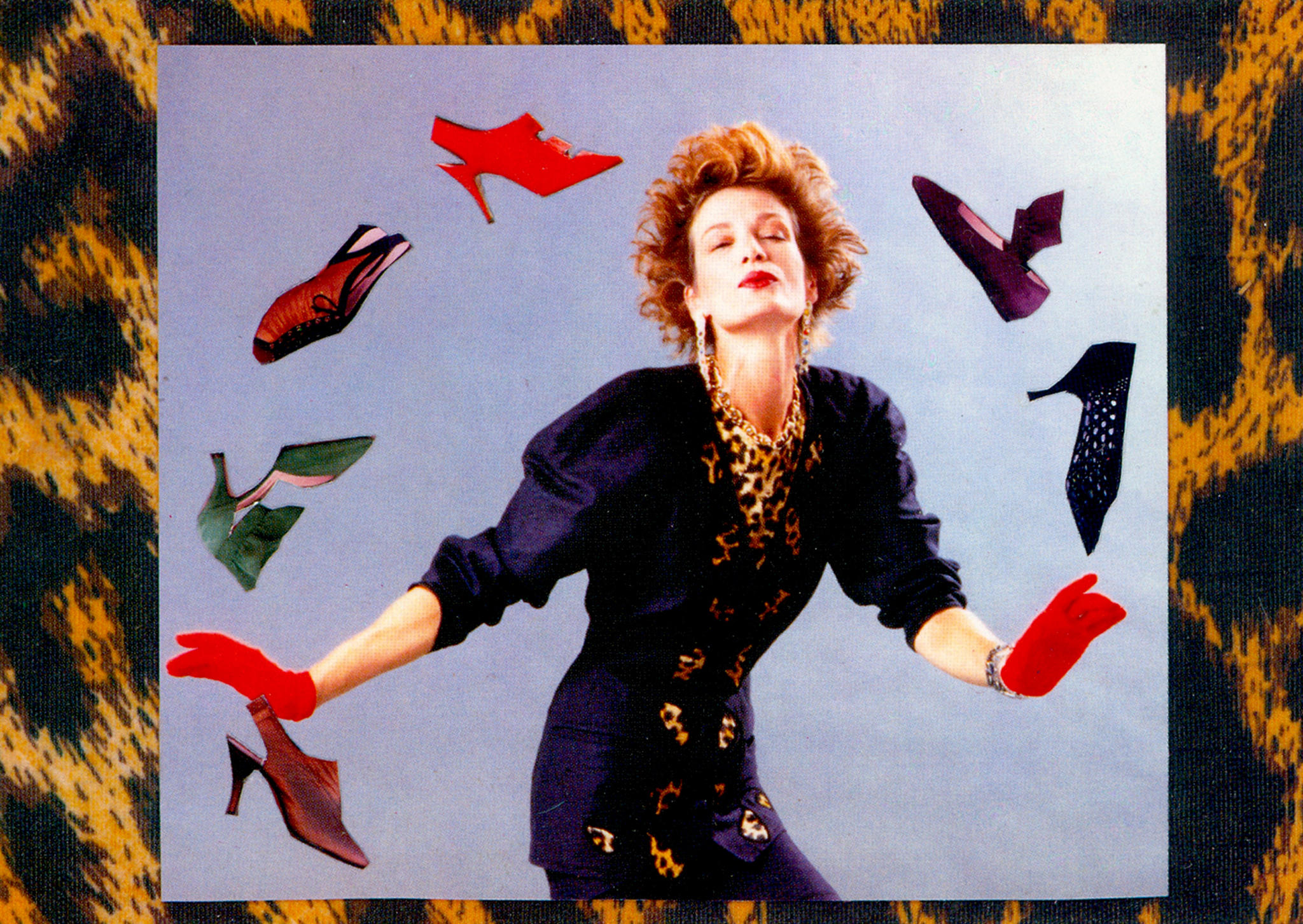 postcard for the store, picture Sylvia Polakov, collage WVR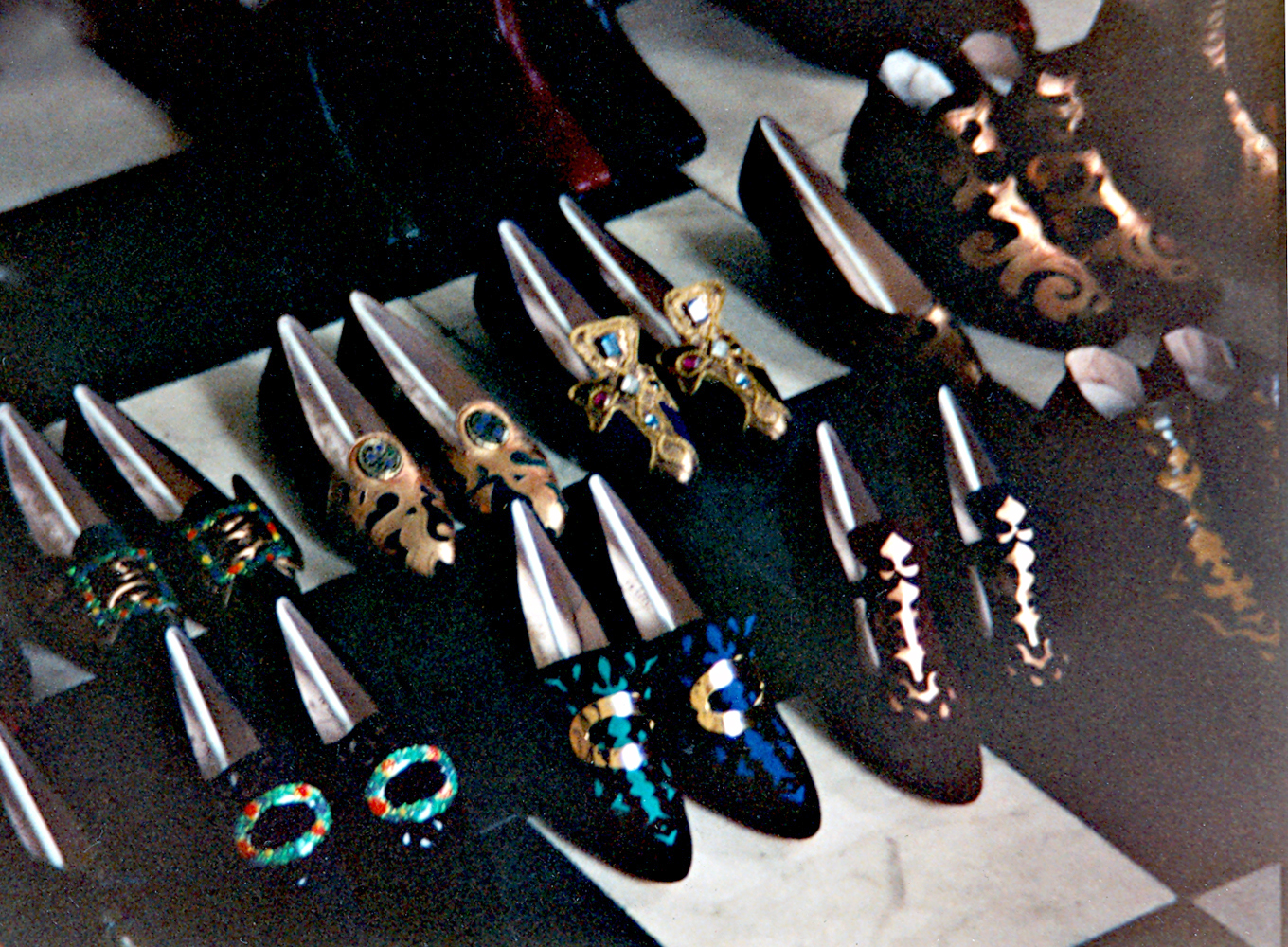 part of a winter collection…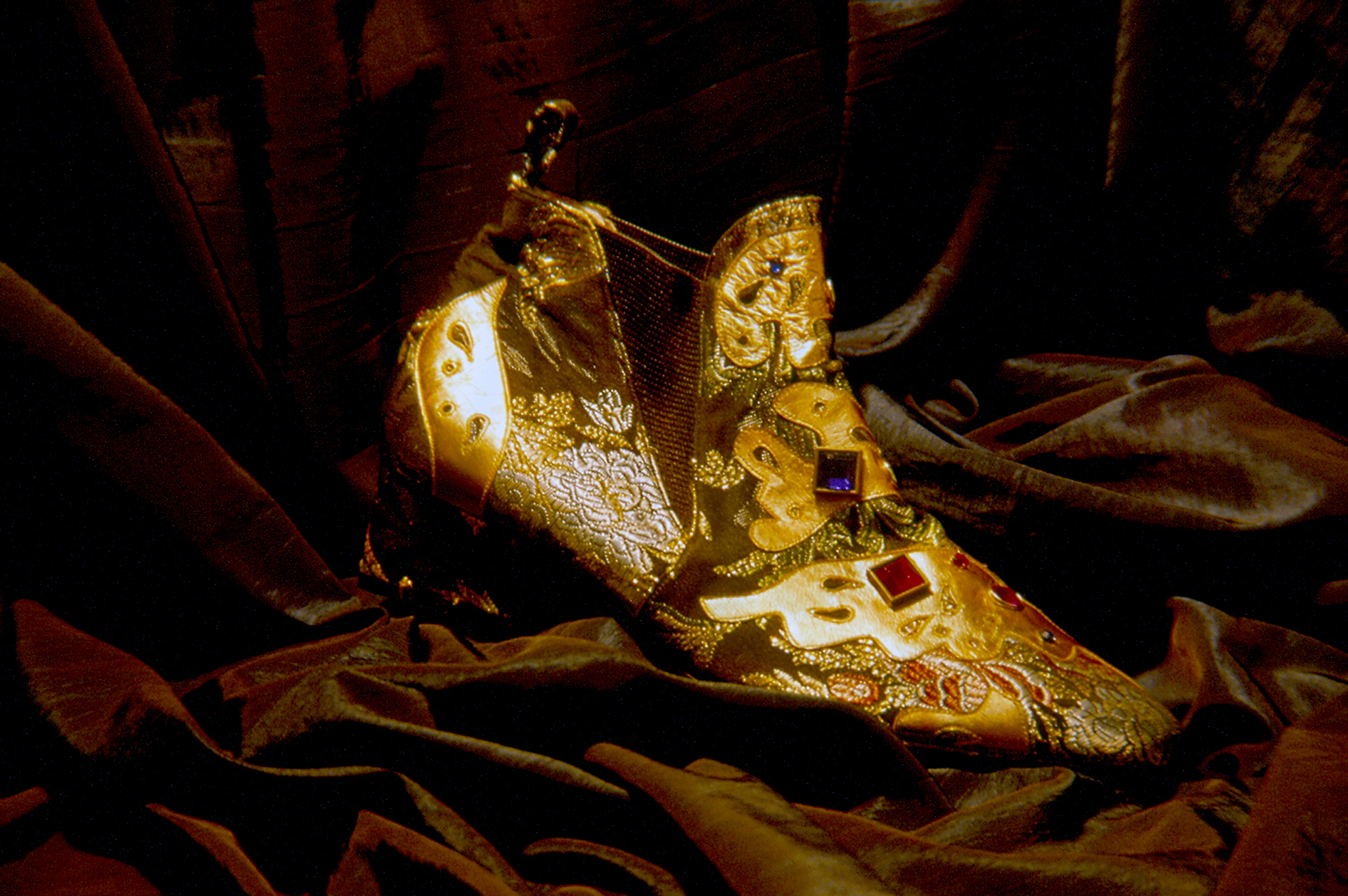 One of the pictures I did of "Number 1 "….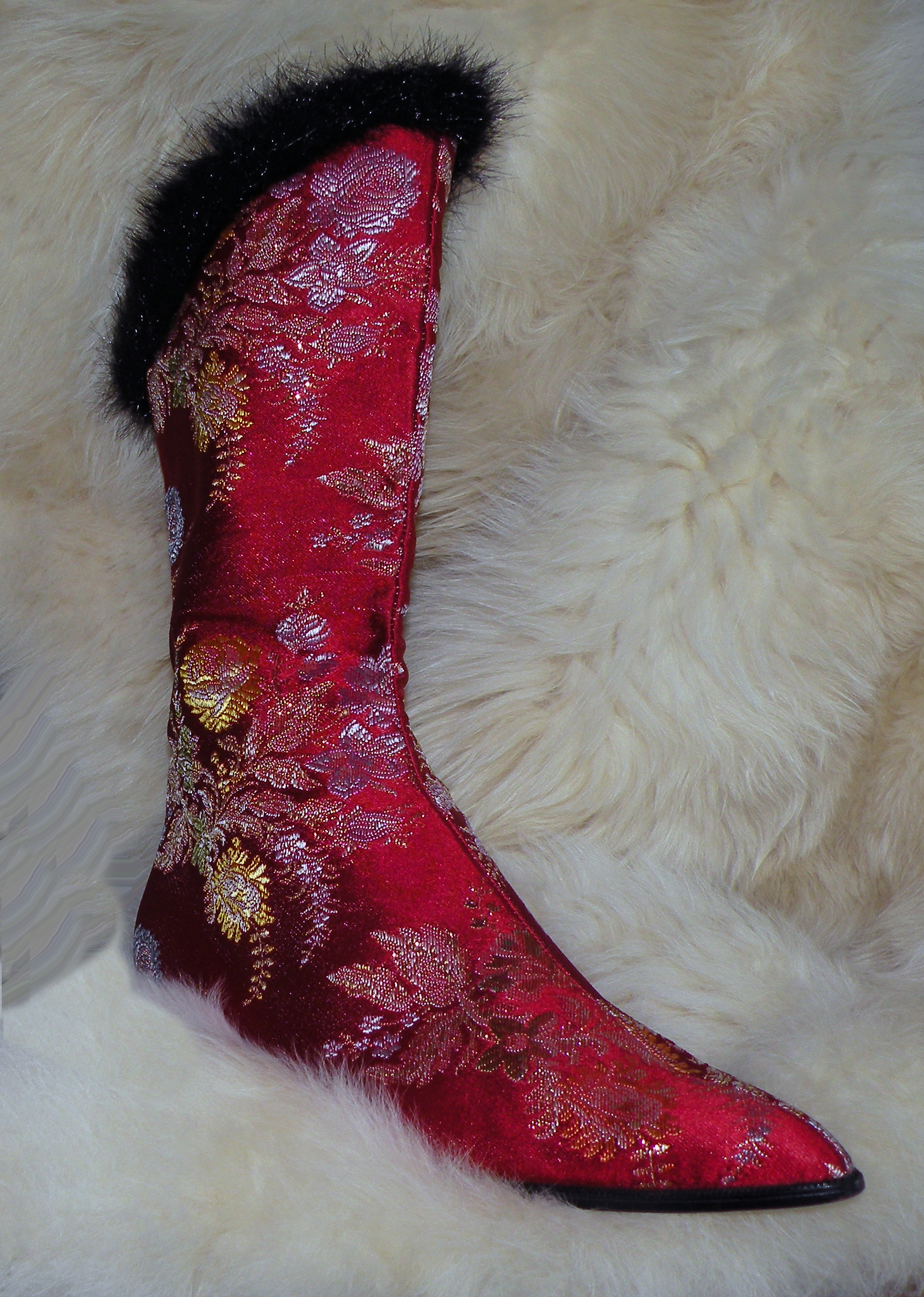 One of my favorite booties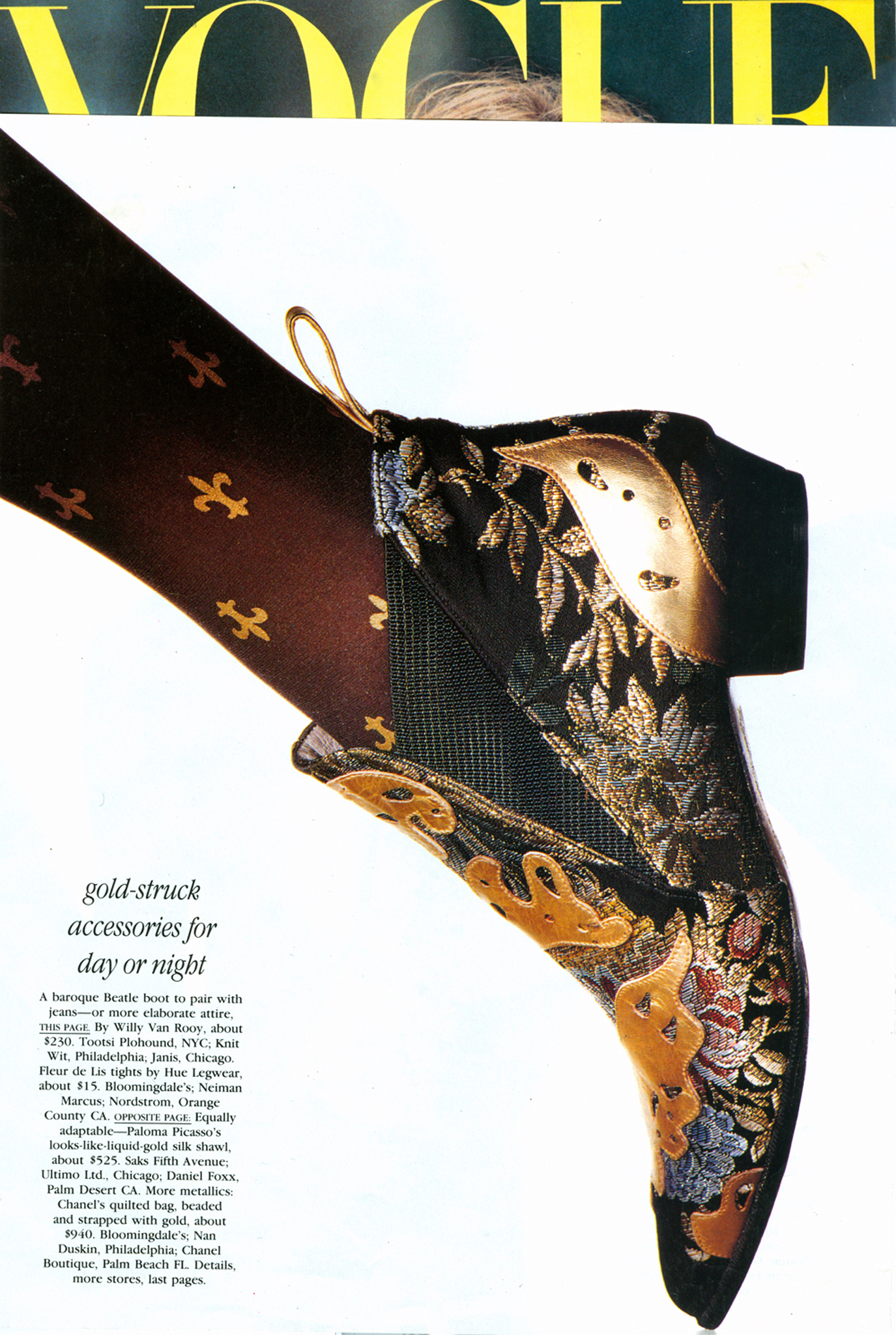 and the same shoe without the stones photographed by Irvin Penn for American Vogue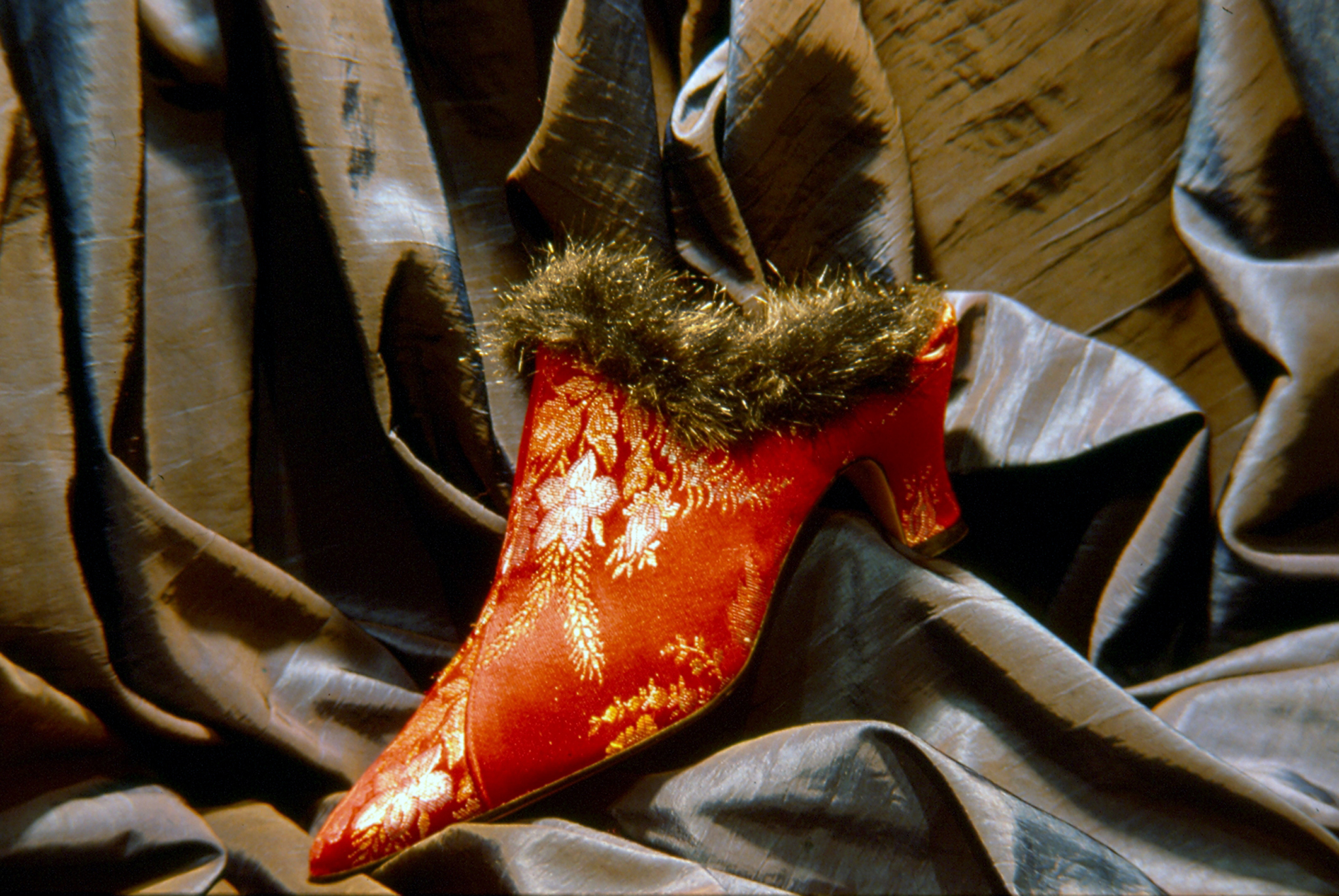 the fur laced slipper.. as seen by me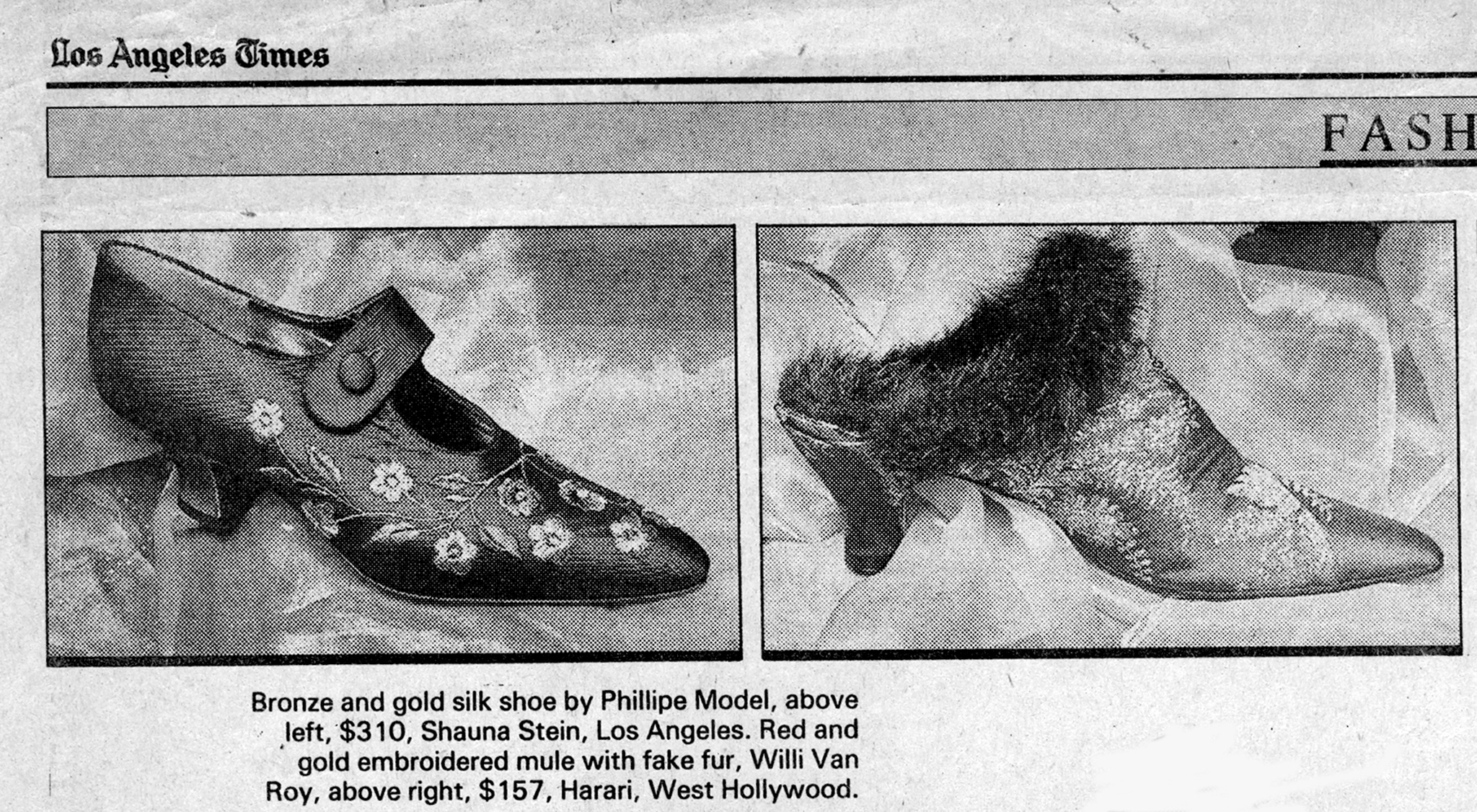 or by the Los Angeles Times…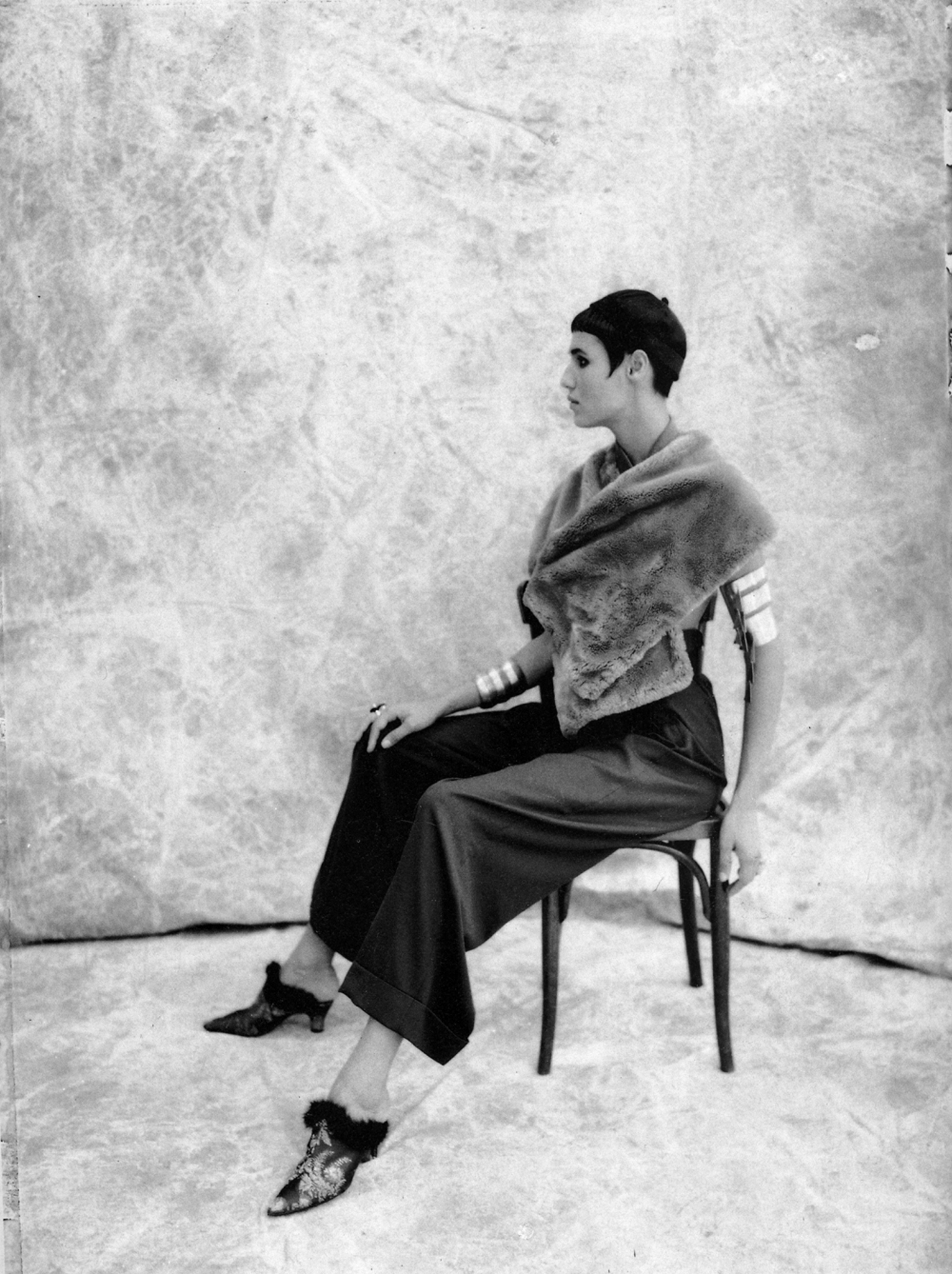 … or by the Spanish Vogue…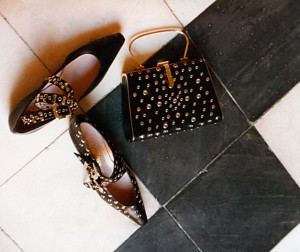 I thought the floor in our place was very photogenic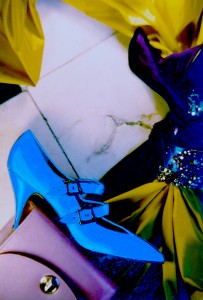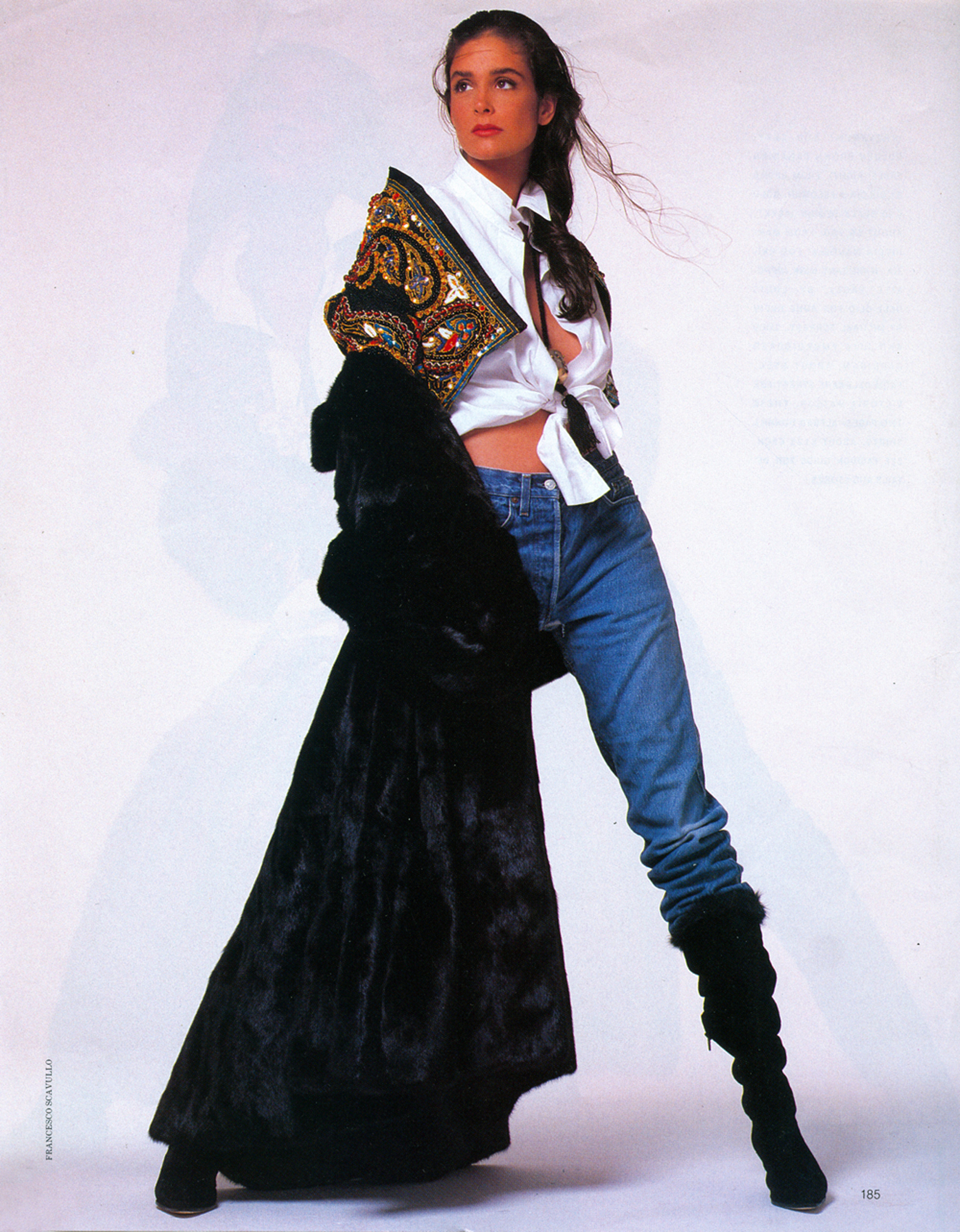 my boots for American Bazaar photographed by Scavullo…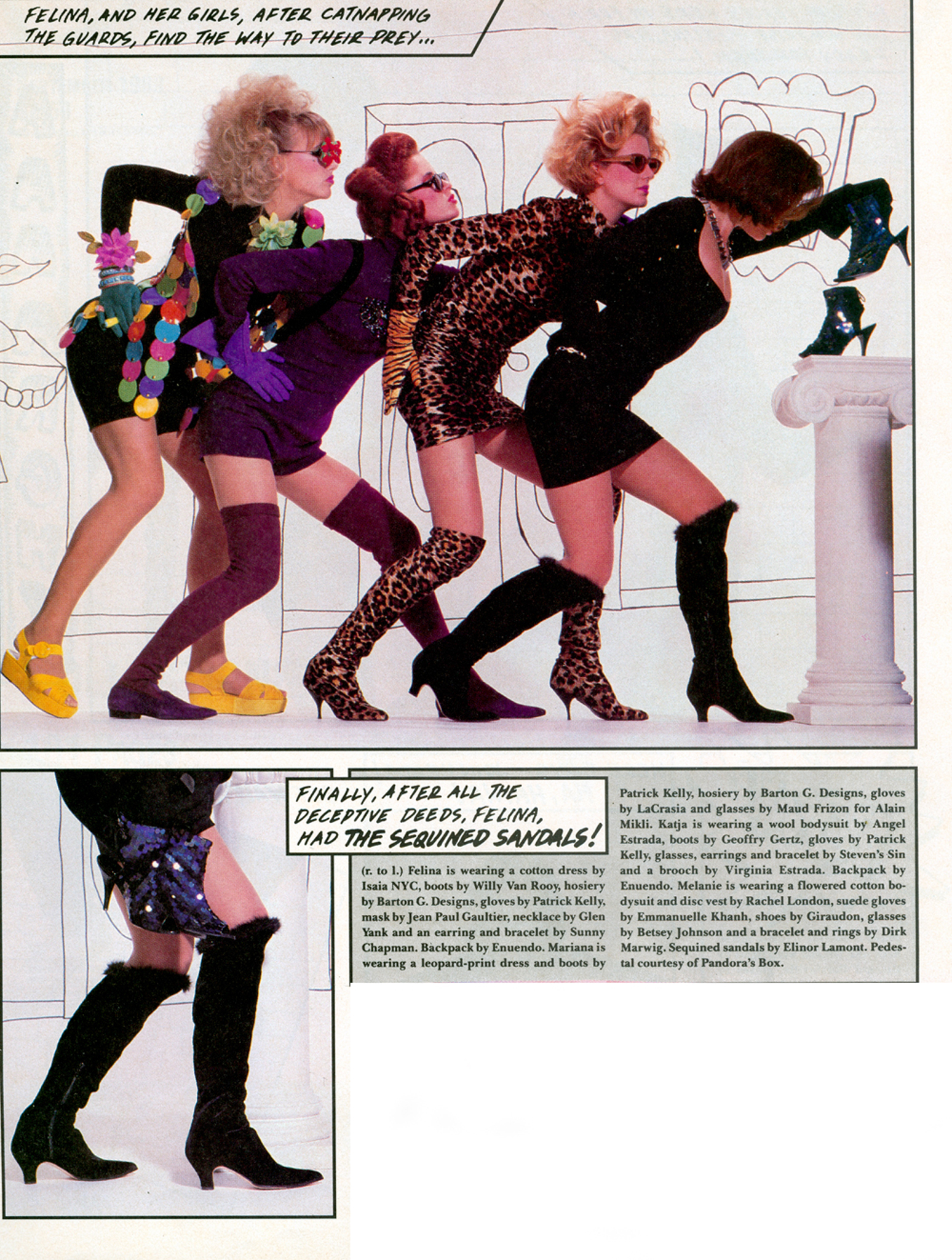 or the same boots in "Details" Magazine.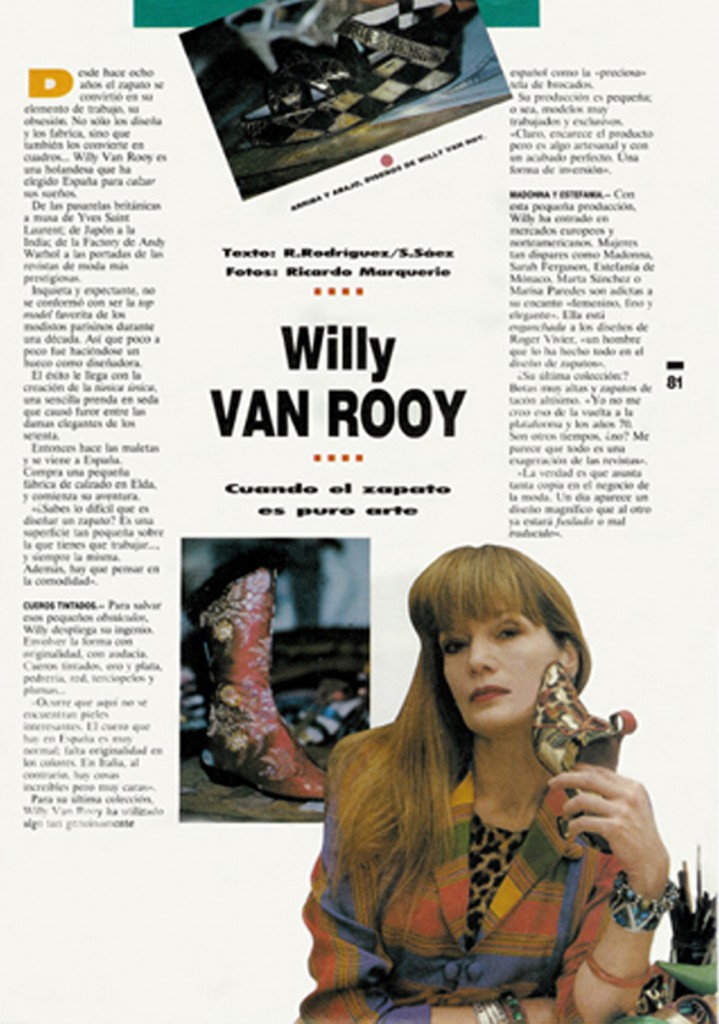 in a Spanish magazine…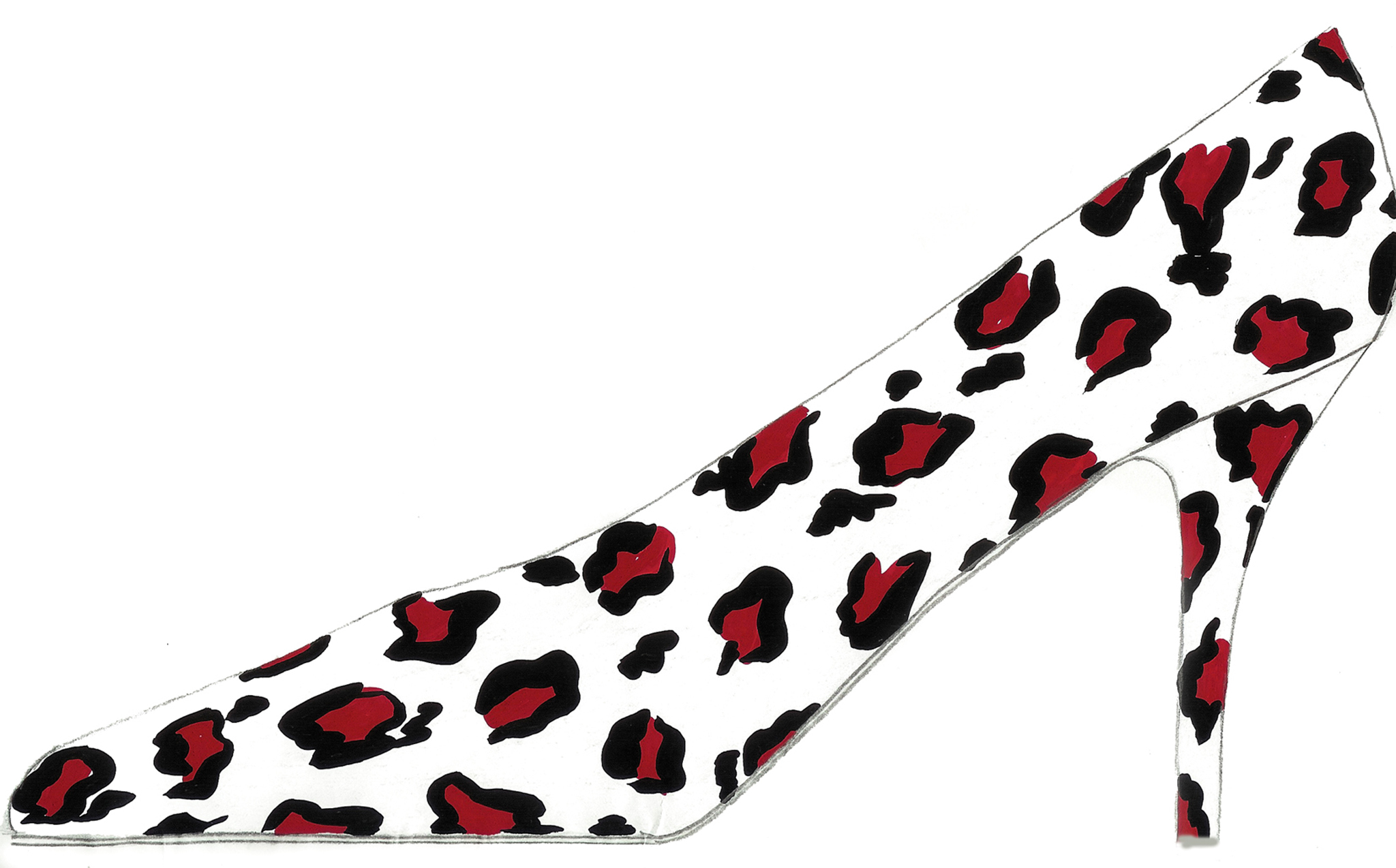 Things were quiet different now…..   Things were going well…
but changes were to come…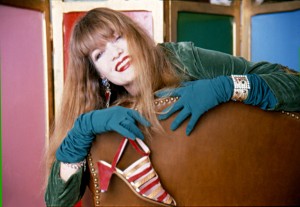 LOVE and PEACE