Oh, sorry it took so long to get back to you but we were packing and moving from Oregon back to Los Angeles. We have lived in Oregon in this " middle of nowhere," wonderful place called Sherwood, between Pine trees ( Douglas Fur) and friends, surrounded by fruit trees and flowers, for almost 3 years and now we felt like moving back to LA to be with our daughter and her family. A new adventure…
In the meantime in my story we are still in 1983-84. Can you imagine the 80-ties? The "House". The "Funk," the "Disco," the "Saturday-night fever," the Grunge, the big shoulders, enormous earrings and boots in all lengths, style and shape.
For us things got more serious and more complicated. Here we were on top of the mountain somewhere in the very south of Spain where now we had 2 big houses to take care of. La Muñeca was a beautiful house and huge! 13 bedrooms and different other rooms on the roof and an enormous cellar full of beautiful hand-painted Spanish ceramic plates and bowls of all sizes, which were there because the owner had ordered 1 set of each but they had delivered 6 sets of each and now they were stuck there.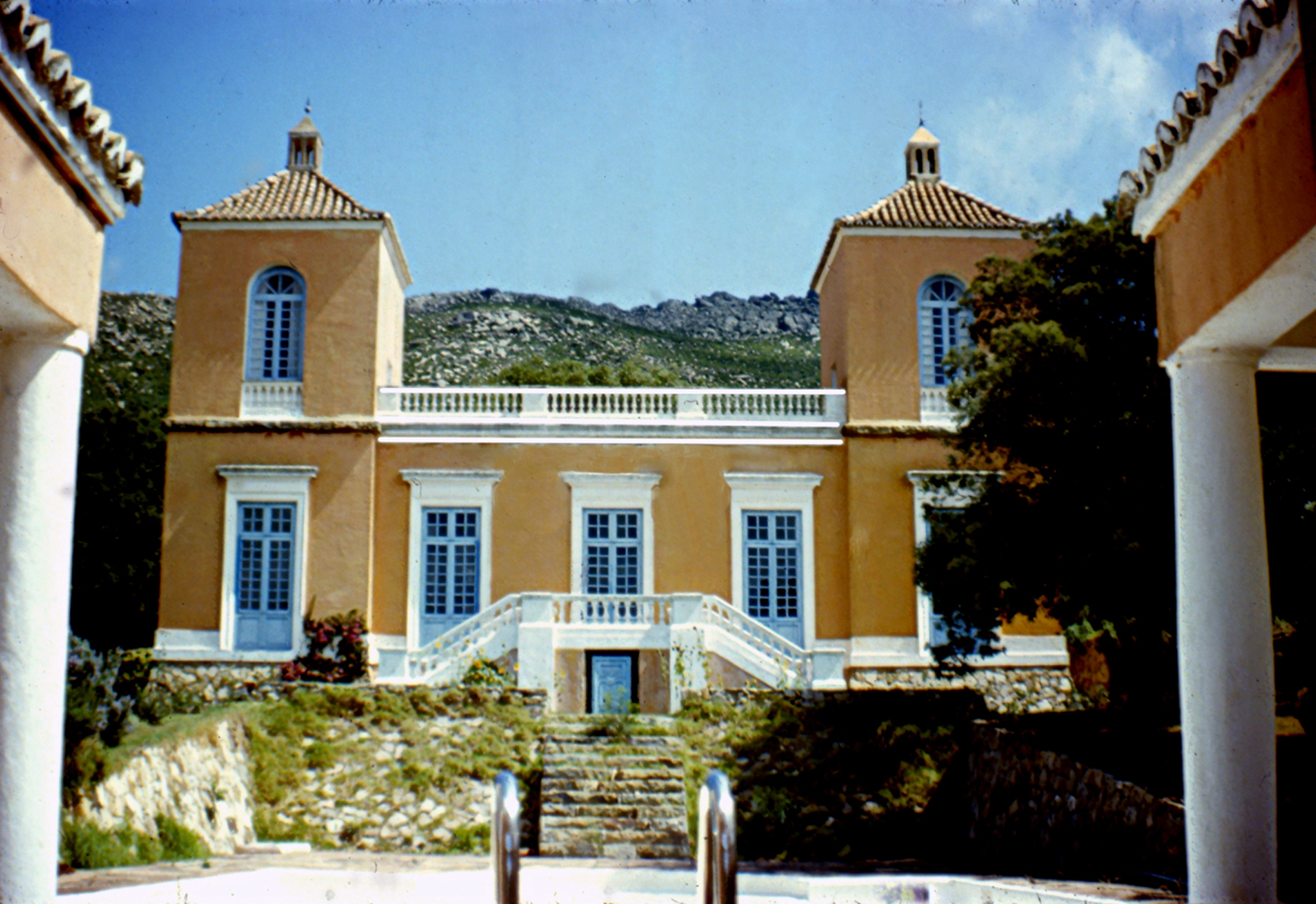 La Muñeca ( The Doll) seen from the end of the pool and from where there was a glorious view of Africa  ☞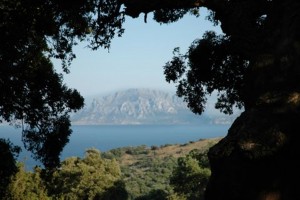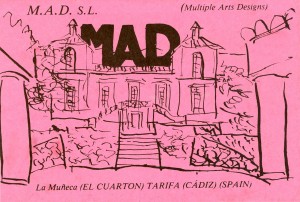 This is our first business card,drawn by Salvador with the name of our company which was"MAD"sl. MAD was standing for "Multiple Art Designs" or Money.Argent.Dinero.
Furthermore the house called "La Muñeca" was fully equipped with sheets and blankets for all the rooms and pots and pans and everything else, all of the best quality, maybe a bit less than the house we were living in "El Nido" where everything was first class, like the silverware was silver and all the plates and cups exclusive handmade, all the antiques, beautiful lamps and tables but both houses had their charm. The thing I liked most about the big house was that it had an enormous swimming pool and it was empty and painted white so it made for the best open-air photo-studio anyone can imagine.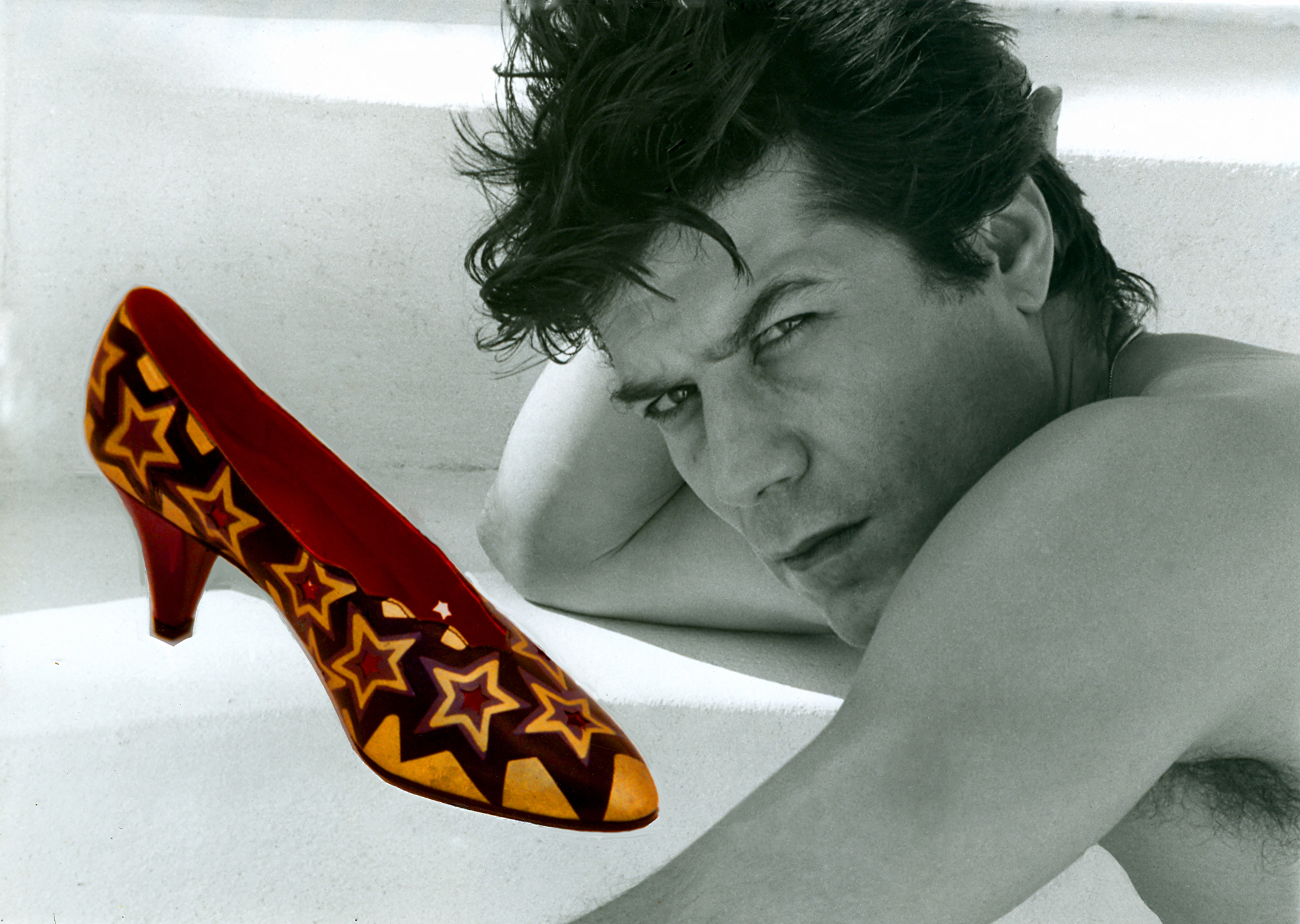 Picture of Salvador in the "Pool" studio with a shoe of the first collection called "star"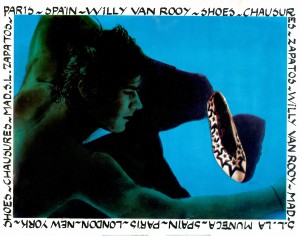 Postcard we made from one of the pictures which we send out to a lot of shoe-stores to invite them to the Elda Shoe Fair. Well, this was all fine and wonderful but in the meantime we lived far away from Elda, Alicante, and not only that but it was very hard to stay in contact. There was no telephone in either of the houses ( cell phones did not exist then) so if we wanted or needed to make a call we had to go all the way down the mountain and be lucky if someone was in the "office" to let you in and let you make a call and then if we were very lucky we got Francisco on the phone. This was all a bit of a problem but we trusted them and thought they knew what they were doing.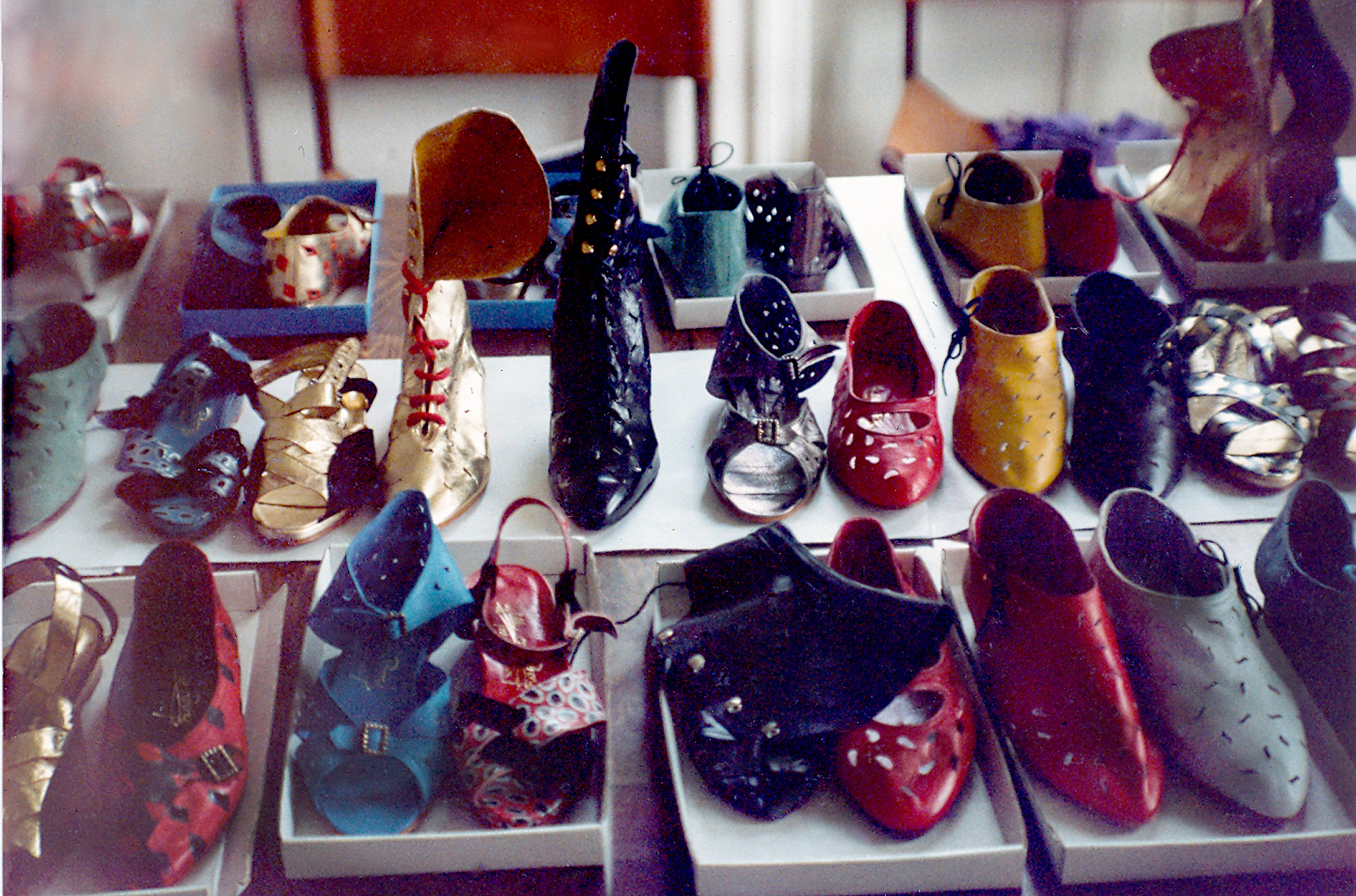 First collection as they arrived in their white boxes…
We found a school for Alejandro which was quiet a way away, down the mountain early in the morning and take the bus, in the afternoon up the mountain and so if we were not there  he had to walk both ways and because we had to be away at times we needed a girl to take care because we were too busy. We found a lovely country girl, Maria Jose, a healthy strong young woman who could cook and everything else, it was nothing for her to kill a chicken or walk up the mountain every morning as she did not want to stay overnight unless it was really necessary, like when we were going to be away for a week and Alejandro could not stay by himself there in that big house of course.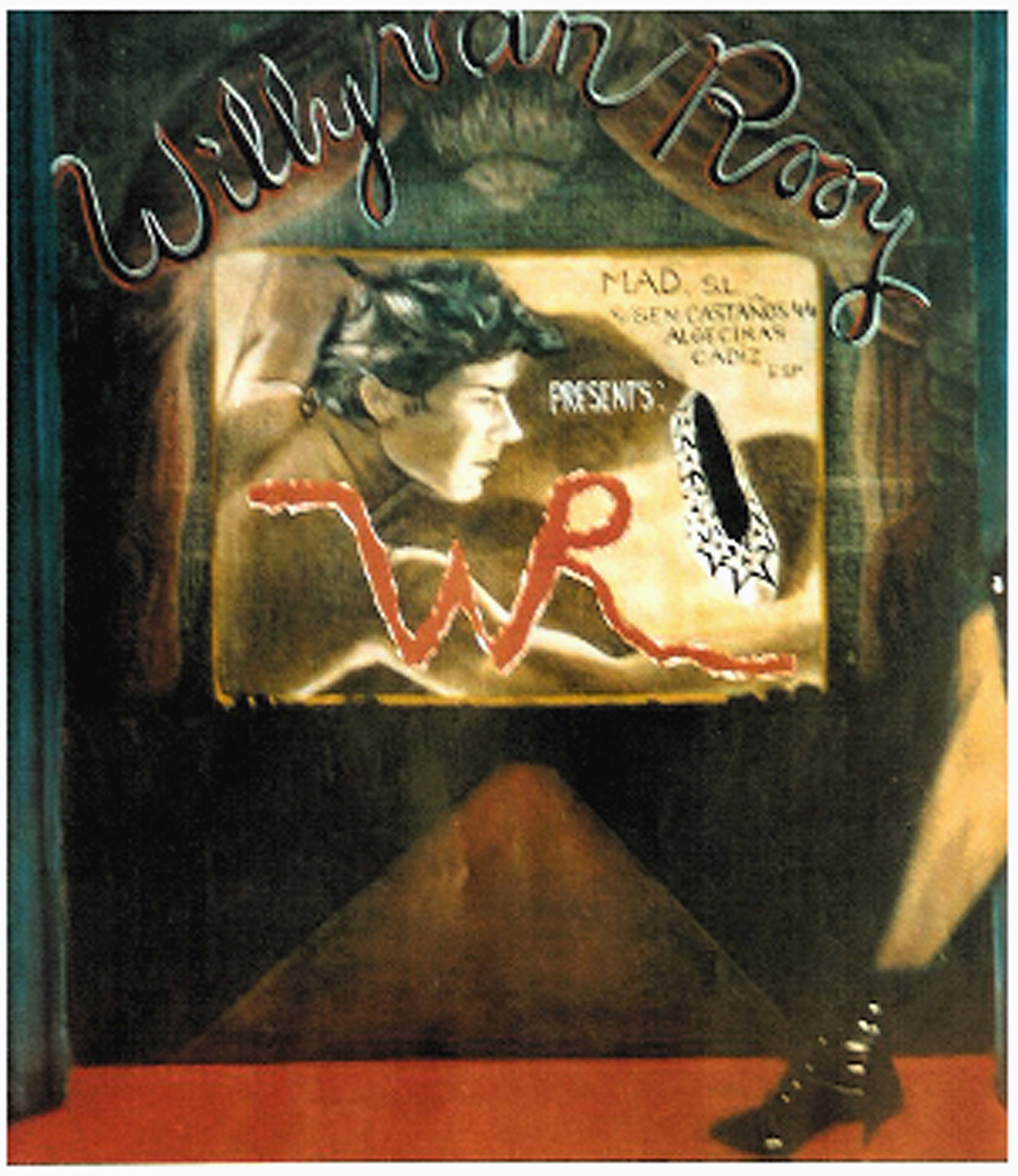 Poster Salvador made, we sent those to all our clients to put in their store…
Now we had to go to Elda more often because the samples were ready and we decided to make up a certain amount of pairs in different sizes of each model so we would have a stock in case we started selling. Actually the factory that was making the shoes for us just needed work and convinced us that that was the way it was done, which was and is of course not the case. You make the models, take the orders and only then start the production. But as we were new to this and innocently believed what they were telling us, we had them make up a "stock". OK, but now what? Where to put all these shoes? To have them brought up all the way to the top of the mountain seemed extreme and costly so we rented an office space in the town of Algeciras, the nearest city. OK, an other place that needed to be cleaned, painted and made ready so we worked hard and got it to look great, we even had our own telephone now so we were in a much closer contact with Francisco in Elda and one fine day we received the first shipment of shoes, big boxes full! We did not have our own shoebox designed yet so they were all in white plain shoeboxes but we could not believe our eyes when we opened them. Usually each shoe is filled up with silk paper folded to keep the shape and then each shoe is individually wrapped in some more silk-paper. Well, these that we saw in the boxes were to our astonishment wrapped in kitchen-towels and filled with toilet paper! Honestly, quiet "avant-garde" really, but not our style and there we understood that it had to be totally in our control otherwise anything could happen and did happen.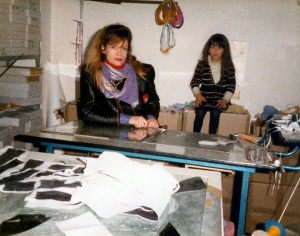 with Alegria, checking the production…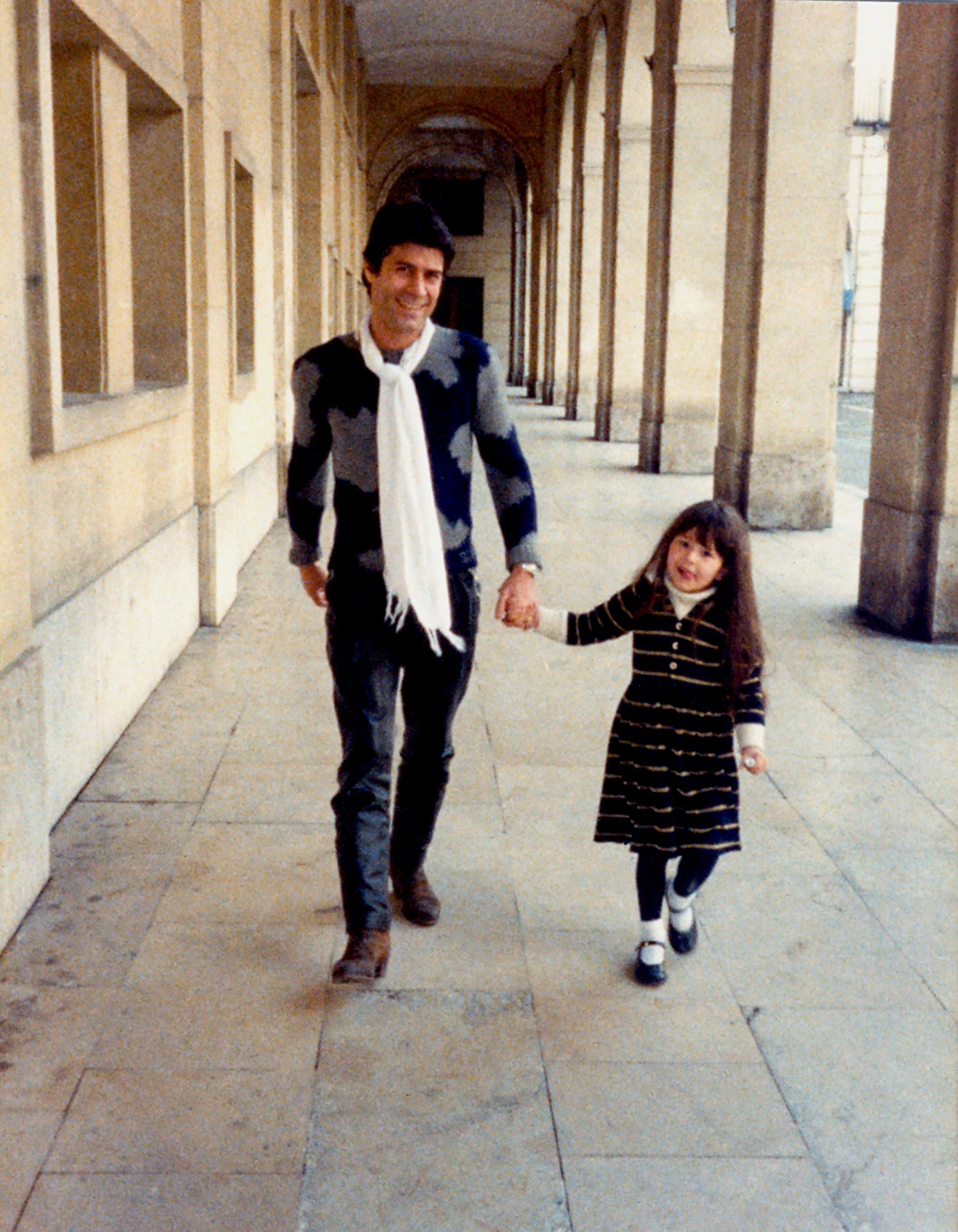 In Alicante on the way to our Hotel… both dressed by me, the sweater I knitted in Paris and the leather pants I think are still from NY. Alegria's dress was recent, I made most of her clothes and she was my best model…
One day the girl who worked in our office a few hours a day, wanted to wash her hands but there was no water, something that happened often in Algeciras at certain hours, but she forgot to close the tab and went home and sure enough the water came back… Next day when we came to the office and opened the door we could not believe our eyes, it really was an unbelievable sight to see all these boxes floating in the water that had been running all night. Well, this was a real disaster and we realized we had to do the whole thing differently and came to the conclusion that we somehow needed our own factory so we could control the quality and the timing because it was very important things got sent to the clients in time and they all wanted it NOW!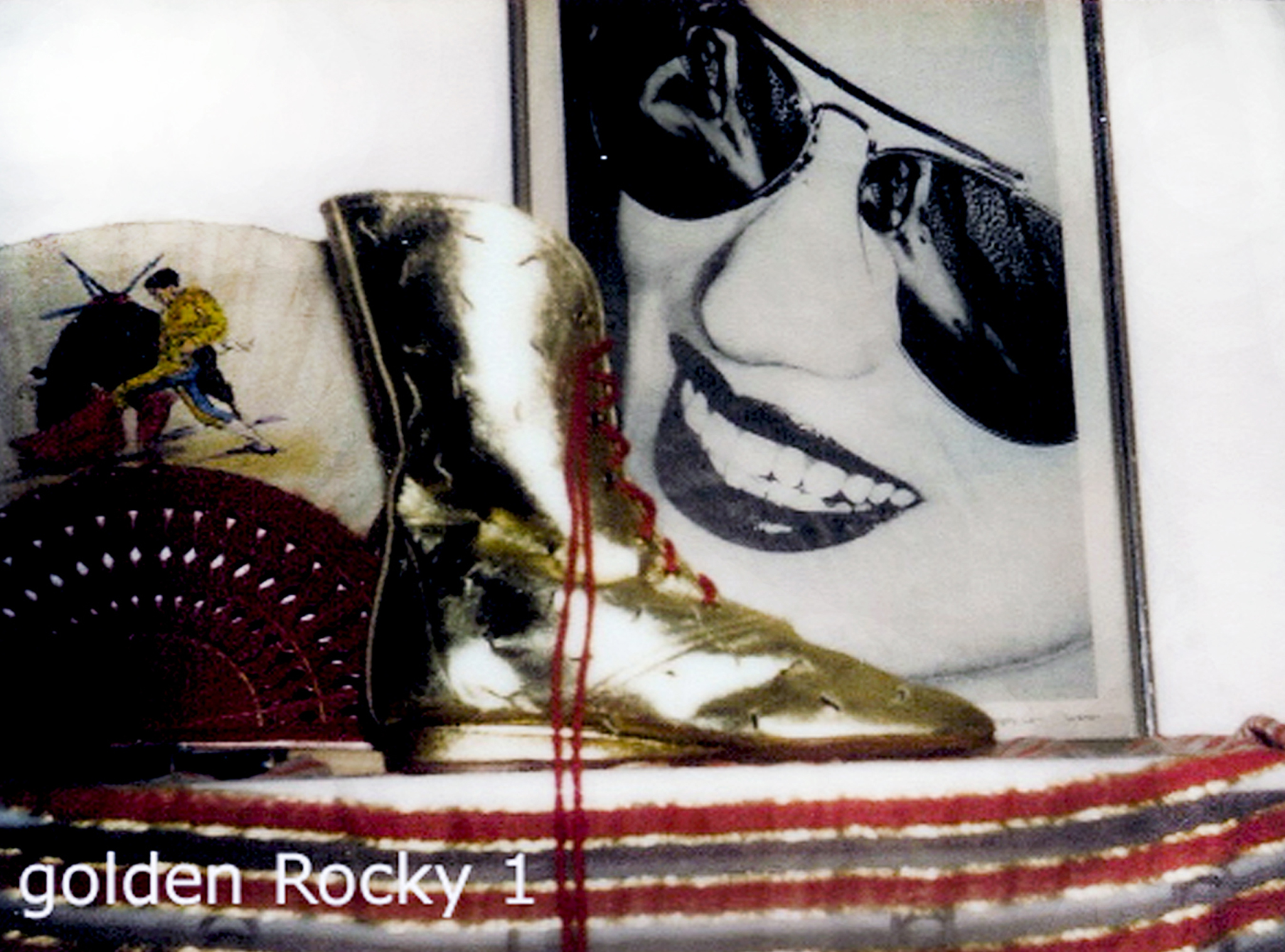 Golden Rocky, the al-time favorite, sold it over and over again…  background picture by Laurence Sackman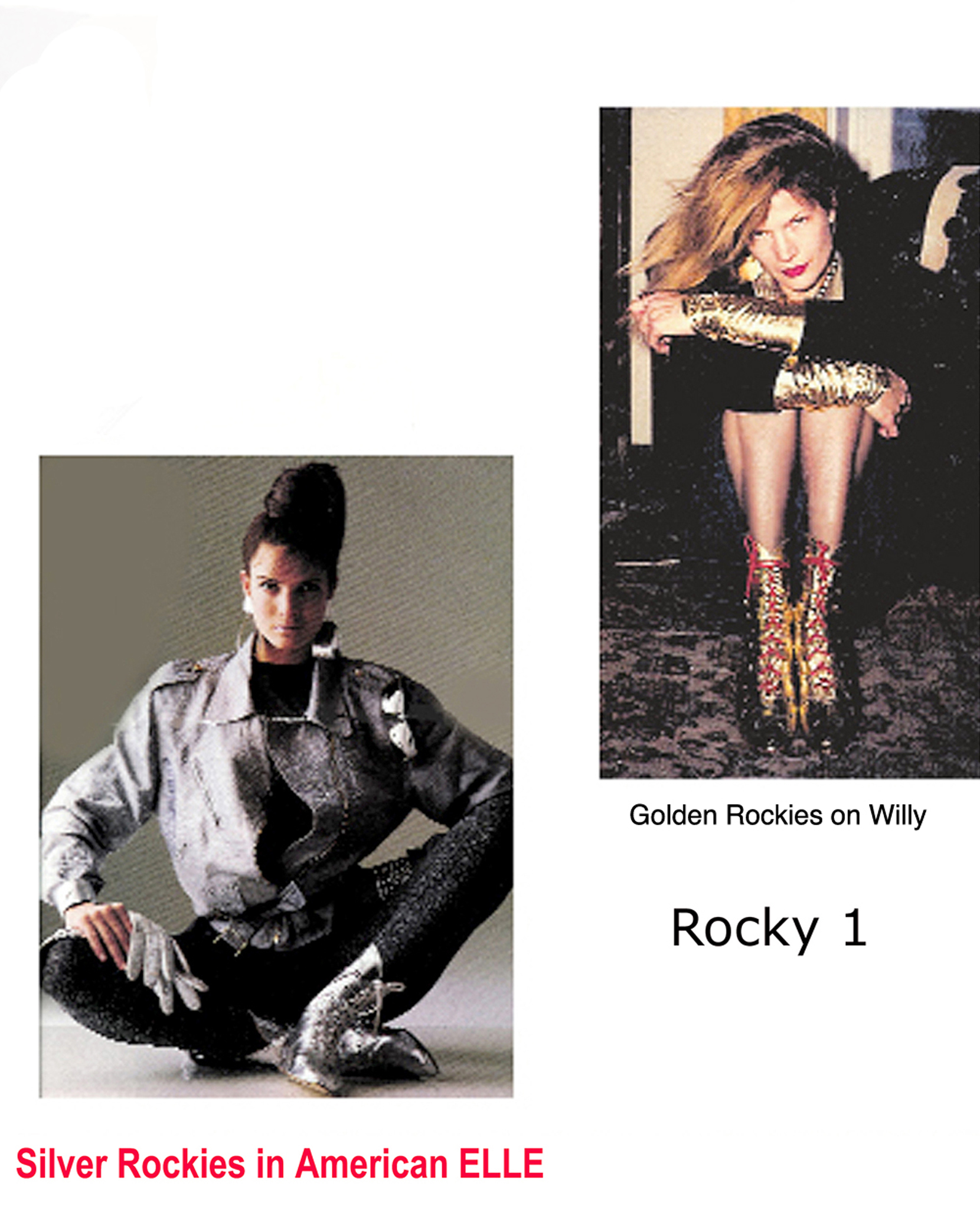 If there was a lot of work you could hire freelance shoemakers  of which there were many in Elda and everything would be controlled by us and our leathers would not get mixed up any longer, something that happened when we had our shoes made up by an other factory, they would use my beautiful leather lining for their shoes while they used their hard ones for mine… or they would put the wrong heel, or burn the leather, did not finish them (the finishing touch is important) thats when the shoes are checked, cleaned, brushed, wrapped and put in the boxes, but at times they were in such a hurry that they put them in the boxes without finishing.. We discovered this by accident! They had no idea that these shoes were going to the hottest ¨chic¨ stores.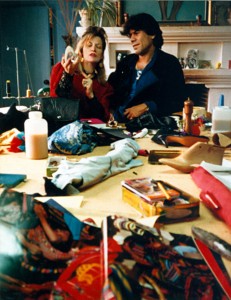 Working in the Muñeca studio.
Anyway, we asked Francisco to look around and see what he could come up with and it did not take too long……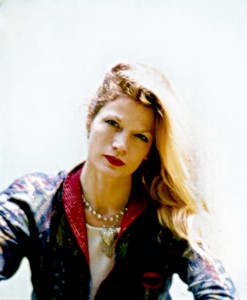 LOVE AND PEACE