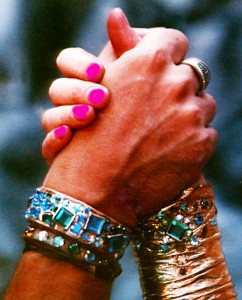 Oh, How wonderful to be making shoes, loved every minute of it although it was not always wine and roses.
The production was more or less in place so now the selling was the most important and in order to do so we had to get known  in the shoe store world. So after we did the shoe-fair in Elda…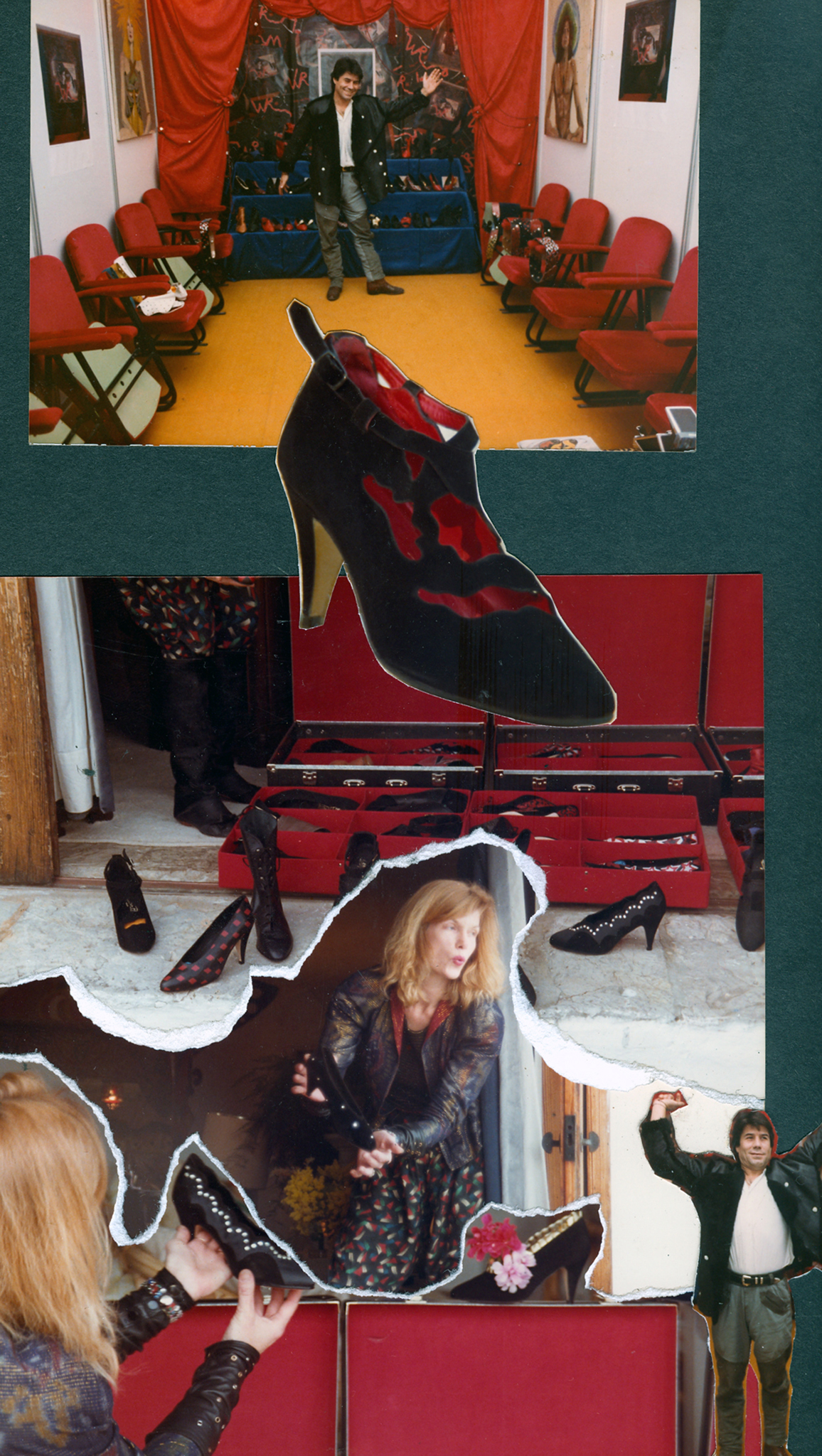 which was very successful, we decided to do the NY Fashion Fair with our shoes and belts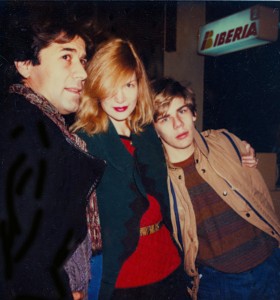 Alejandro brought us to the airport.…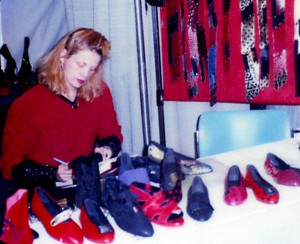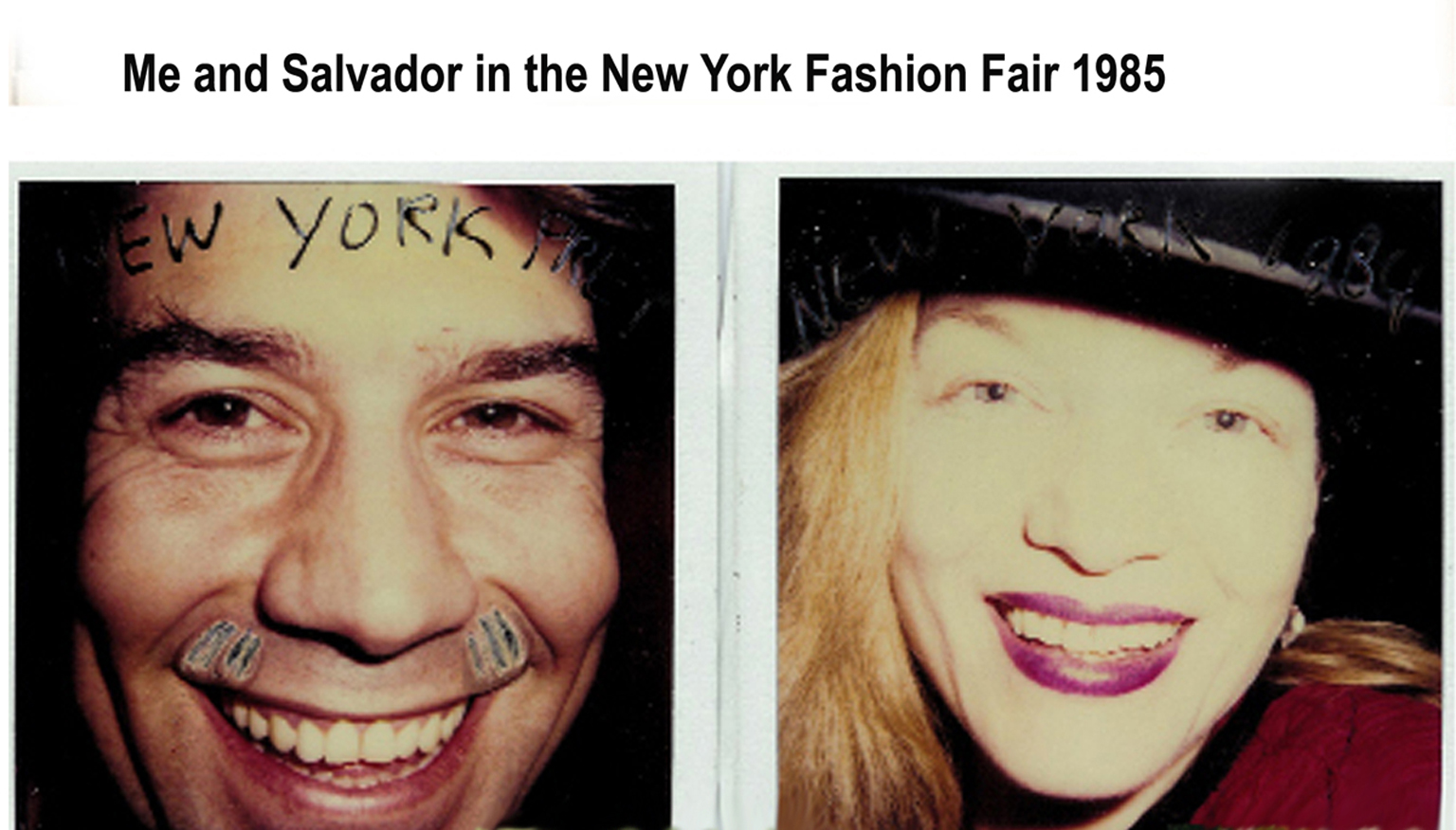 We were received in style in NY.  Samina, the Pakistani princess  and owner of the Nido del Aquila, came to pick us up at the airport in a white Rolls Royce, wearing an incredible white fur sitting there beautifully in the white leather seats.… ha, ha she was too much.… you should have seen her home, all minimalistic super modern Italian furniture, it was indeed nice to see her and we promised we would do our best helping her to sell her house in Spain….
By now we had quiet some clients in the US, all wonderful stores, and we got some nice press in the Woman's wear daily and some other magazines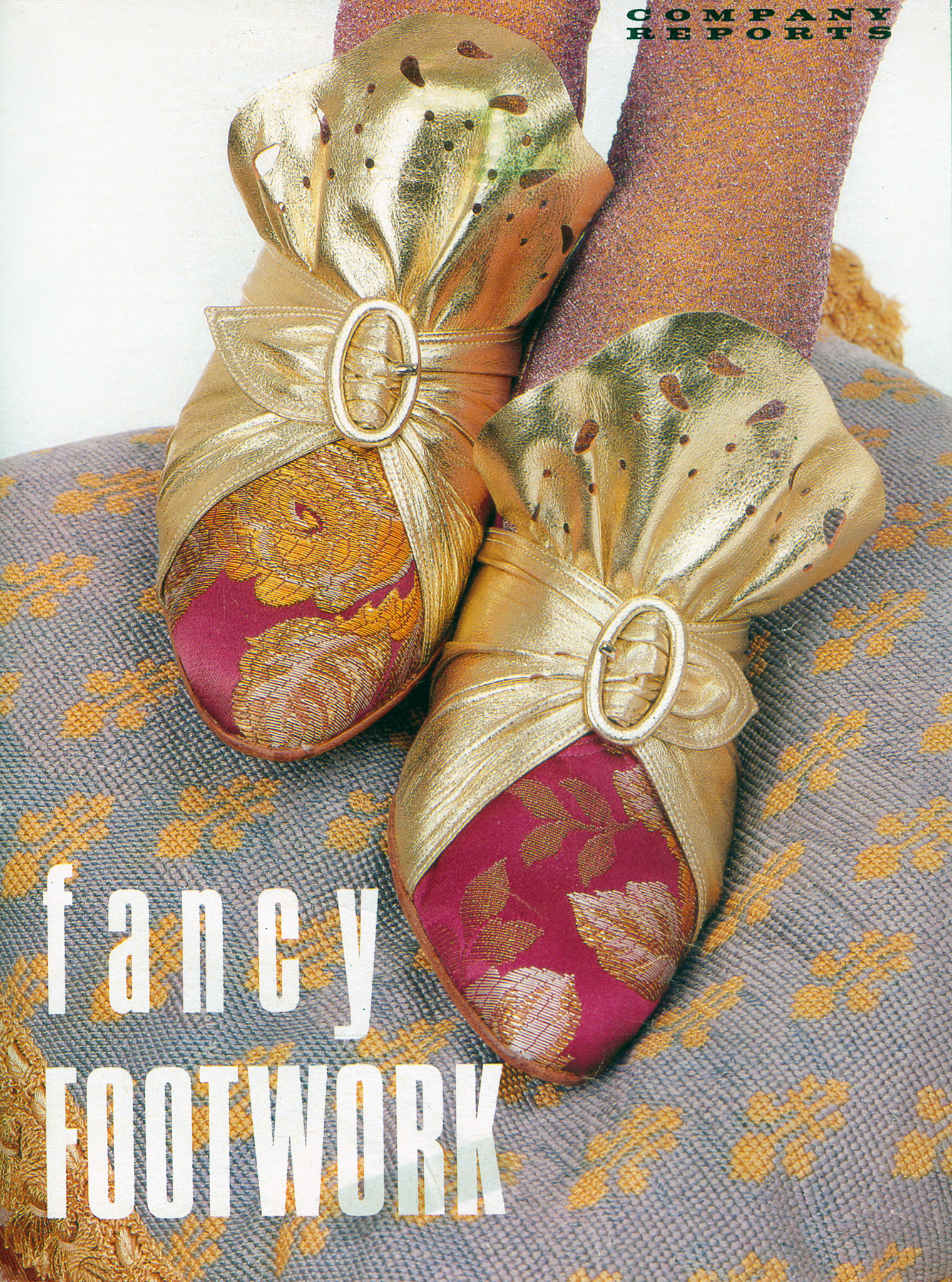 The "Faust"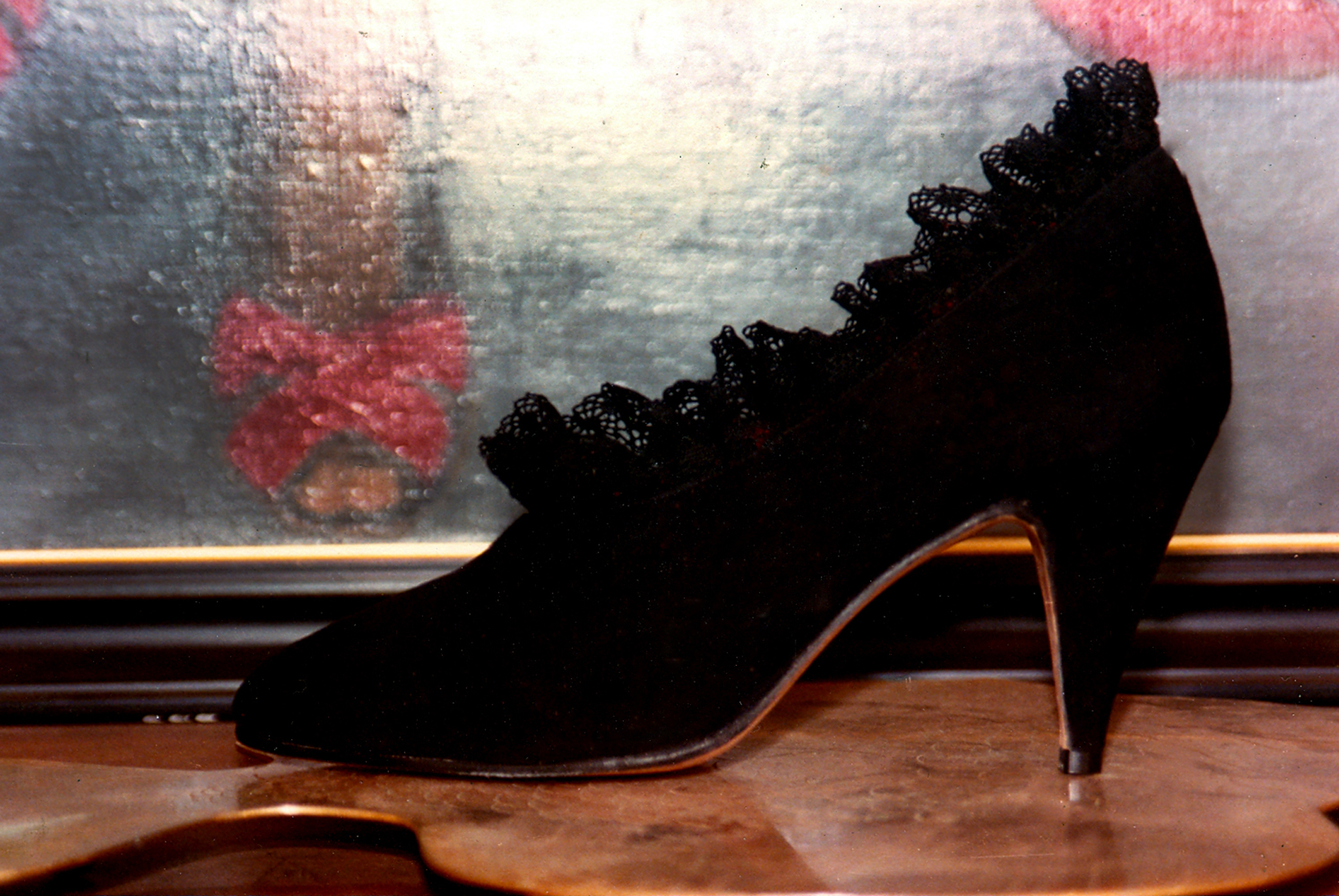 " La Española" designed by Salvador…
Carmen Maura, famous Spanish movie-star with my Rockies in Blue
In order to keep the factory busy between the time we made-up the models, did the selling, prepare the orders, order the materials and so on, there was a gap in which I had to keep the seamstresses and cutters busy, the shoemakers took much longer and they had always something to do and most of them were temporary workers anyway but not the seamstresses and cutters… so I started to make belts and mittens and finally bracelets of leather incrusted with studs and stones. We sold those like Hot cakes!
The first sample I always made myself and the happiest moments of that time was to be in the factory at night after everybody had gone home, sometimes with Salvador, sometimes with Marianni, sometimes alone, everything at hand, leathers, studs, stones, machines and everything else to design and make up whatever came to my mind, nice music, a good joint, that was heavenly to me.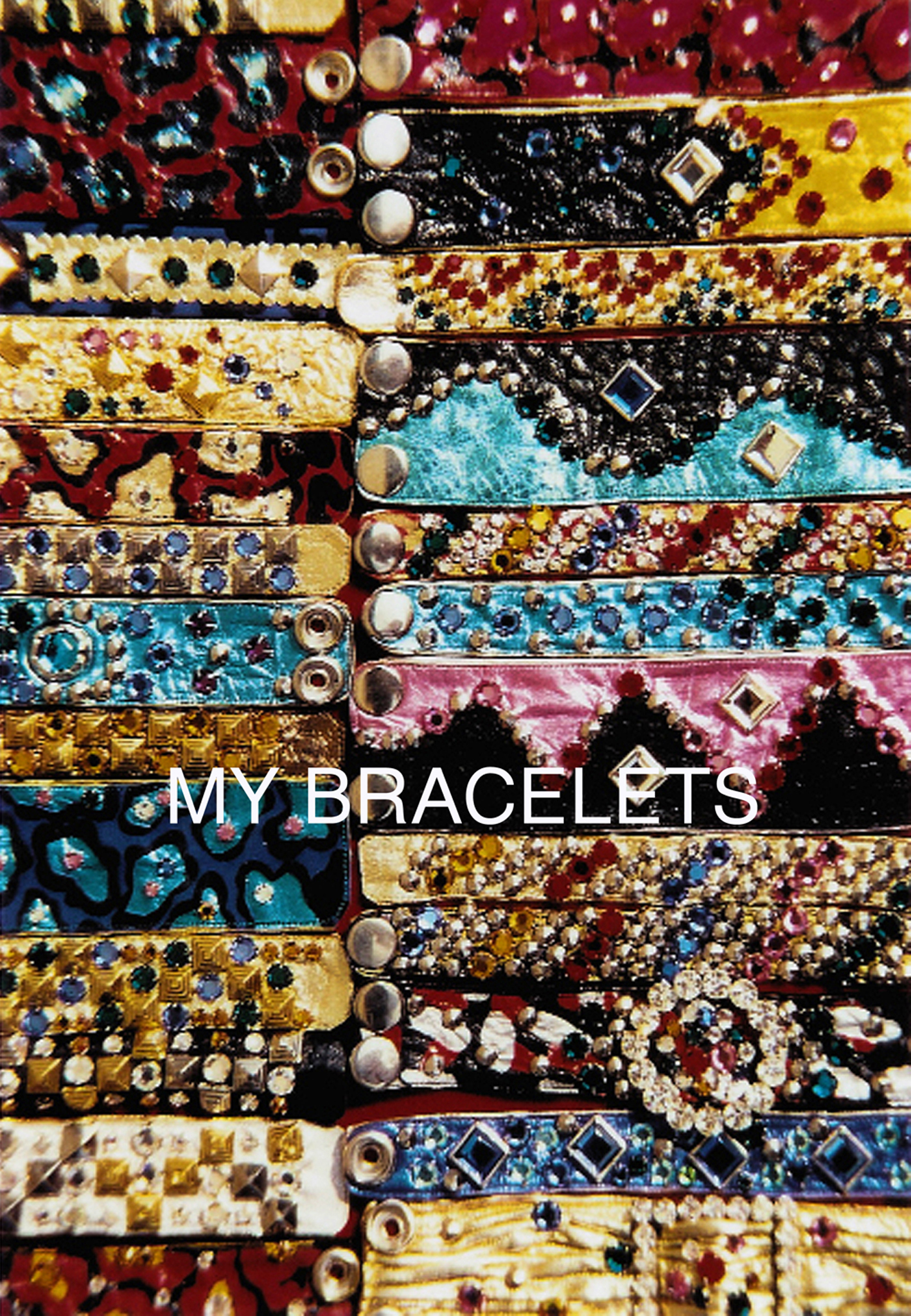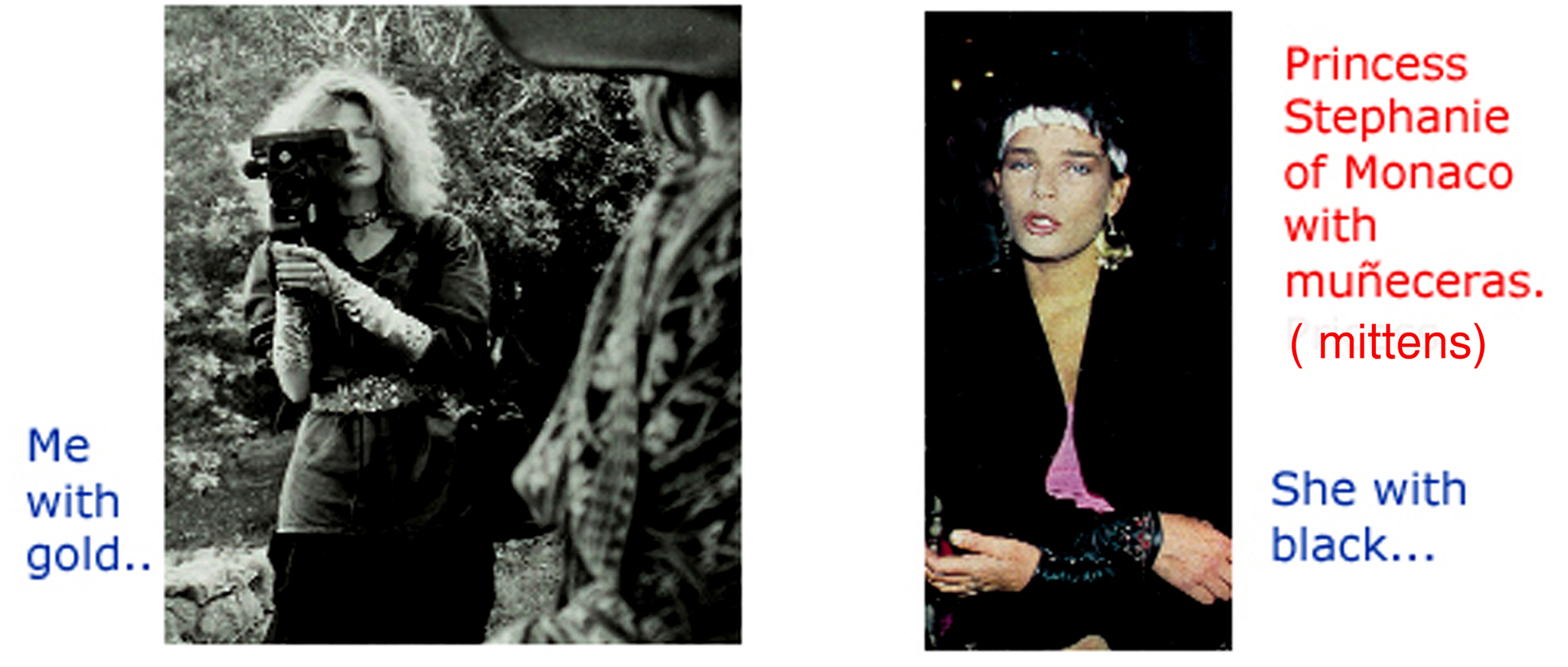 The mittens, ( muñeceras)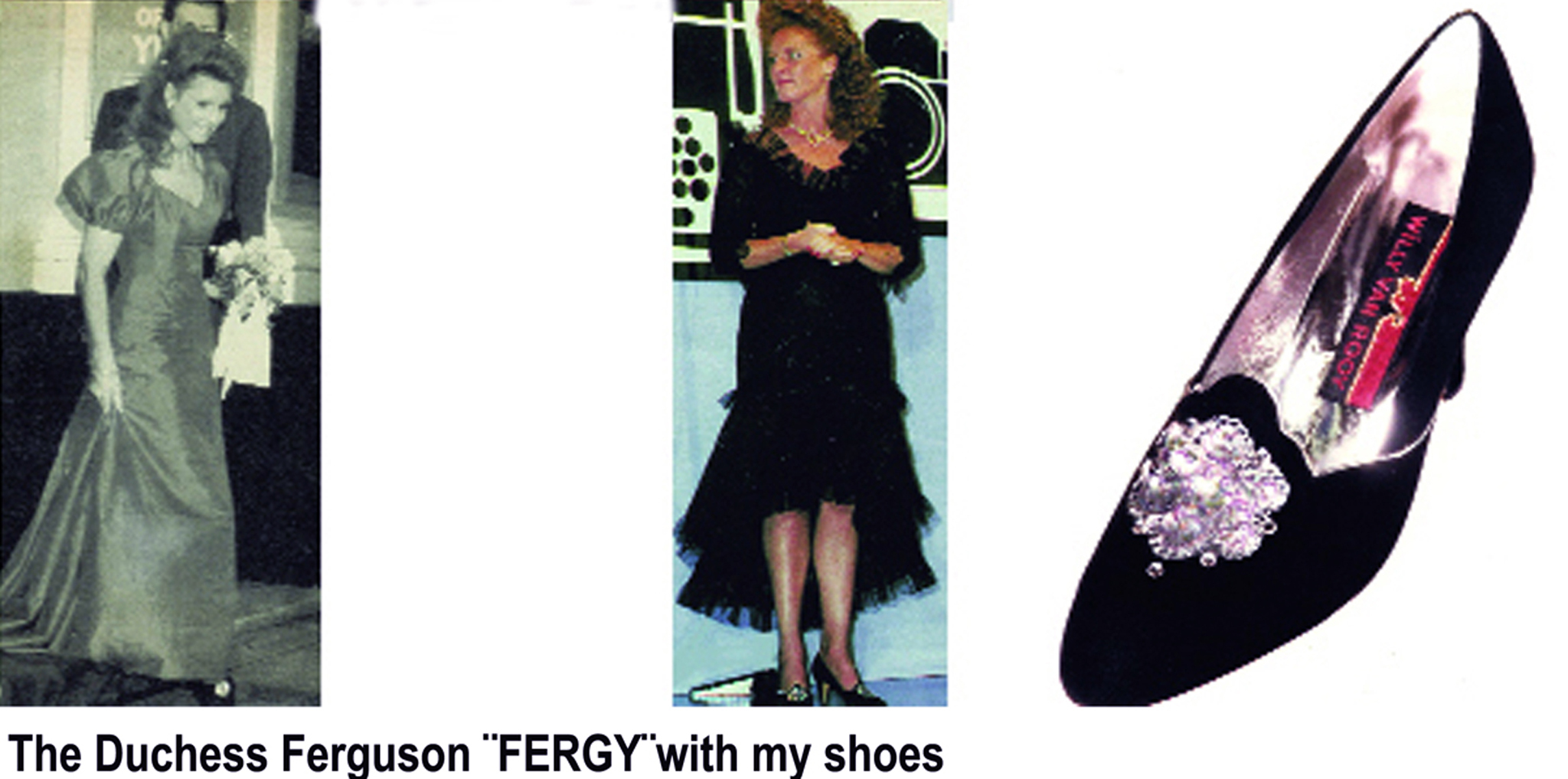 Of course there were many things that were not so heavenly. Some clients would not pay at all, others would let us wait for months and considering that a phone call to the US was $1.50 a minute at that time, it nearly ruined us. That's why it was a very happy moment when a girl, Vesna, whom I had befriended at Yves Saint Laurent where she was a model, called me out of the blue and told me that she was shopping for shoes in NY and bought a pair of mine but did not realize they were mine until she got home and saw my name… Now Vesna wanted to represent us in America and Vesna was just perfect, looked great, had good taste and was really ready to go for it.
Now the whole setup changed and from now on we got the orders directly from Vesna, she paid us, than took care the shoes got to the stores and that's how she got paid. It was much better and our list of American clients grew. We bought a Telex, the computer was still pretty unknown and only very big companies had them, so we had now a Telex, the next best thing, which often woke us up in the middle of the night when the orders of the US were coming in with a lot of noise.
In the meantime we decided to rent an apartment in Elda so we did not have to stay in hotels . It was not a very nice apartment but at least we could make our own food. One day when we were driving around to discover the area we found this incredible place called " Aquas de Busot" . We saw these beautiful abandoned houses and so we asked around in the nearby village where they gave us the name of the woman who was taking care of them. It was swift and happy for both parties, we could rent the house for something like $50 a month… Wow, what a place. It was pretty old and had plenty of rooms. I think the servant quarters were down stairs, an enormous entrance with a fire place so big we could all stand in there and in the days was used for cooking and a room and a storage place, upstairs were the living room and the bed rooms and bathroom.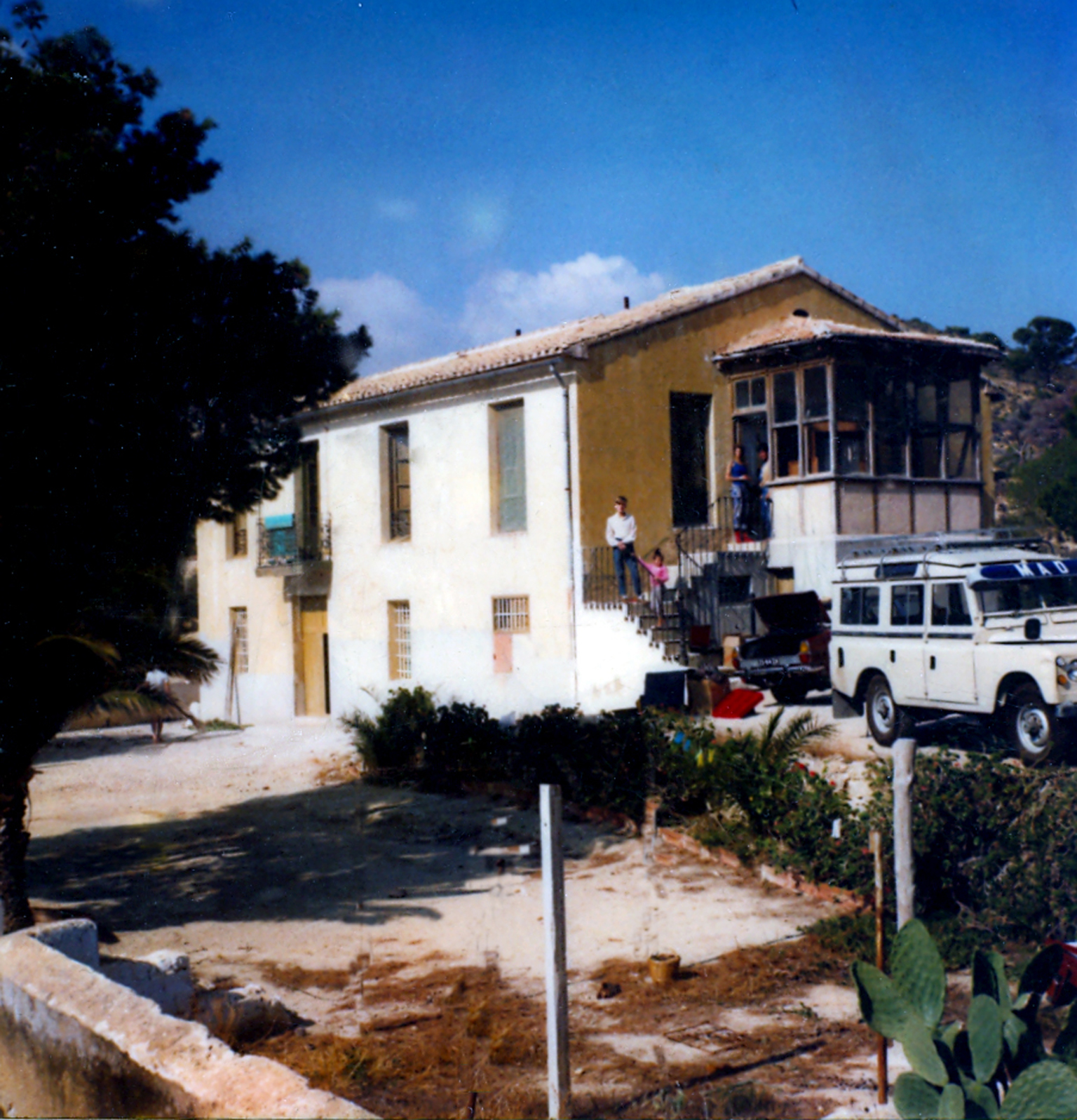 The house stood in the middle of beautiful woods where no one ever came, with here and there another abandoned house, all big and beautiful and in the middle of the woods was a small castle, so pretty as I never saw, not even in movies, could very well imagine the Romeo and Juliette scene there on that beautiful balcony. We met the people who owned it, they came down occasionally in the summer when it was too hot in Madrid and  they showed us the place inside. Some parts of the castle were build in the 14th century and left original. It was perfect and in use, with gorgeous carpets and furniture, can you imagine? In the middle of nowhere? They thought nothing of it, it had been in the family for centuries.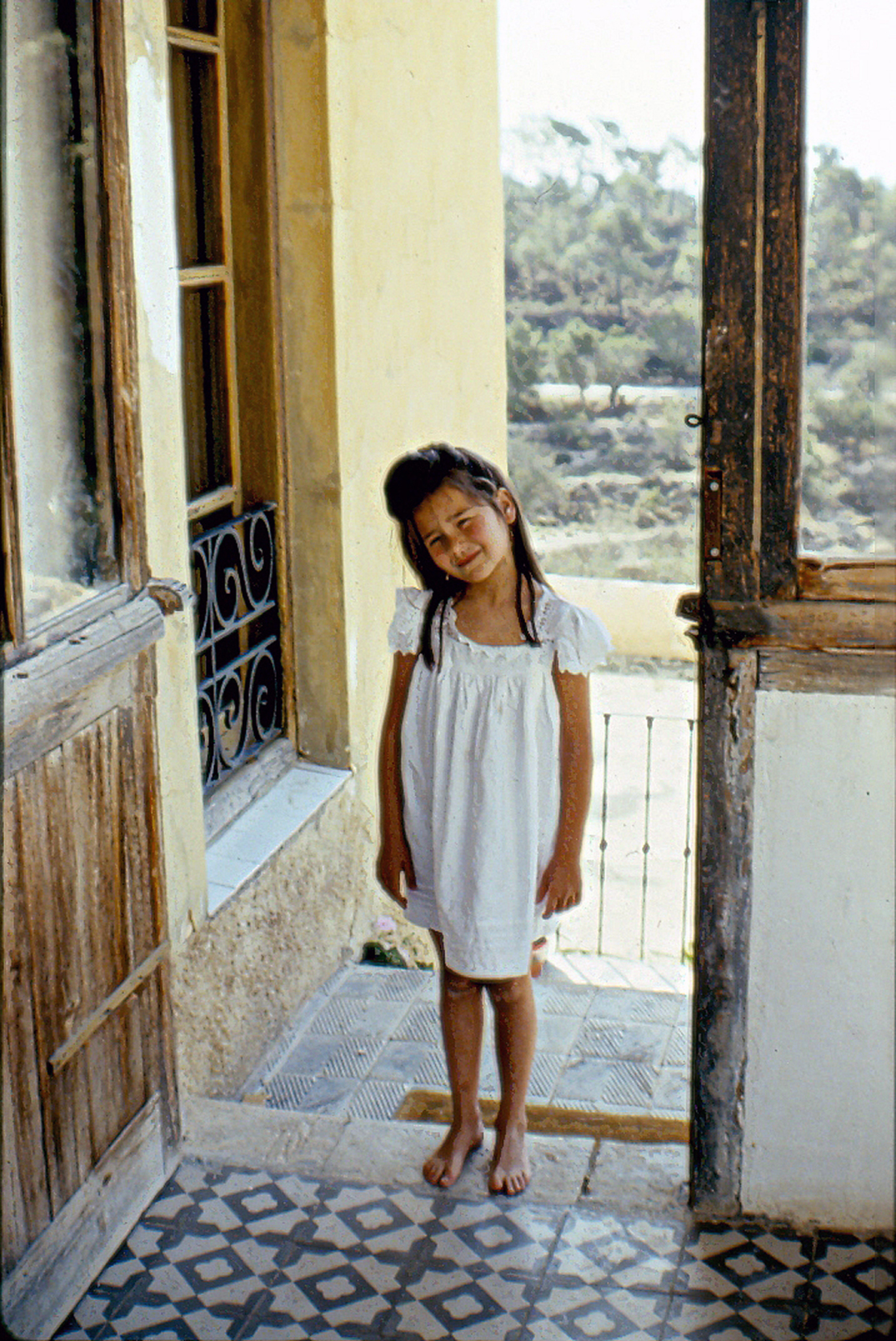 Alegria in Aquas… all the tiled floors were so beautiful….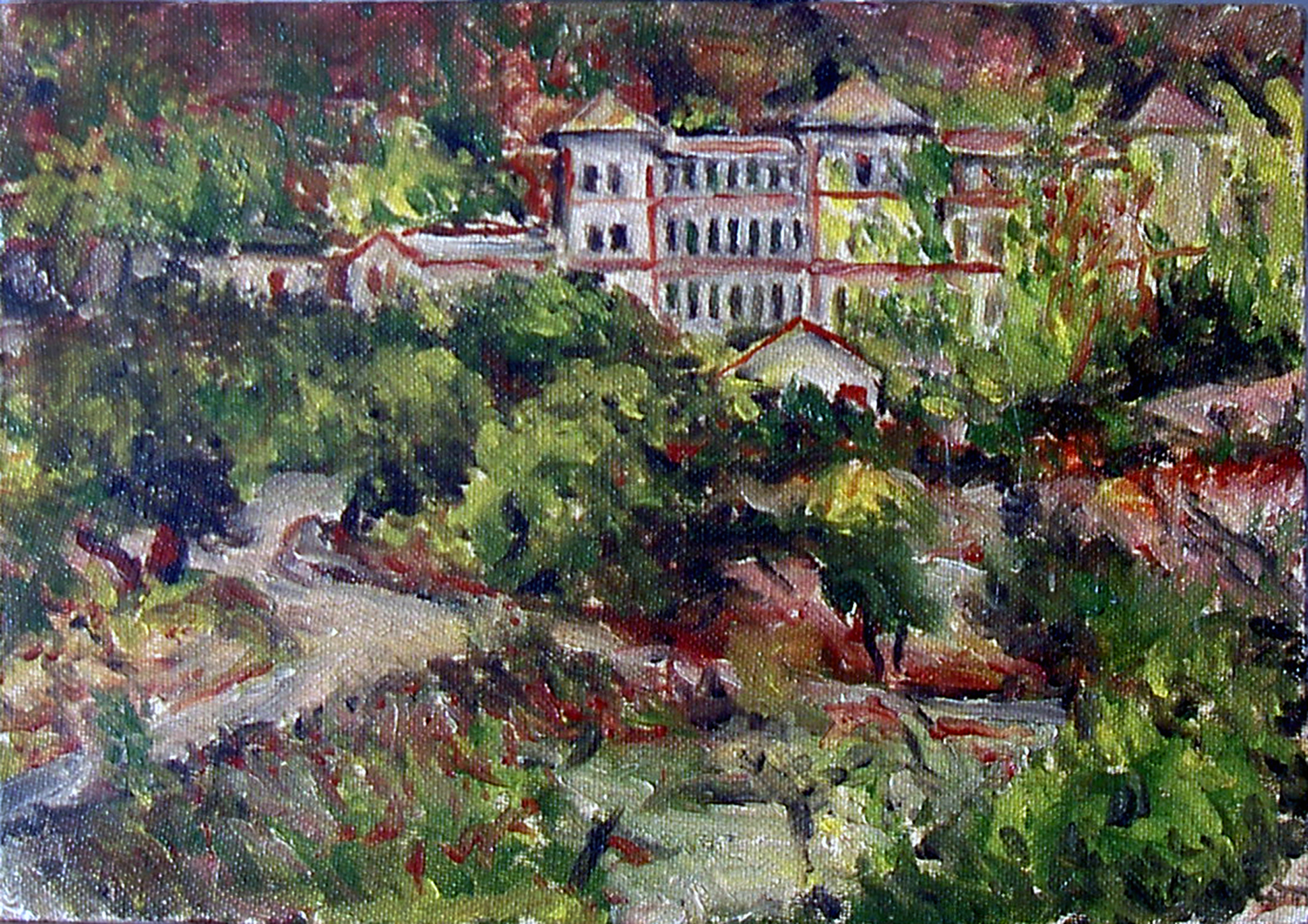 The sanatorium painted by Salvador Maron.
There was also a Sanatorium, abandoned since the 40-ties but had been a very popular place for people with breathing problems. It was a small village by itself with many different buildings, lamps from the 30-ties hanging abandoned from the ceiling, wooden cabinets of all shapes and lots of "Tonnet" chairs, real ones, signed and all and this incredible marble stairs and bath tubs and floors, unbelievable. We had a lot of fun spending time there.
So lets see, now we had 4 places to live and for some reason we also had 4 cars. The Landrover from the "Nido", the beautiful SEAT Salvador bought in Elda,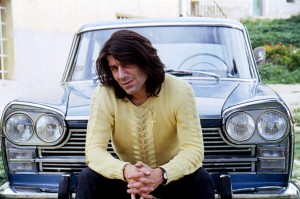 Salvador and the SEAT.. wearing a silk sweater by our friend EDINA RONAY
A BMW we had bought from a friend who needed to sell and a Buick, the only one Automatic and that was the one I was driving and as a matter of fact that was the car we drove down to Paris with to show our shoes there. Salvador had had this smart idea to rent a suite in a wonderful Hotel "Lotti" in Paris and invited the clients to come and visit us there rather than having a cold stand in the fair. We had such a good time and the clients were delighted to be received with champagne in that relaxing atmosphere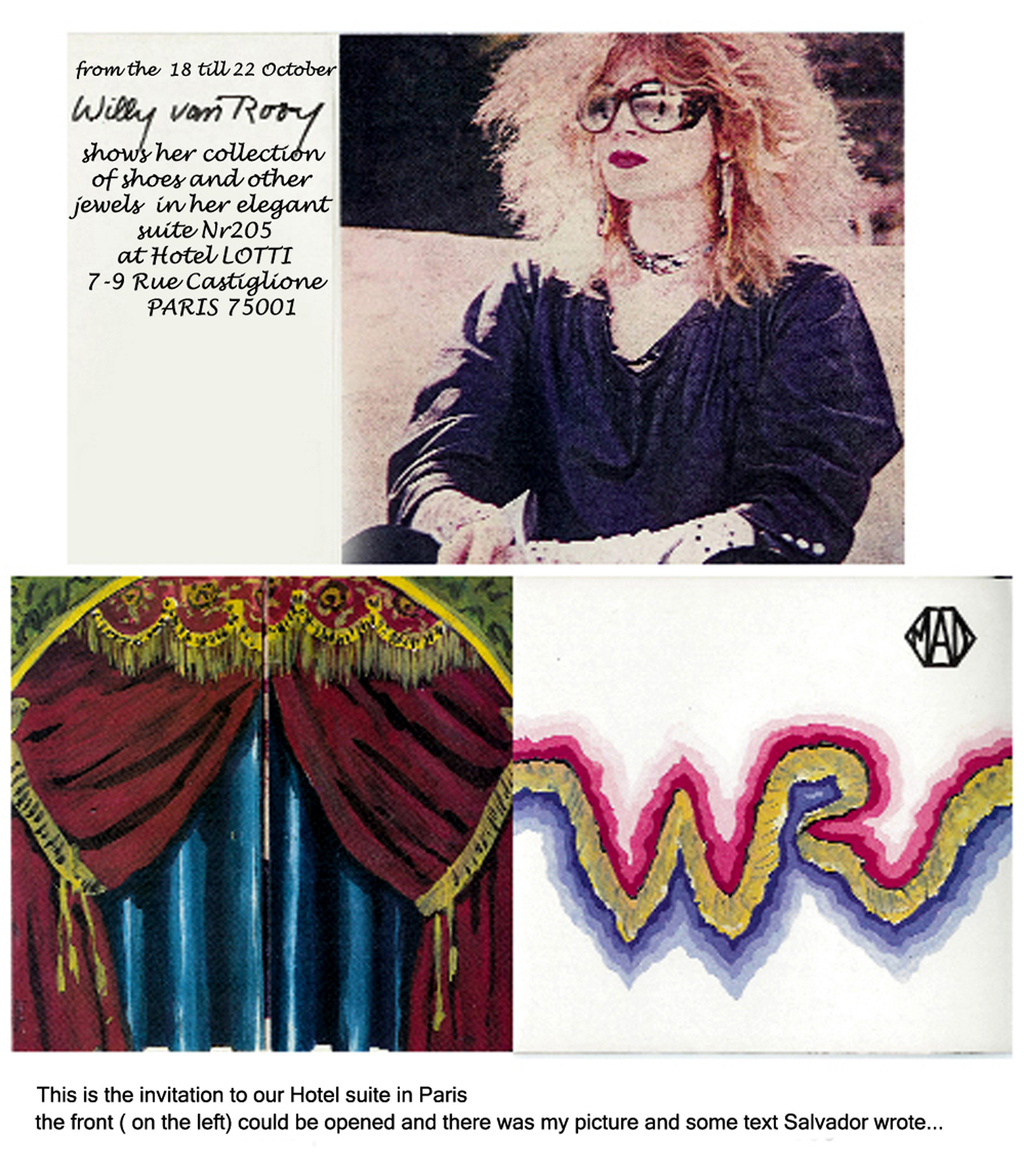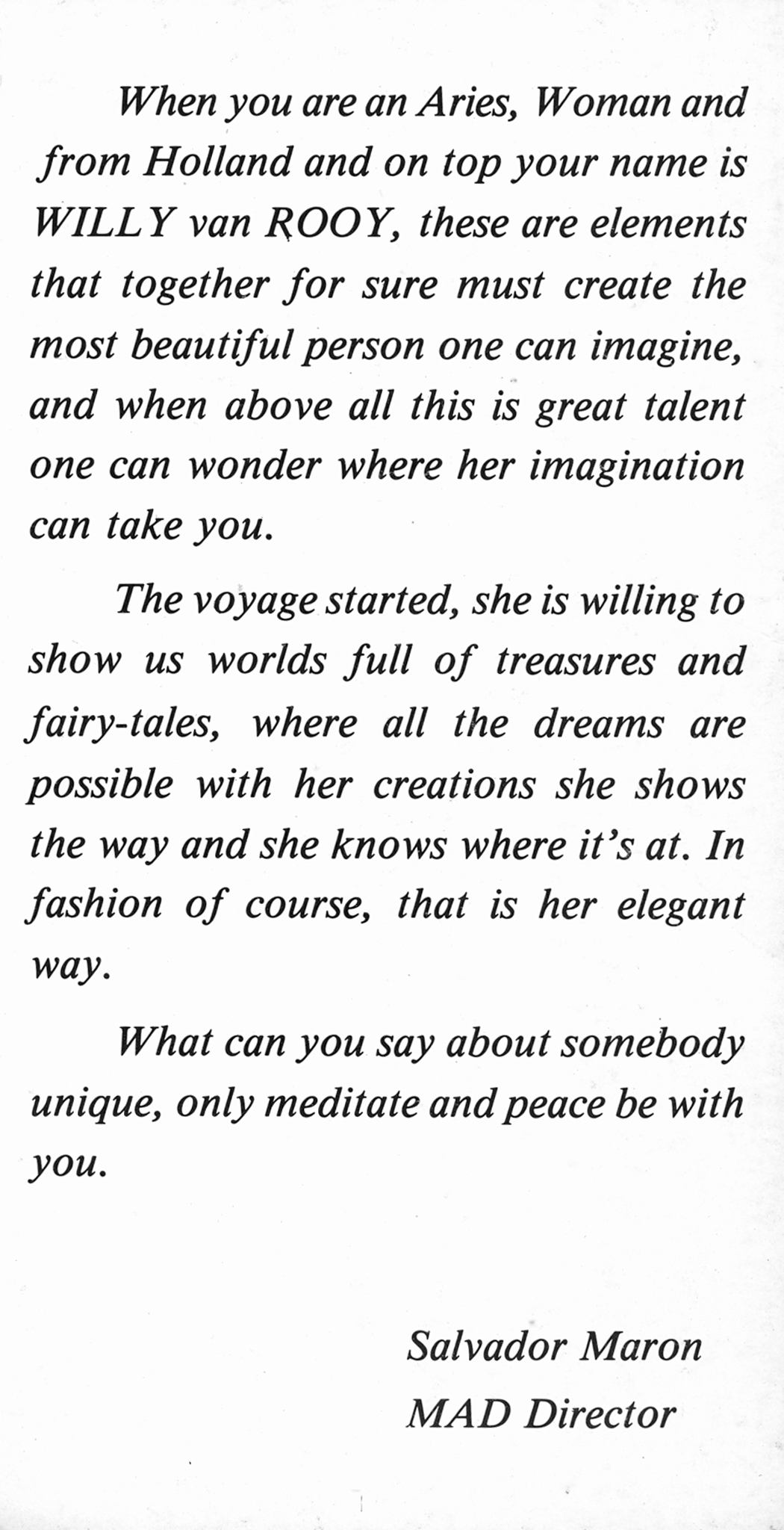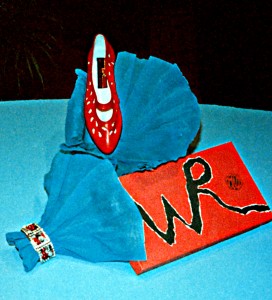 Things kept constantly changing. Alegria should go to school and Alejandro could not stay that much by himself as we were going more and more to Elda as that was where it all was happening. We are now more or less in 1985-86 and I am getting still deeper into shoes….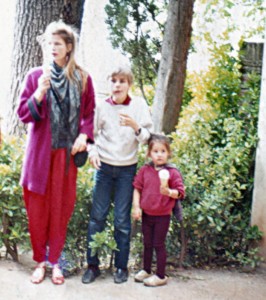 LOVE and PEACE