MAKING DECISIONS
It is early 1979, Cooky and I are working on our new collection,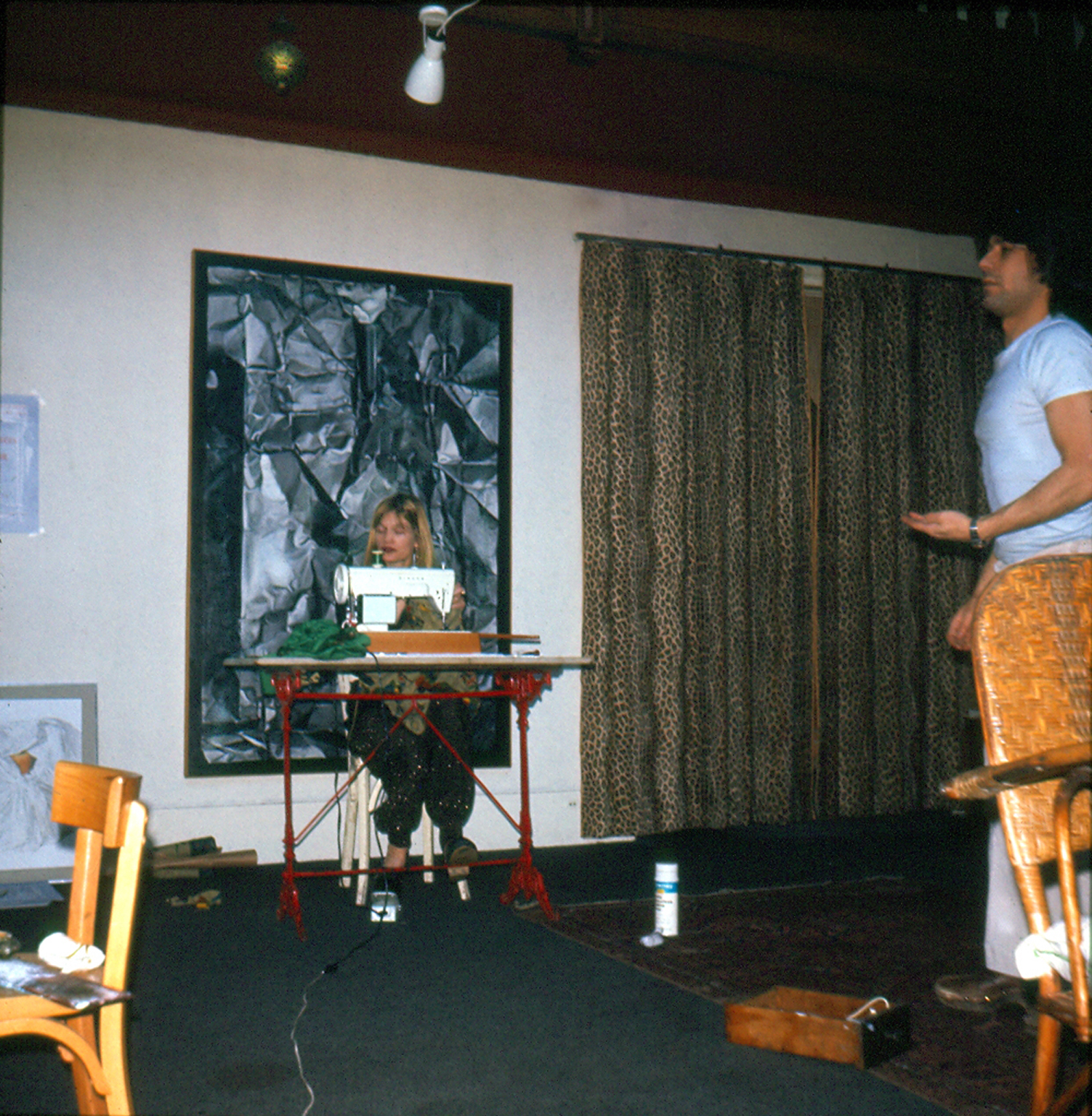 … And me like always, stitching away, making up the models.
We had big dreams and decided to do the Paris Fashion-Fair, which is an important Fair during the Paris Fashion week when all the buyers from everywhere come to see the shows and make orders for the next season and we wanted to show our latest collection. To do that Fair was a mistake because the clients, or future clients, actually wanted to come to see our shop and have a private time with us to make orders, I mean, we were right there! But we were new at this and did not know. It broke our bank because it was very expensive, we wanted a small stand but they only had big ones left so even more expensive and then it was the worst place of the whole Fair, somewhere hidden near the exit, so everyone who passed was already exhausted. Of course the best places went to the people who do that Fair always so it was fair but very disappointing for us. The place looked hideous and it was quite some work to set it up and in the end it looked very beautiful but all in all a lot of money and a lot of energy spent for not much in exchange, although we did get some nice write-ups in the papers and some new clients that would make an appointment to come to the store! Our biggest new client was Bergdorf and Goodman who promised us a whole window on 5th Avenue NY, they were so enthusiast.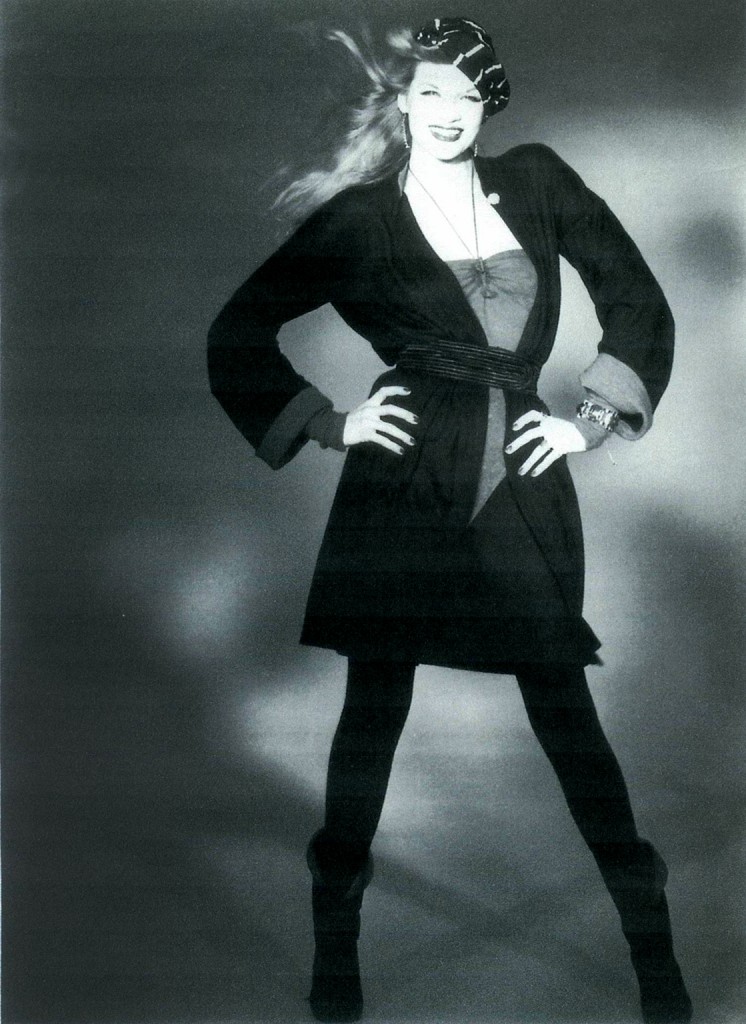 Ph: Francois Lamy
The collection consisted of Tight Pants, Loose Pants w/pockets, Sweater with long sleeves, Sweater without sleeves, Body Suit,Long Vest, Mittens and Hat and a Belt, all made out of a beautiful woolen jersey in 8 different colors, with endless possibilities to combine…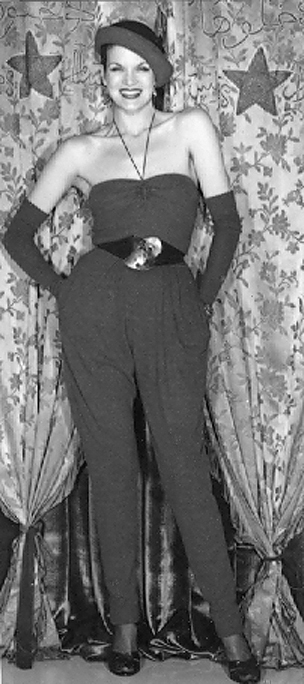 Ph. Tony Kent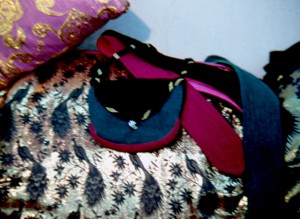 the little bag and belts…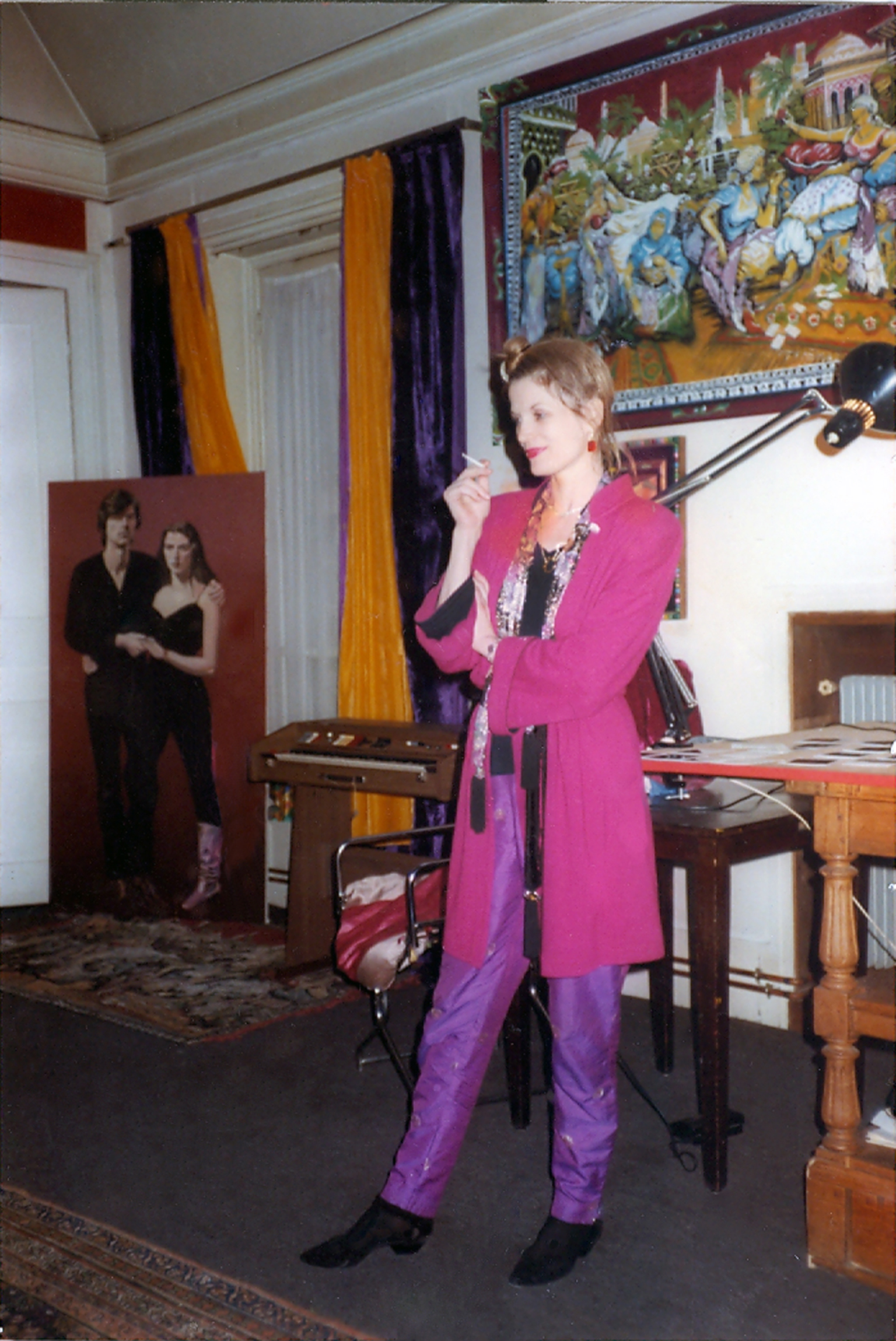 The long vest…. in the back ground painting of Patrick and Blanca that Salvador did and above my head an other marvelous painting by Salvador of a Moroccan carpet…
Like I said we were dreaming big but in the meantime everything else was going on
And Alegria was crawling, walking and then she was one.
Alejandro now went to a nearby school in Rue Chaptal which was a 3 minute walk…
And of course there were lots of great parties, incredible parties, by Karl Lagerfeld, Marie Helene de Rothchild, Yves Saint Laurent and of course in the Palace which was the Hottest place and it was good to socialize, that's how it goes. We had become friends with                 Paloma Picasso and Rafael Lopez-Sanchez who had a theatrical group called TSE and when they got married we were among the 40 guests invited for the unforgettable wedding dinner given by Karl Lagerfeld which was of course incredible and even some old friends of her father made a speech… Paloma asked me to be the face on the invitation of the new Play called SUCCES and she used the same picture as an immense backdrop in the decor she designed for the last act. It was a happening…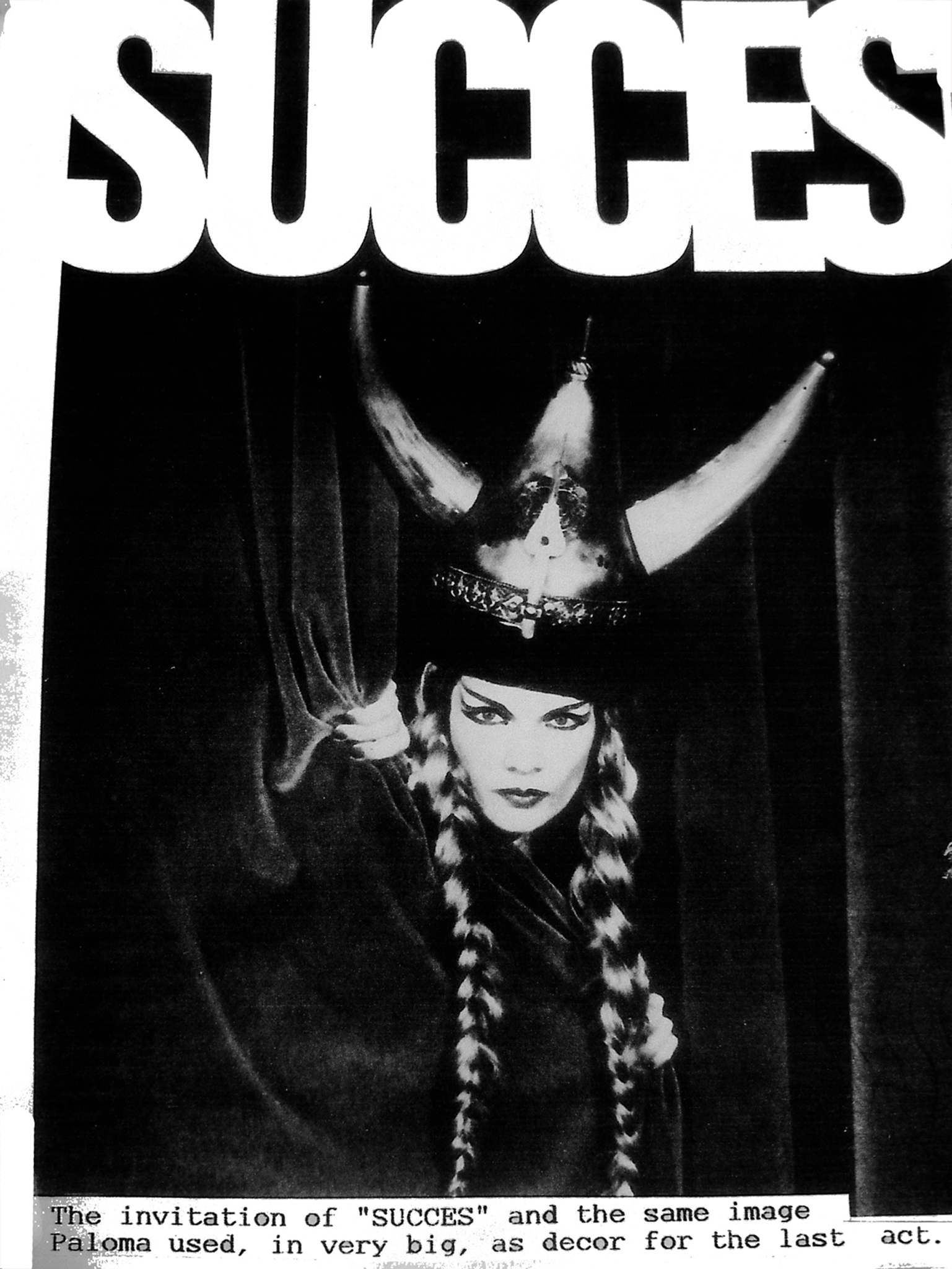 I was working occasionally…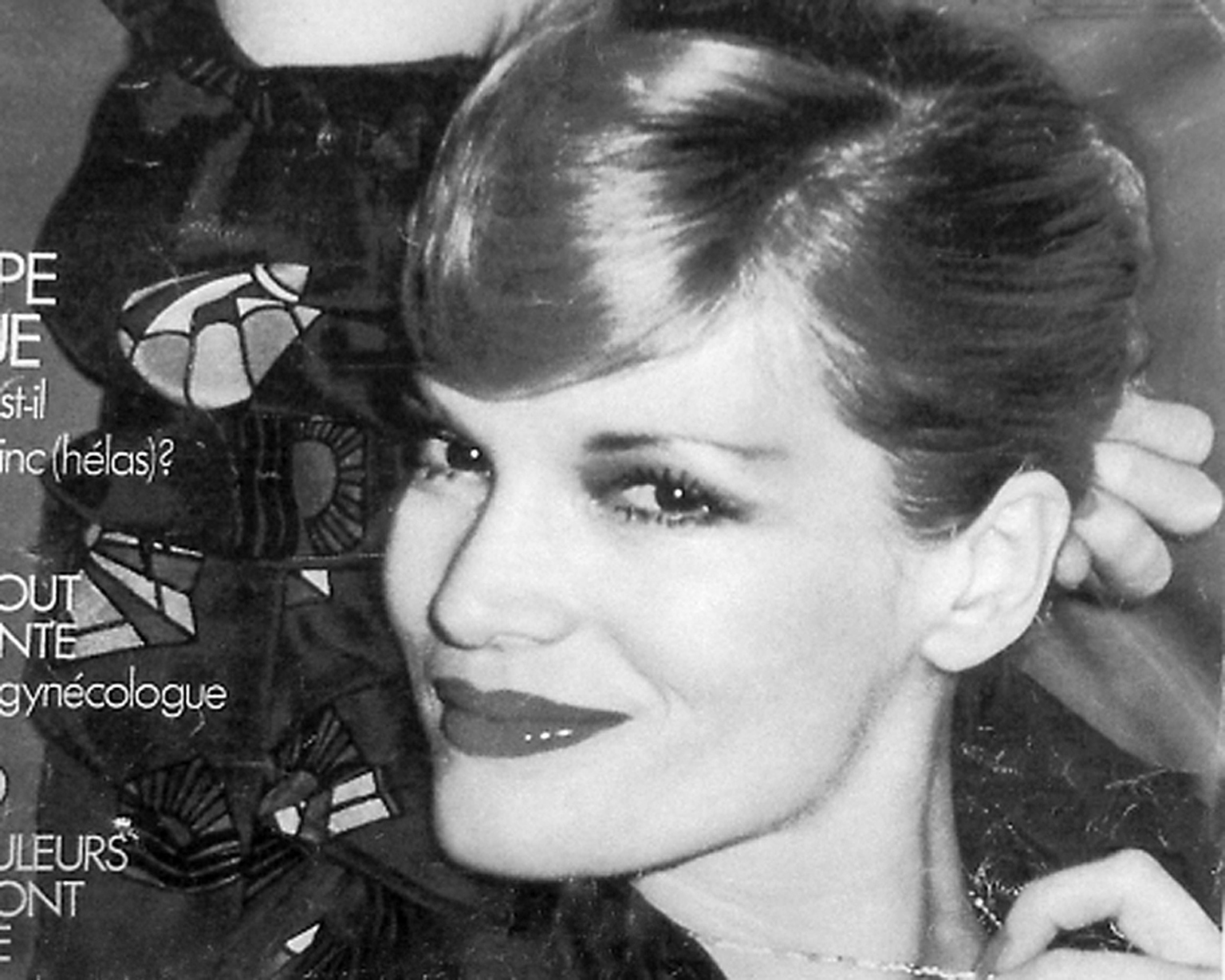 This is a cover for Marie-Claire (  a detail )                                      Ph. Laurence Sackman
And I also still was doing the shows because I really enjoyed that.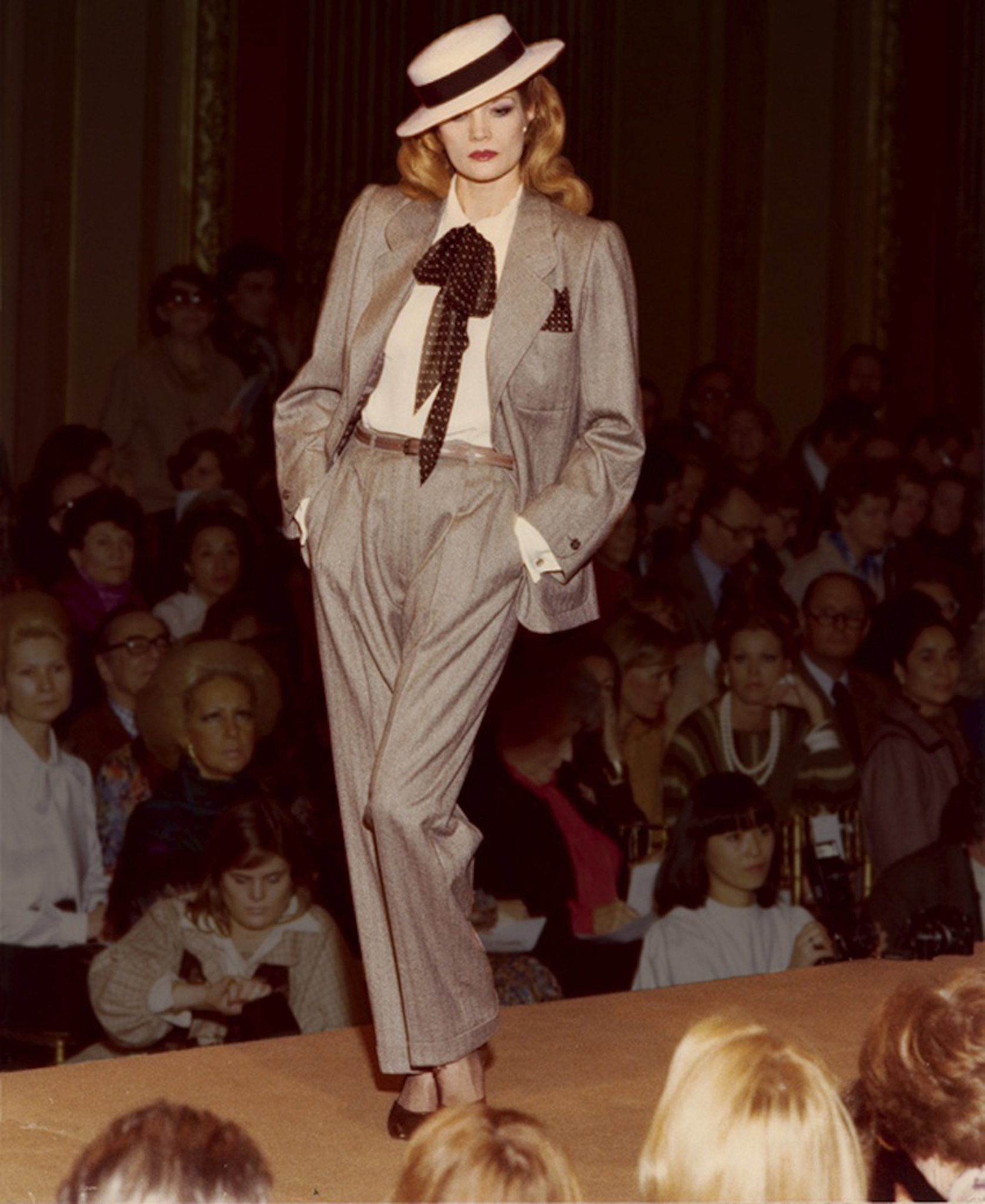 YSL
Then there was the dinner I have thought of at times because I had to make a decision and sometimes have wondered if I made the right one, of course it was right because I followed my heart but things might have been different? It was Anne Marie Muñoz  (directrice at YSL studio) who had invited us but that was not unusual, she invited us often, but what was unusual was that Pierre Bergé himself was there, I did not expect anything but when Salvador and I were leaving, we were the last to leave, already in the hallway to say good-bye, when Anne Marie asked me out of the blue: Would I be the model for Yves Saint Laurent to make his next collection on, in other words be his muse, his inspiration and model, which needs dedication, maybe long and irregular hours every day, but of course something any model at that time would dream of but…. that means I won't be with Alegria, I want to be with her and Cooky, can not leave her alone at this moment with a new collection at hand… all these things went through my head in a flash… and I said : No, I won't be able to do it! And that was it, instead I could have said let me think about it and we talk tomorrow, I would have talked with Cooky and we would have looked it over and it would have been cool with her as I would have made money to help us because soon we learned " no business is done without money". In other words we had gone overboard with taking lots of orders for the new collection which was made of that beautiful quality expensive jersey and after making our calculations we knew we needed rolls and rolls of it in all that different colors and so we went to order it…
In this kind of places, that sell to designers and are very official whole sale, they have no stock, it has to be made up and although for us it was a lot, for them it was peanuts and the total bill was shockingly high, which as such was no problem but they wanted the money up front and that yes, was a problem! It was a lot and because nobody knew us, there was no way to solution it, the bank would not give us a loan because we did not have any assets, only Cooky's old car, ha ha . We tried very hard to find the money but time was pressing and we did not succeed, lots of trouble with the fabrication, waiting for the clients to pay, it was too much, we were exhausted and we finally gave up, cancelled everything… we realized that it is not a good thing to grow too fast, we were not prepared!
I did not give up making clothes, one jacket, very fitting, in different sizes and different fabrics, also pants, 1 size fits all, usually made of silk. These were sold privately but again, too much work for too little pay.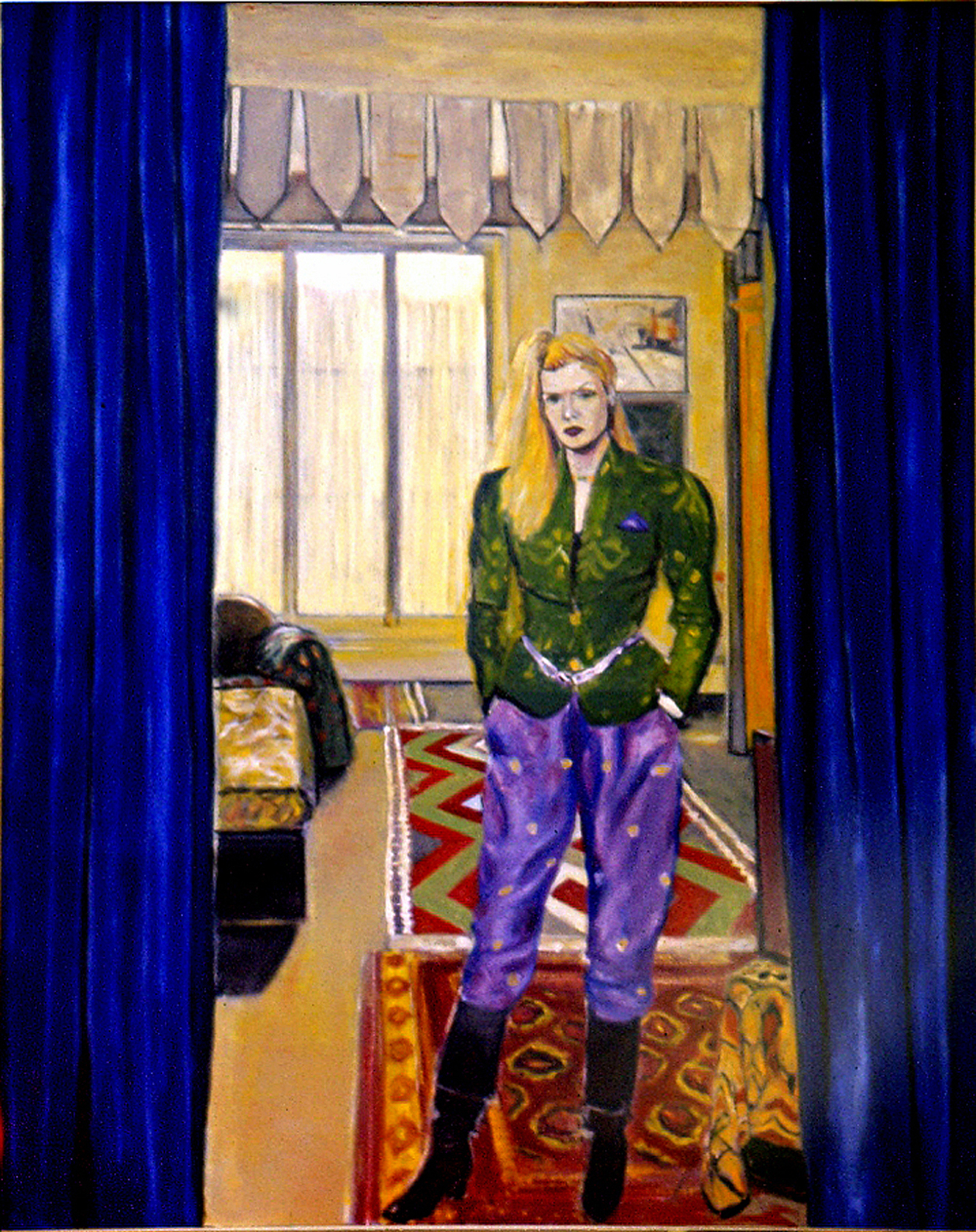 Here I am wearing one of the jackets and pants I made and sold… Life size portrait of me by Salvador Maron
….…After that dinner I was never more asked to walk the shows of  YSL, Alejandro did though, he came out as a flower bearer with the bride and a little girl, beautifully dressed, see picture below…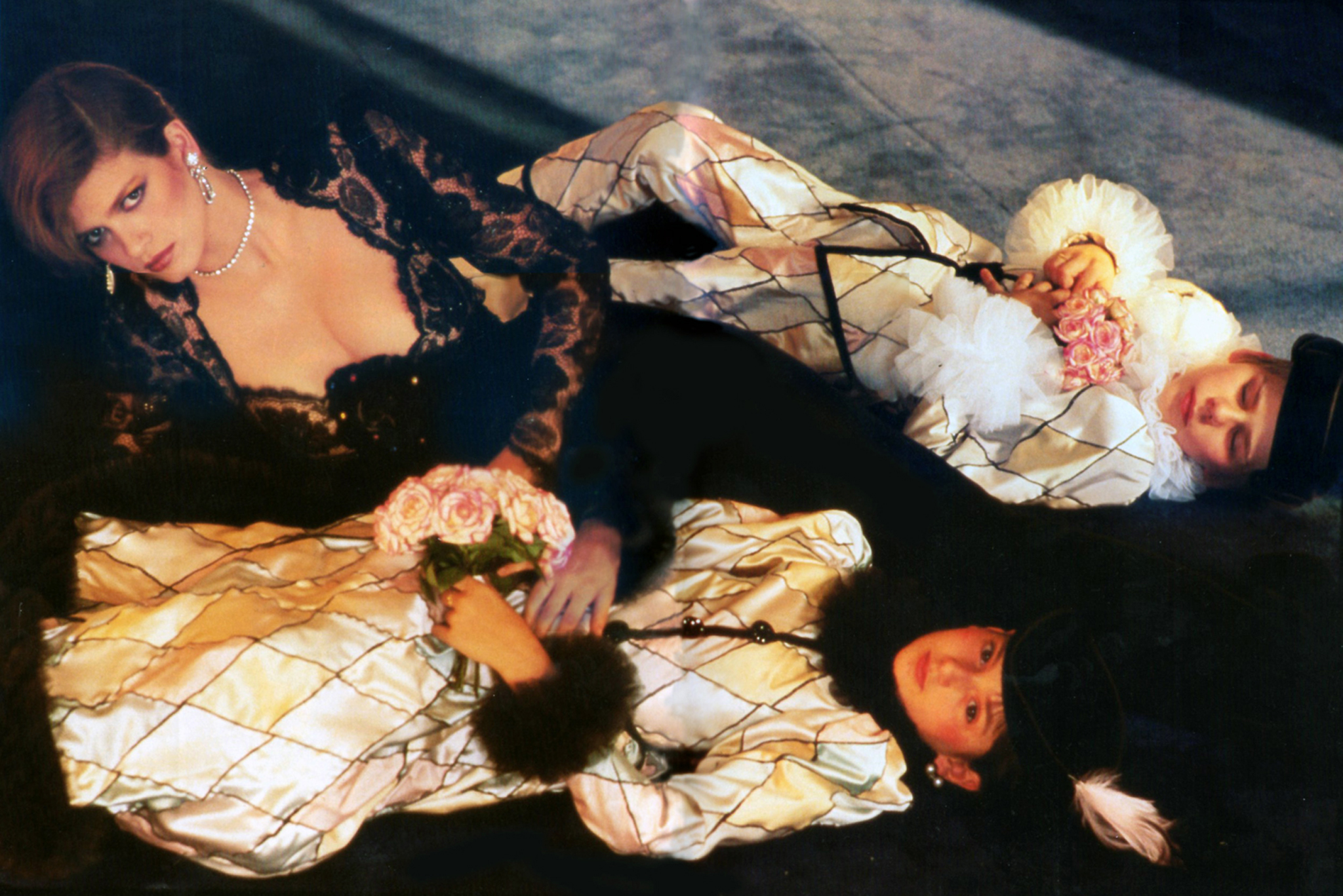 I started drawing, which is something that makes me happy and one day Salvador said to me: you should show your drawings to Anne Marie and so when she came to see us Salvador told her about my drawings and I showed them to her. She liked them and said: Why don't you design some shoes for YSL and you call me… and so I did…
That was 1979, quiet a year…
LOVE

and

PEACE