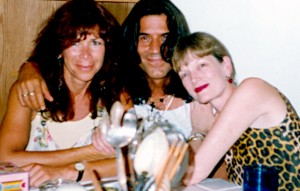 We just arrived in LA, it is June 2 1992, Salvador, who was already there, came with Nancy to pick us up. It felt good to be in Los Angeles again, the first time I was there was 1968 so that was 24 years back and it looked quite different but smelled the same, that balmy air in the evening filled with gas-exhaustion and honeysuckle.
Here (above) we are in Nancy's kitchen when we just arrived, Alegria went straight to sleep so she is not in the picture. All together we spent a lot of time in Nancy's kitchen during the time we stayed with her, which was almost a year and it was a real blessing. She is such a good cook, very health conscious and many other good things, Check her here! She would take us hiking early in the morning to that big mountain without end. In the beginning you arrive huffing and puffing and think you will not do it again but you get better at it every day and the view at the top overlooking The Valley makes it even better. Nancy went everyday and on one of these hikes she met Paula Abdul who was hiking there as well, and somehow Nancy talked to her about me (she is a good agent) and Paula gave her number and told Nancy to have me call her.
I drove upto Paula's house in our big vintage Buick and Paula herself opened the door of her  house in a gated property somewhere in Beverly  Glenn. She looked very cute, small and delicate with a lovely open face, I felt good immediately. For the occasion I had dressed up with my latest creation and my shoes from the last collection hoping to make a good first impression, ha ha, and I did because she made me meet her lawyers and manager so they could work on getting me a working permit and decide what kind of contract they were going to put up for me. It took quite something to get me that working permit, lots and lots of paper work to proof she could not do without me. After some time I got it and I was to be on a monthly  retaining salary (a good one) until the day she was going to work on her world tour, which was planned for the following year, she first had to come out with her new CD. Well, honestly, this could not be better, going around the world for a year taking care of and designing the costumes for Paula Abdul and her Dance group, wow, what a dream. For the moment I was just to design things for her if there was a special event, like a TV interview or her workout tape she was preparing and for that I was paid separately. I also would go shopping with her at times but mostly there was not much I HAD to do but I made her myself a bunch of outfits and she looked so amazing in them that it was a real pleasure for me to do. It was really nice to work with her, she was very kind and funny, she introduced us to Emilio Estebez and some of his friends, to her mother and sister, took us to some VIP performances of her friends, like Prince, and what I most enjoyed was going with her when dancers came to audition. Young dancers full of energy and hope and wow, some were very very good. Of course Paula is an extra ordinary dancer herself, as a matter of fact she is amazing. Remember so well that Video-clip her dancing with an animated cat, every time it came on we used to look at it. I realized how hard it is to be so in the public eye, all the things you have to hear and read, its devastating. But that's the price you pay I guess. Let me show you a few things I did for her, so sorry in that time there were no iPhones and so on, it was sometimes complicated to take a picture, the big camera you have to prepare, and it is a very sensitive matter to take pictures of a famous person. They have enough pictures taken already and in my contract I had to promise never tell or show anything personal to anybody about Paula… so I won't, what I am showing here is public and mostly pictures made by me with her permission.
This is the first thing I designed for her, had the boots made up in Spain to go with the suit which I had sewn up by a seamstress, the vest I made myself for her. This picture was in a newspaper.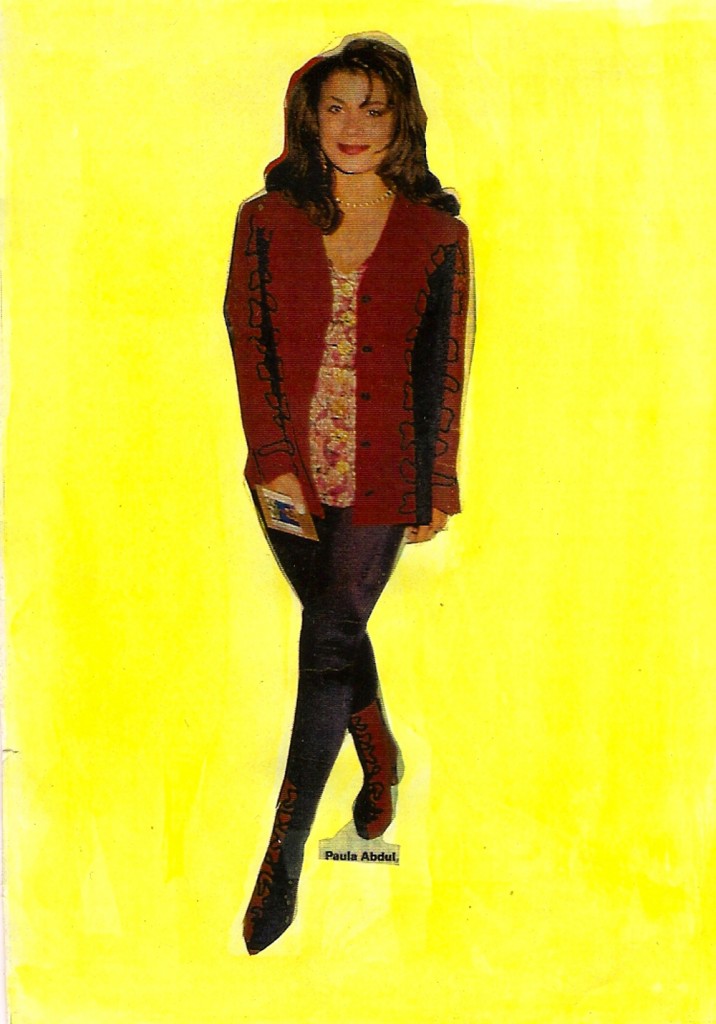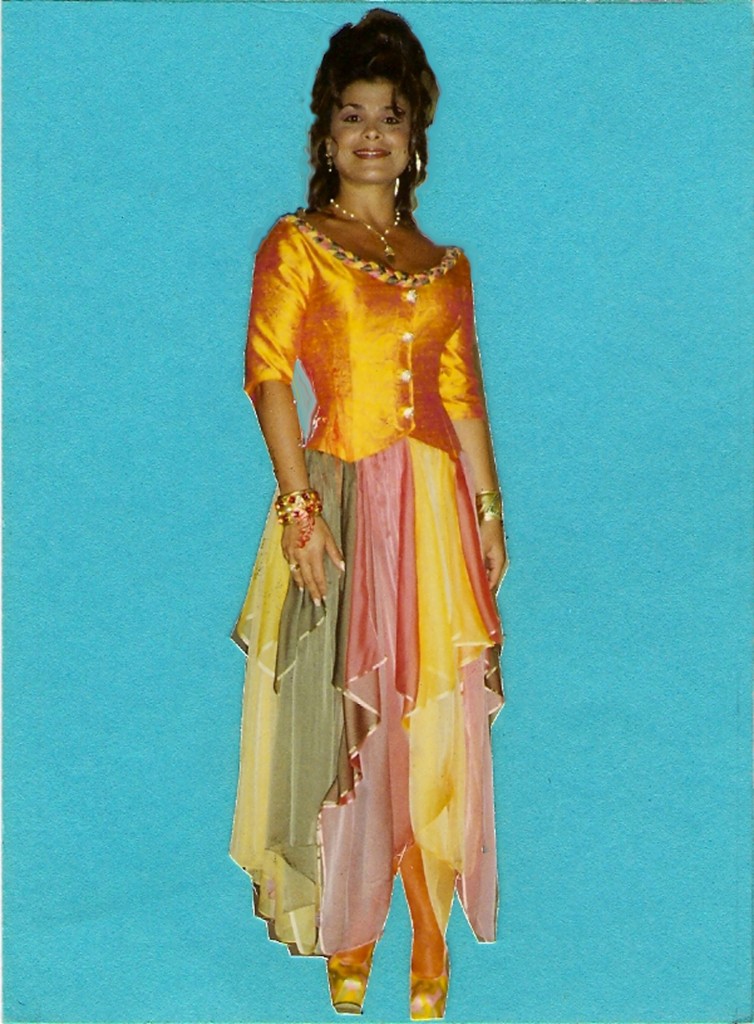 this dress I made for her for a TV program in memory of Bob Hope where she was to give a speech.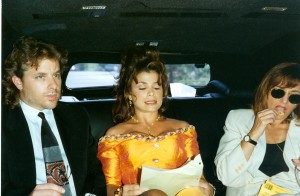 rehearsing the text in the limousine on her way to the show..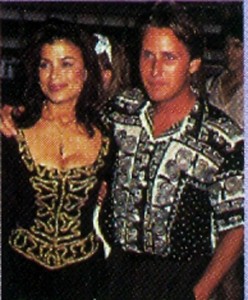 This dress looked great on her I thought.. here with Emilio Estebez.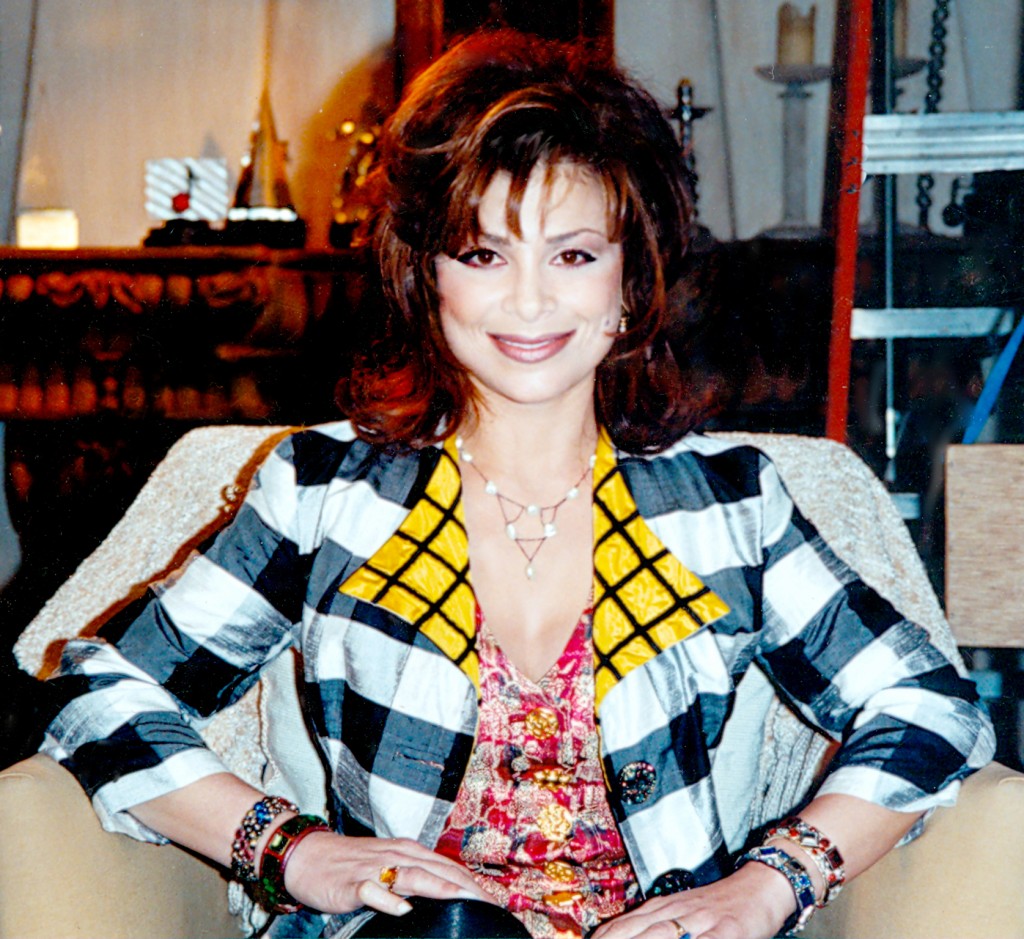 Ready for her filmed interview to promote her workout dance video. The knee length jacket is silk with the collar of bright yellow taffeta silk worked with black ribbon. The same brocade vest as she is wearing with the suit, it was very fitting which made her a very nice figure. I even made the buttons I see.. and of course the bracelets.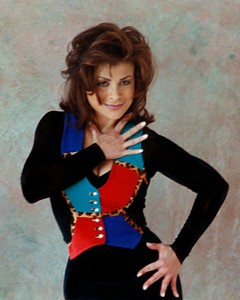 I made her this for her work out tape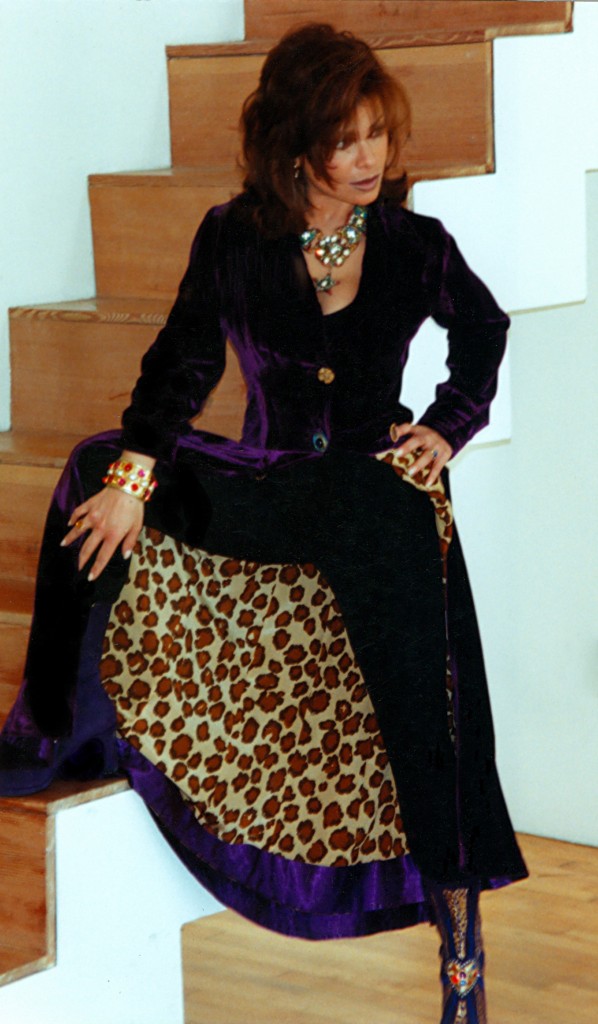 Purple velvet coat with silk animal print lining and purple "purple heart" boots and gold leather bracelets… and even the necklace I made…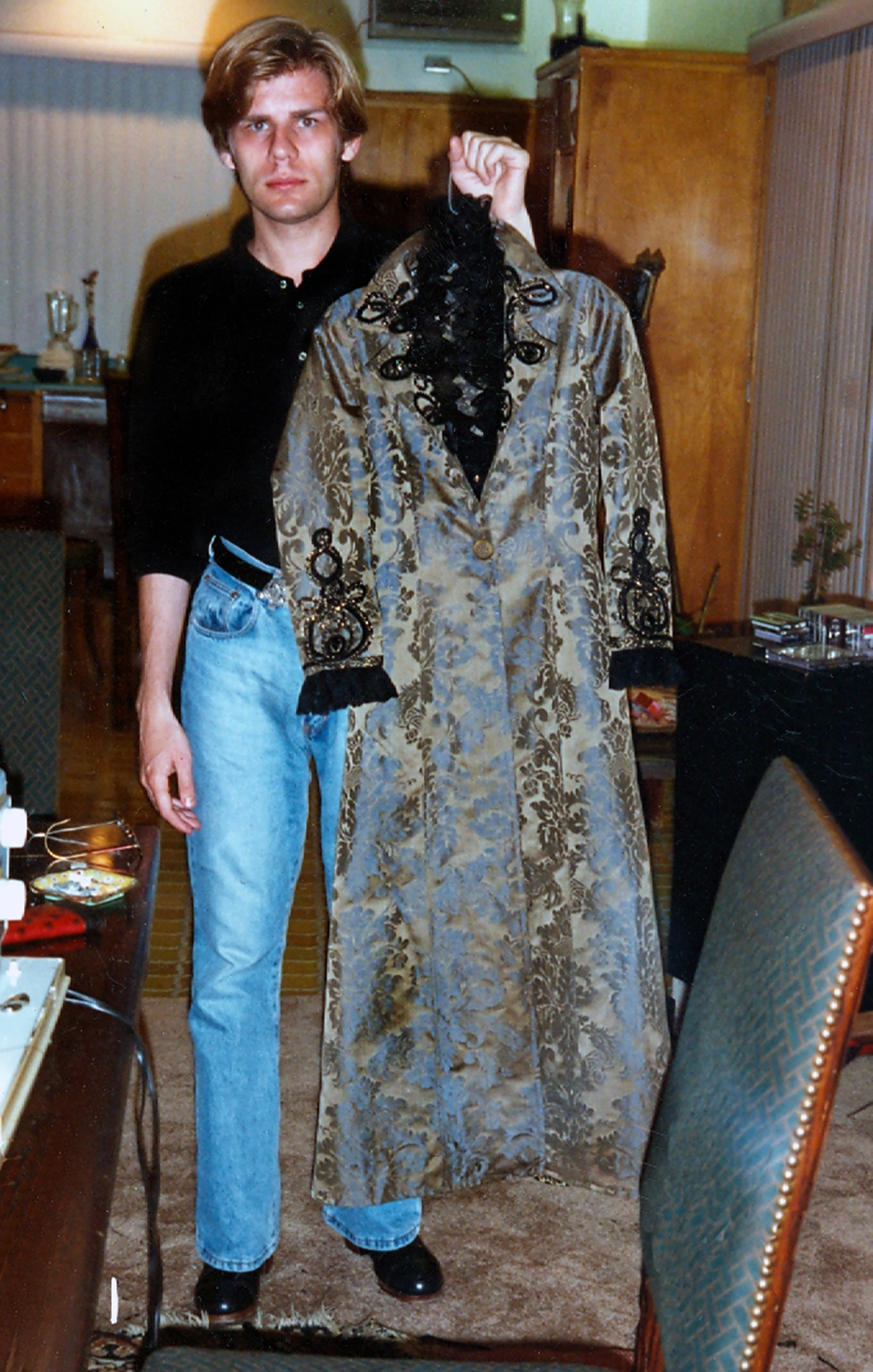 I made her this coat for the Arsenio Hall show she was going to appear on. Alejandro is holding it here and some of his input is worked in there. The material was vintage from a famous weaver in Spain combined with black lace. She talked about me to Arsenio who loved her style and kept looking at her boots… .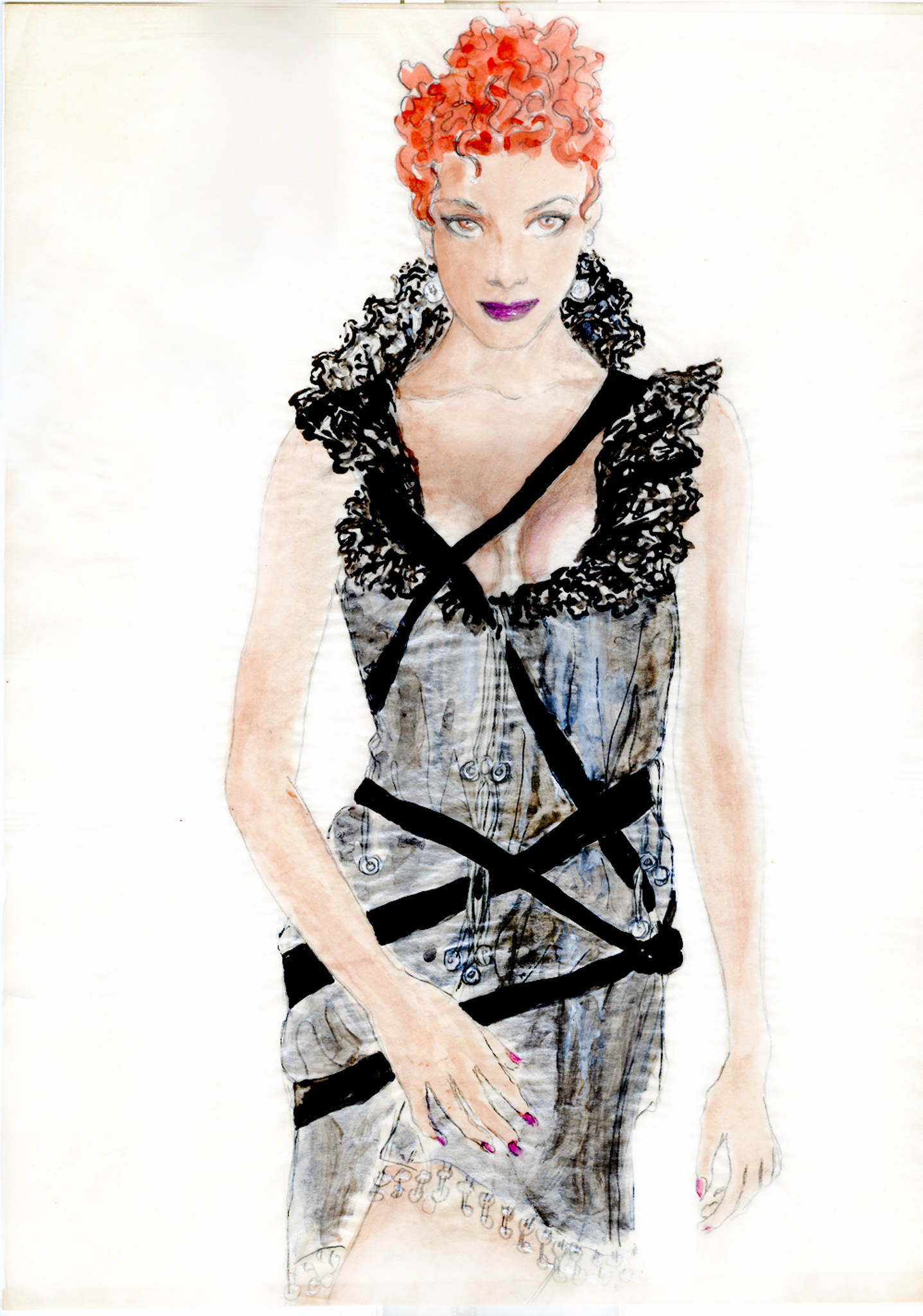 I actually made this one of silver lamé combined with black lace  and decorated with lots of "silver" lognets hanging …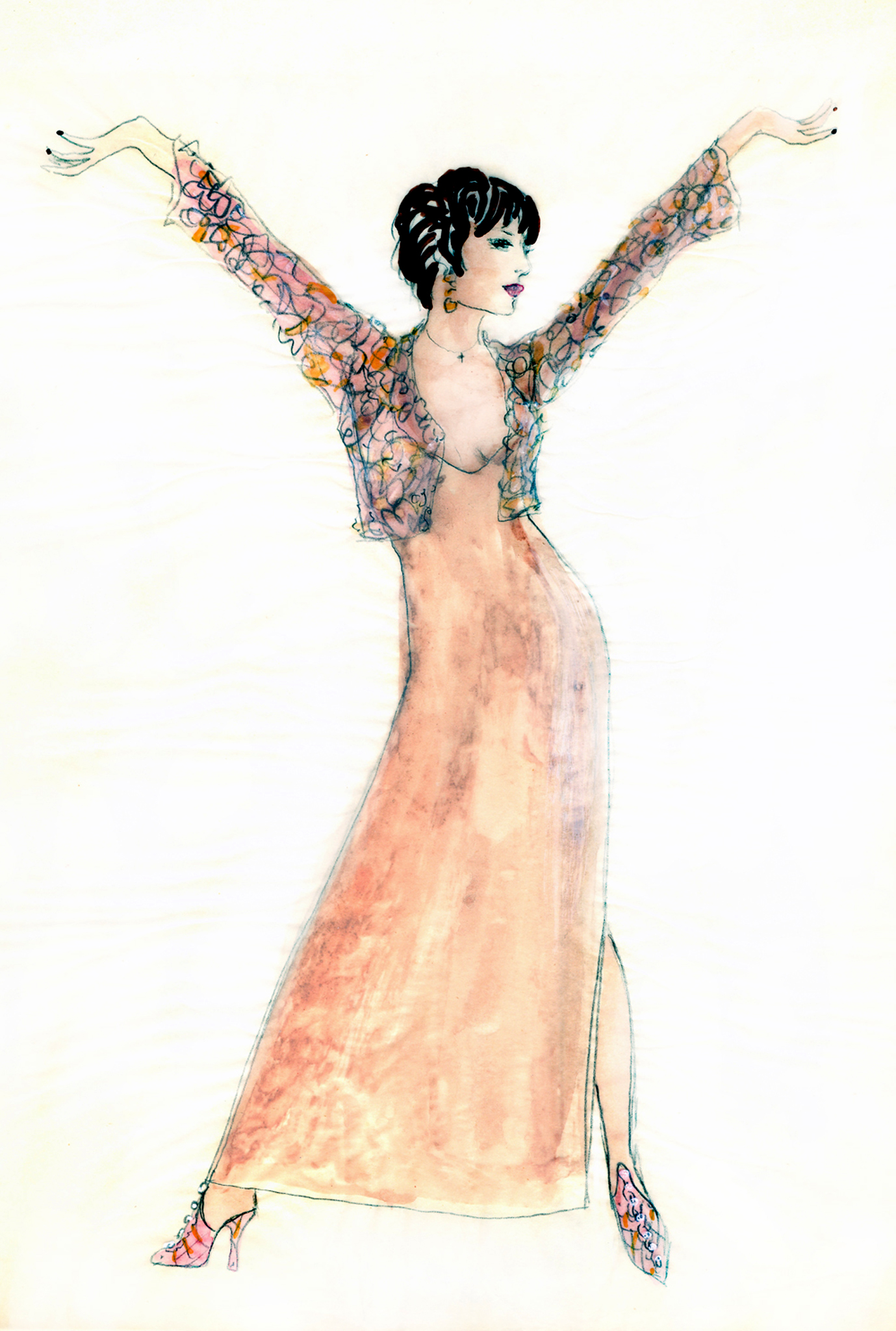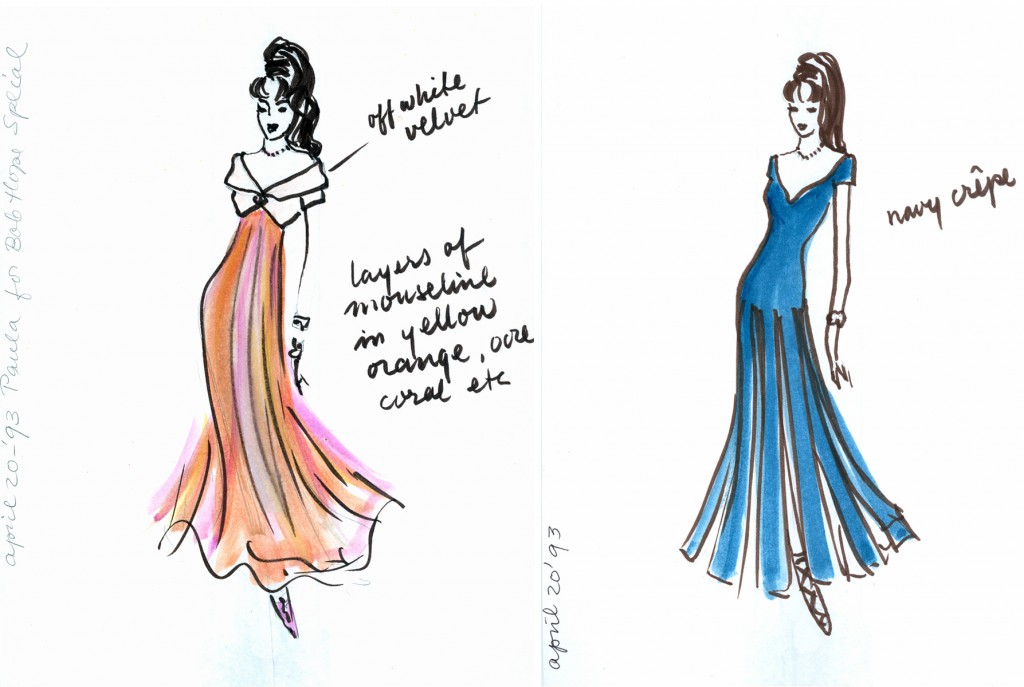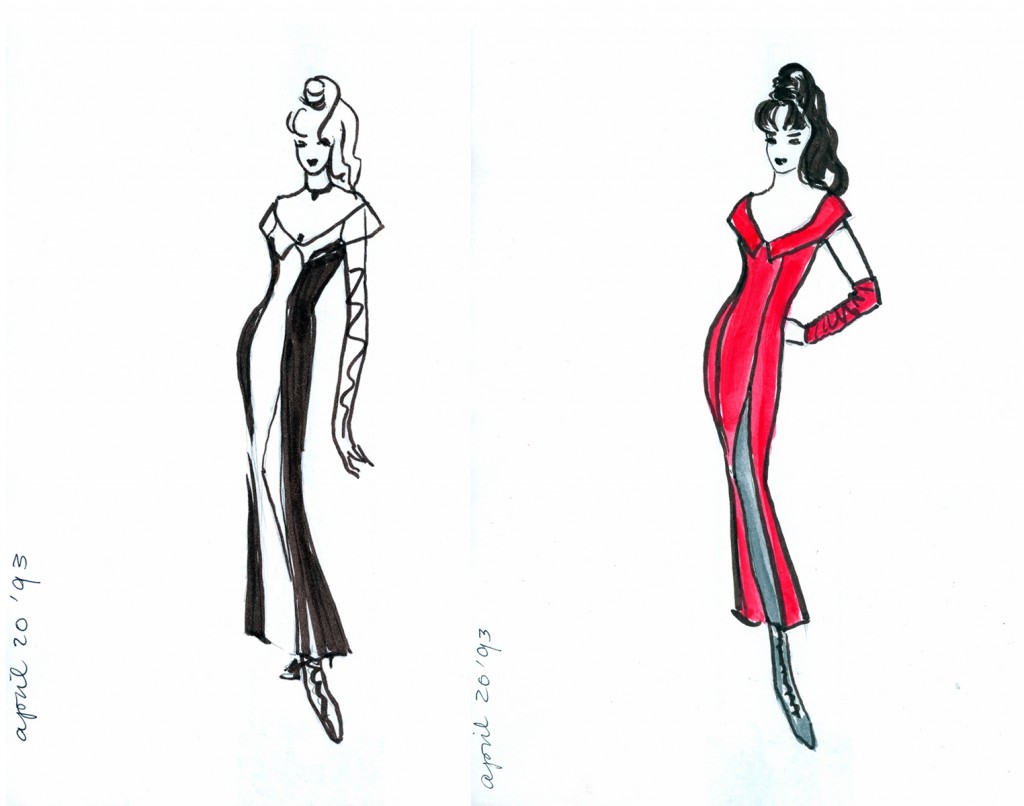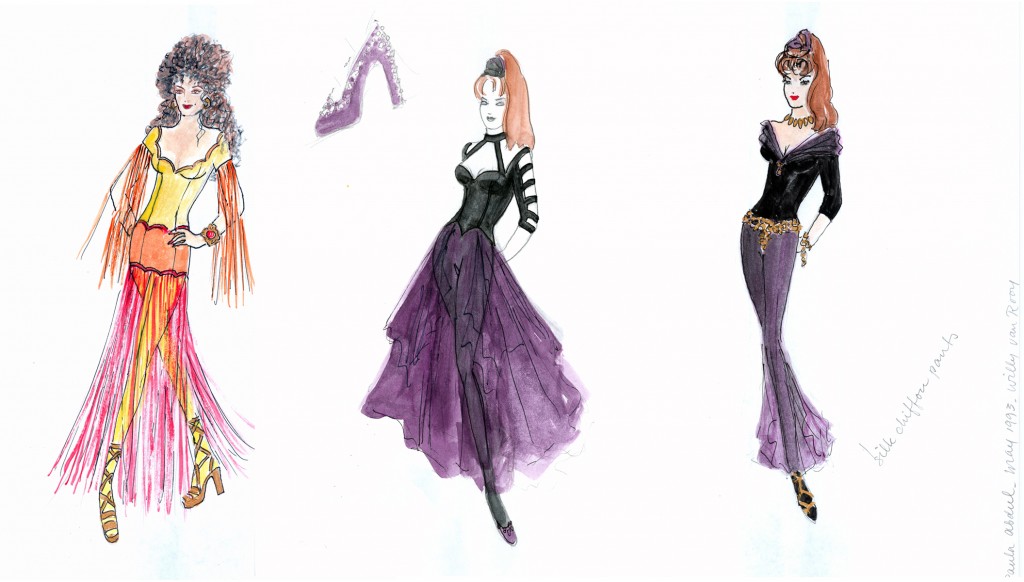 these are just a few, made lots of drawings for her but only some were made up of course.
I also designed a whole collection of Work out Dance wear ….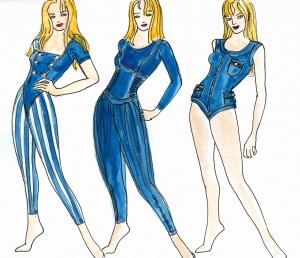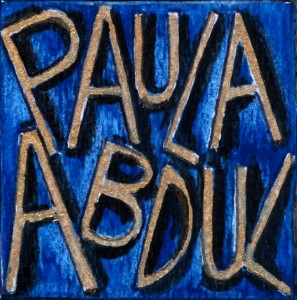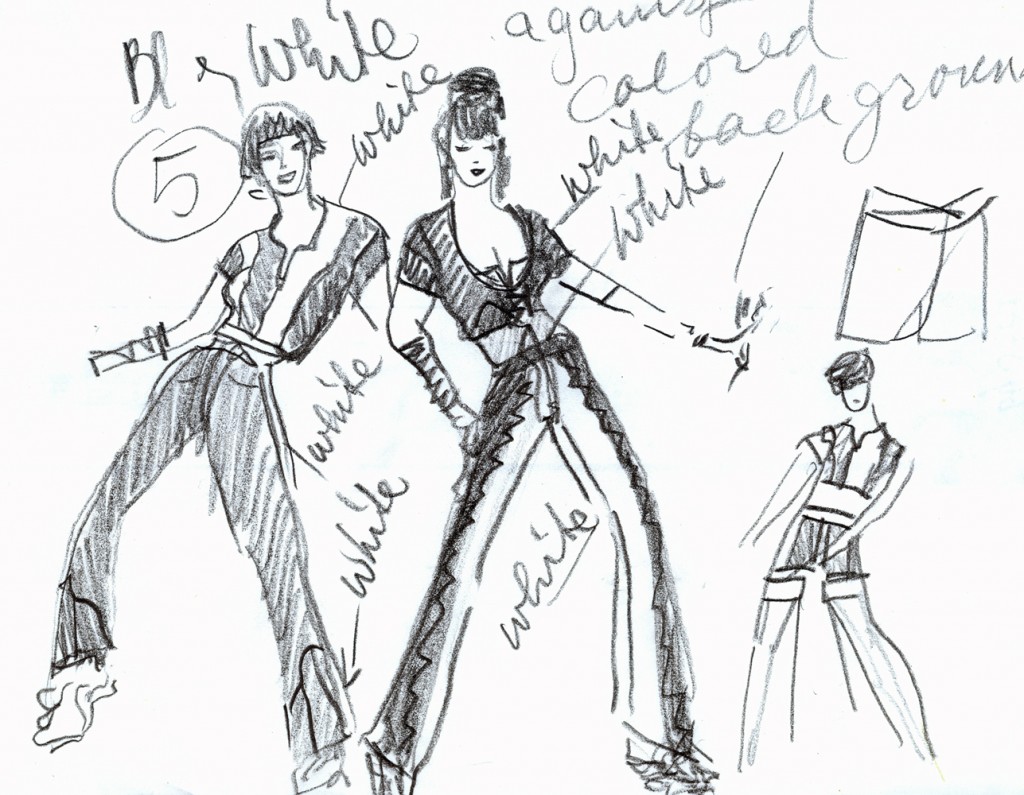 Too many to show here, it would be a book but it certainly was a lot of fun, I could work when I wanted and where I wanted unless it was something specific.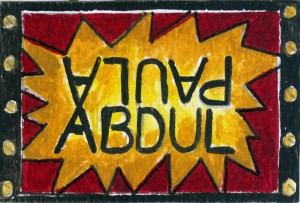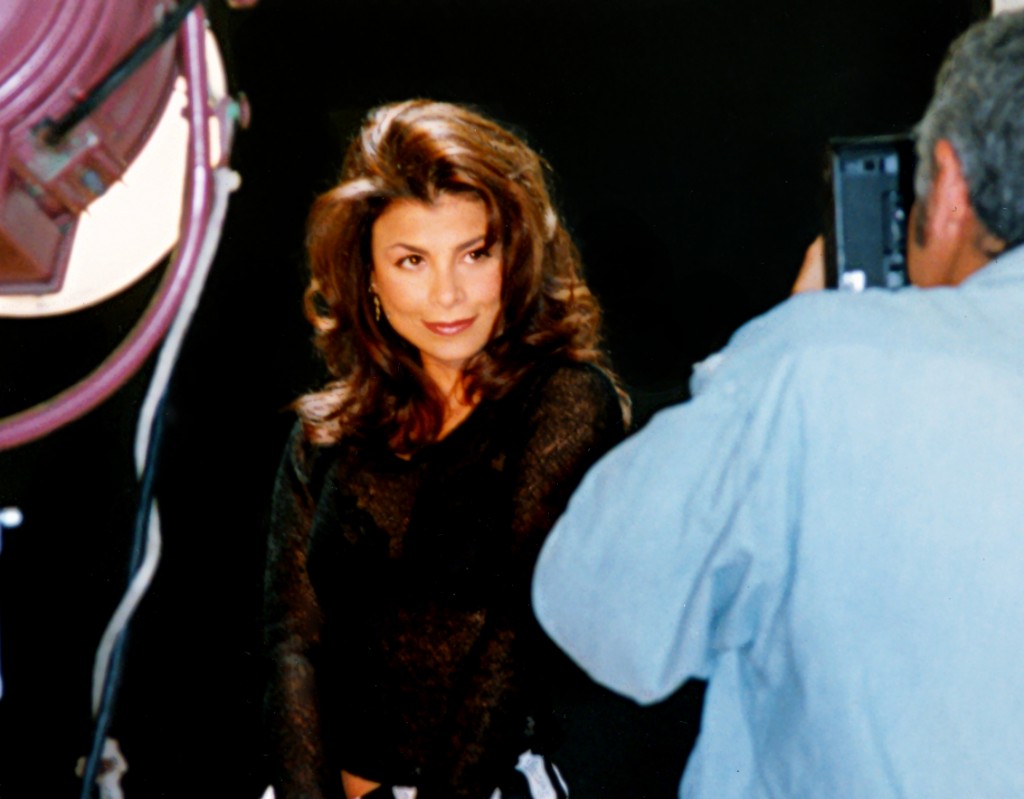 I made this picture of her while she was being photographed for a Spanish Magazine, she knows how to pose very well, no wonder, as she is such a far-out dancer.. I think modeling has something to do with dancing in the sense that in both cases you are conscious and controlling your body to get a certain result.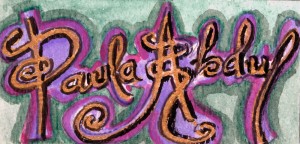 But.. after the excitement came the disappointment because Paula never went on that world tour and so they did not need me anymore. It had been a wonderful one and a half year and am glad I met her but it was time again to look for new horizons…..
Don't forget to look up Alegria's blog to see what Salvador is creating,!
 LOVE and 
PEACE