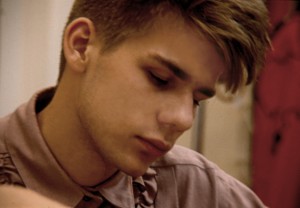 ALEJANDRO in the 80-tiesThis post I like to write about Alejandro van Rooy, our son, who was born in Canada and traveled with us all over the world and lived in many different places. He now lives and works as a designer in Madrid (Spain), but in the 80-ties when we had our shoe factory, Alejandro came to work with us. He liked it and was very good at it, learned all the aspects of making a shoe and was for me a great inspiration and a wonderful help. It was very important for me to have someone around who immediately understood and had the flair to come up with solutions. Being a great designer himself, he designed several models of shoes under my name and at a point even had a small line of his own … His ideas are always way ahead but yet so classic, nothing like my baroque designs, he is rather a minimalist but very definite Alejandro, which is classic with a  twist. When he was little he drew already so well, whole stories with incredible details and plenty of things happening, he loved to read dictionaries and could make maps of any country in detail when he was only like 8. In other words a funny boy with lots of talent for drawing and designing. When he was 17 and tired of going to school he came to work with us in the shoe factory in Elda and later moved to Madrid to take care of the shop, together with Taria, and would come over to Elda some weekends. In the end we all moved to Madrid and instead of having to take the train from Elda to Madrid and back, we now took the train from  Madrid to Elda and back when it was necessary.
Alejandro also took very nice pictures of Alegria and of me and of the shoes and plenty of drawings……      so let me show you some of his work…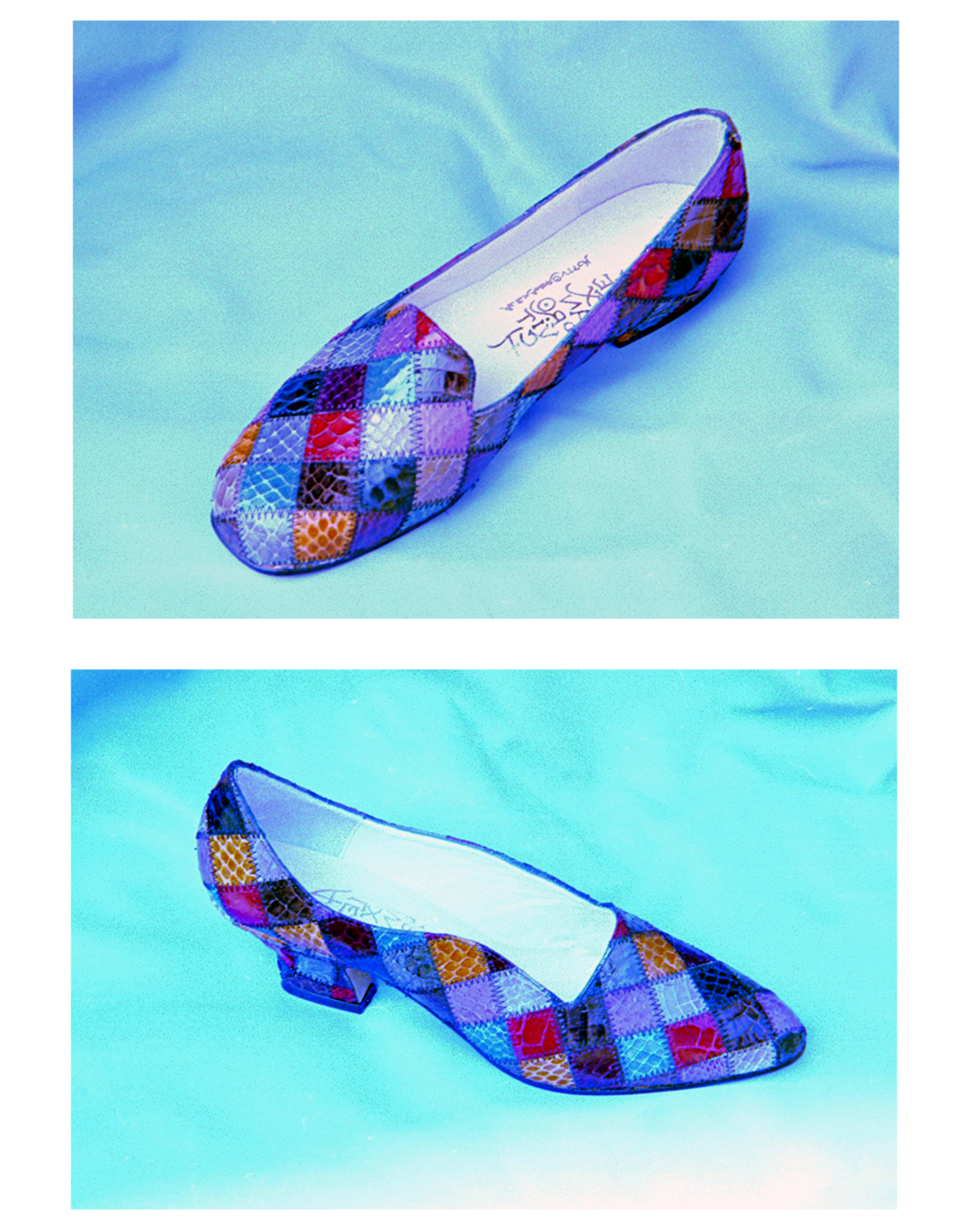 here he uses his own logo "Alexandrovitch"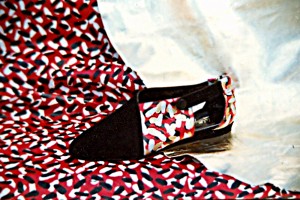 This was the first shoe he designed (1983) and we produced. The model was called "Alejandro " and sold well.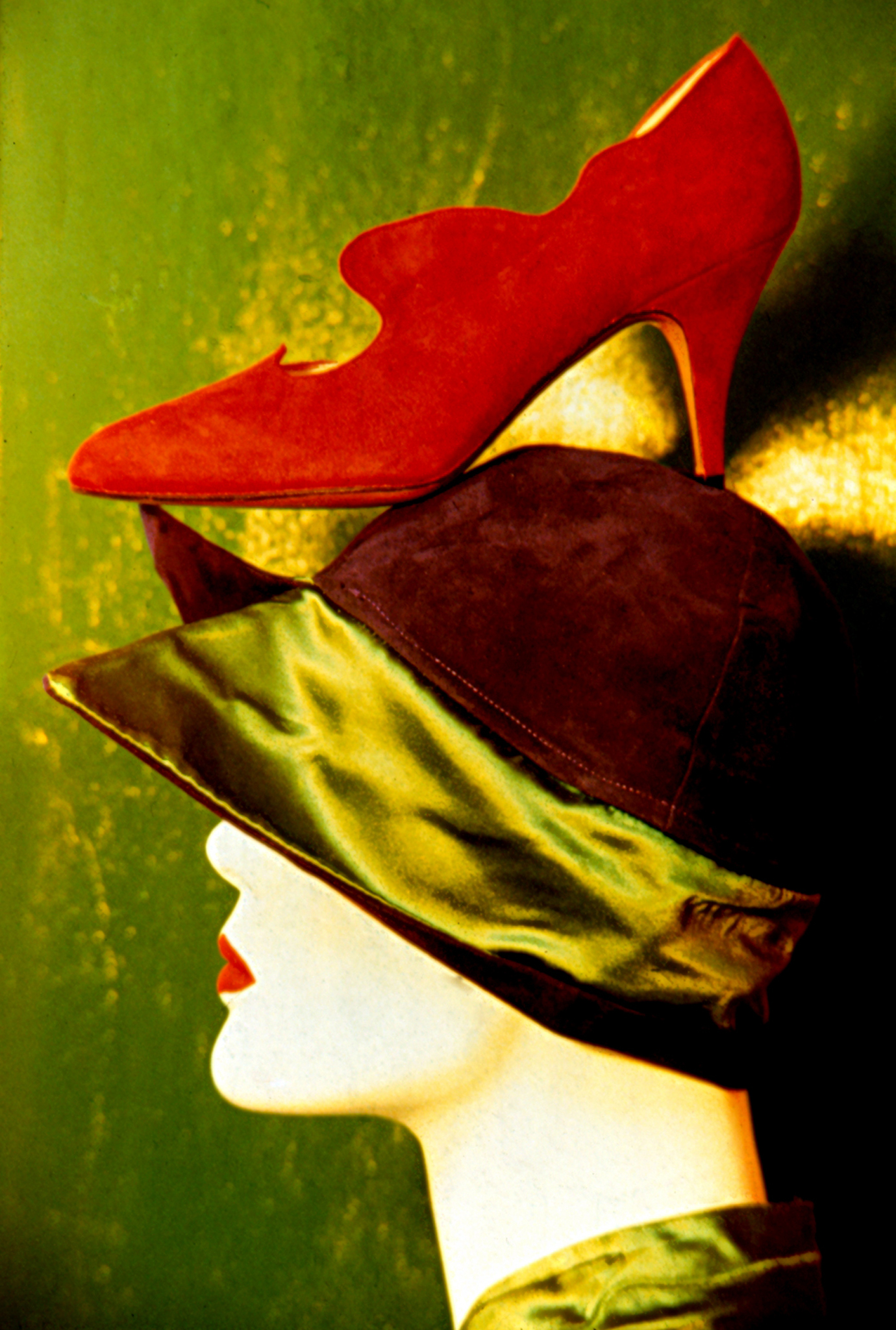 The shoe is a design by Alejandro as well as the picture. Here he photographed his shoe on the head of the display doll they made of me, (I made the hat). This picture was published in a book about shoes " Haute pointure" by Colin Mc Dowell.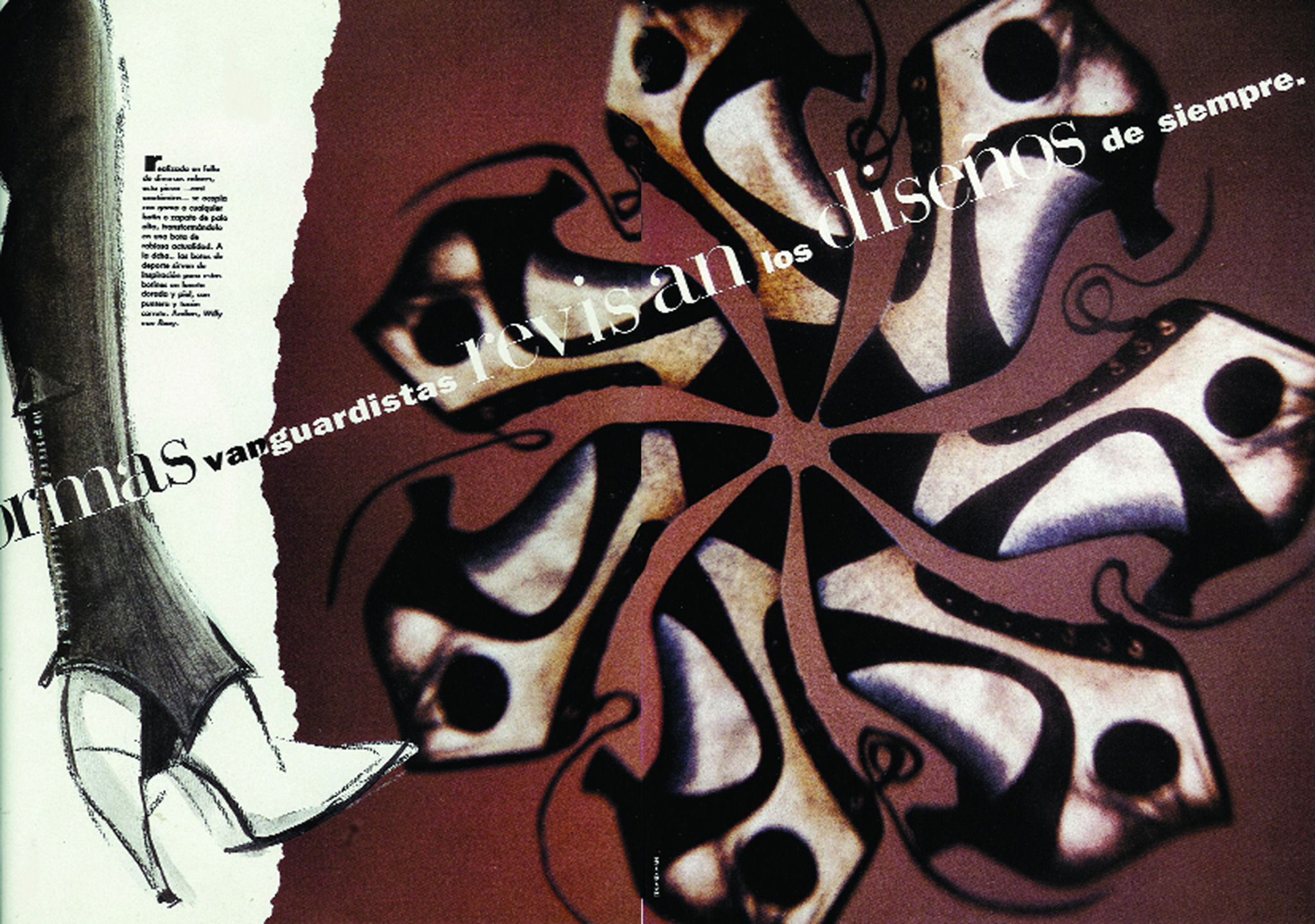 this is a double page in the Spanish Vogue with a booty of golden linen with black suede decorations that is a design by Alejandro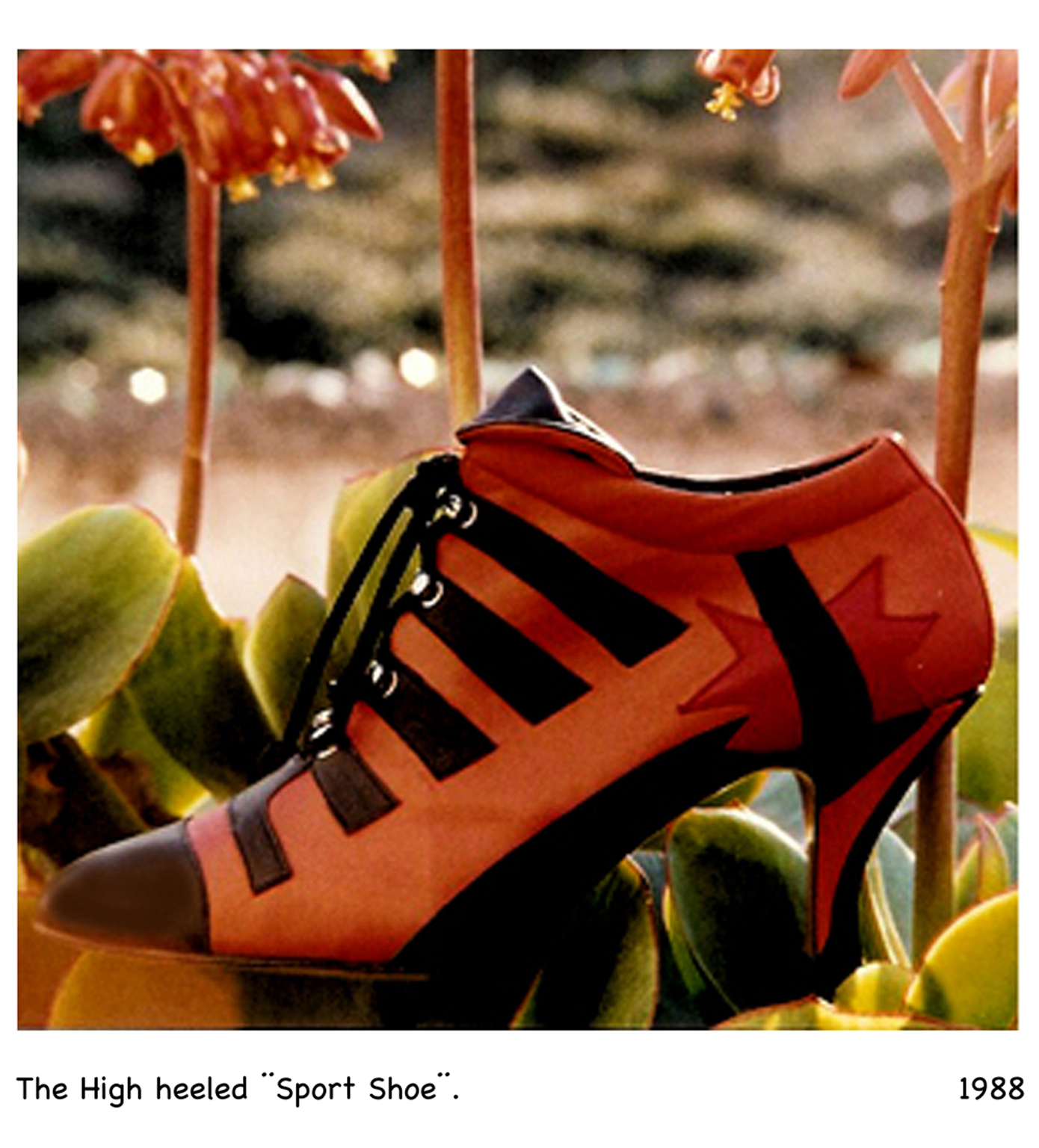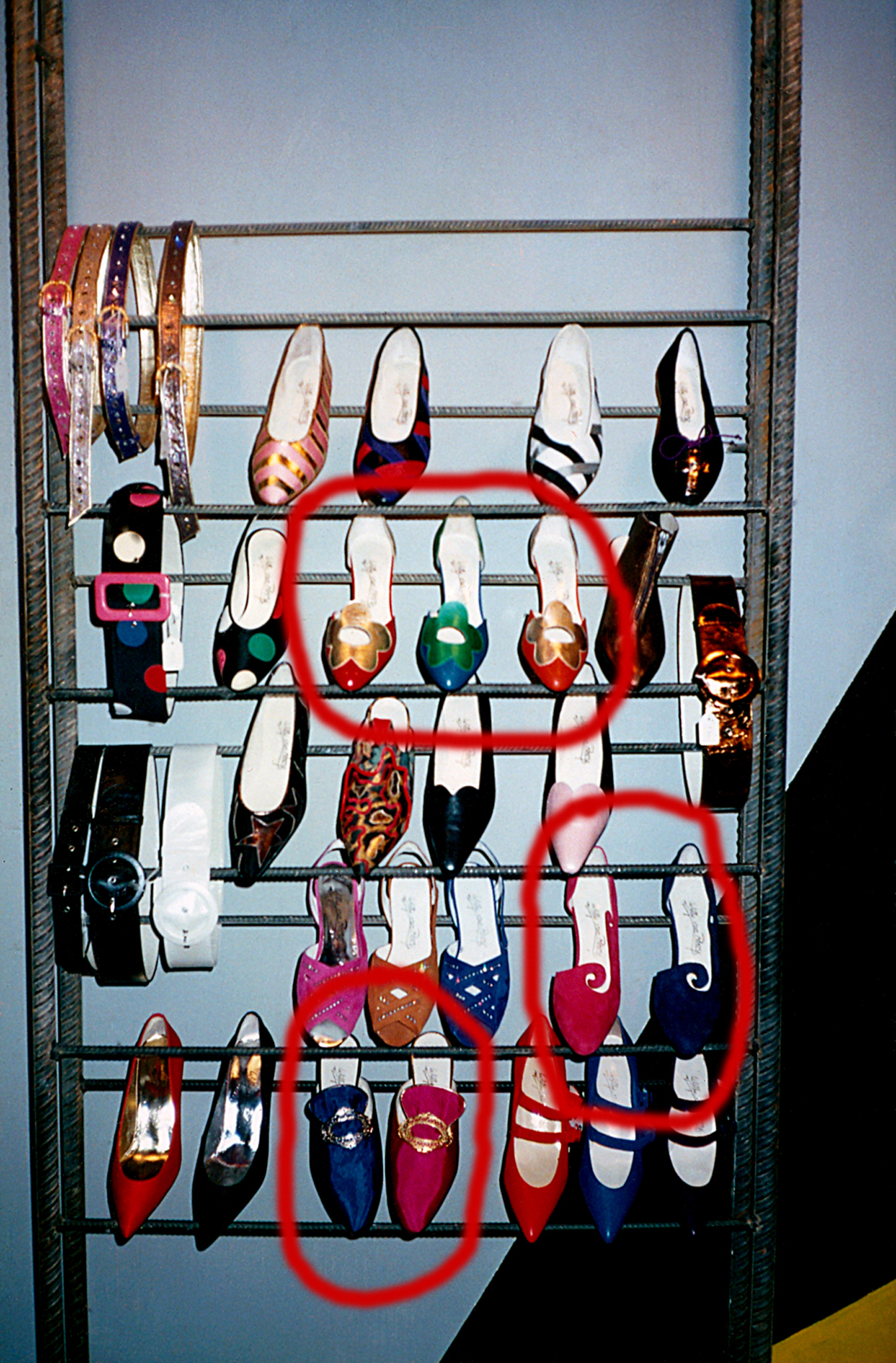 The shoes with the red line around them are designs by Alejandro, they were very successful….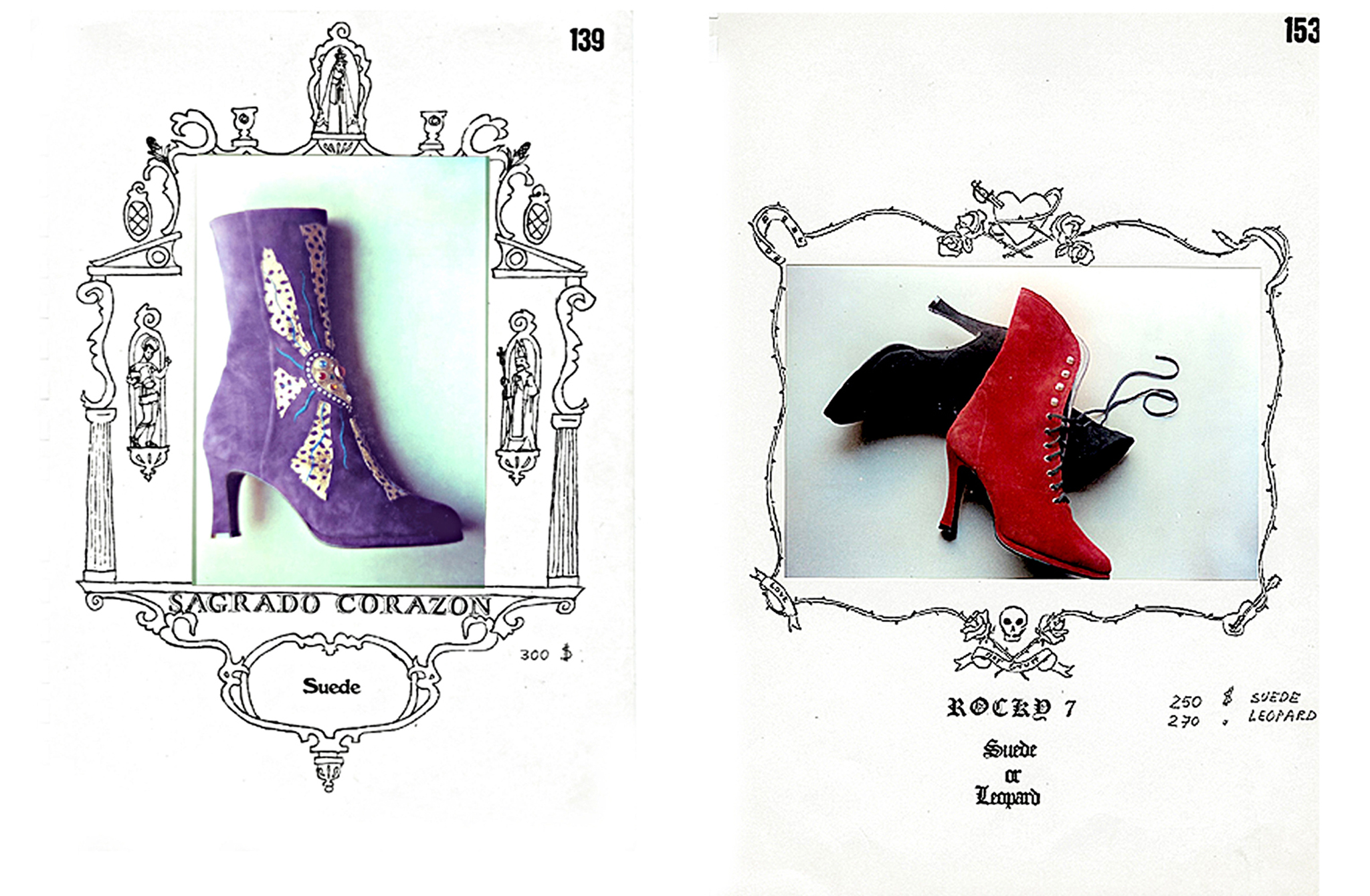 Alejandro made the most wonderful color sample books for us…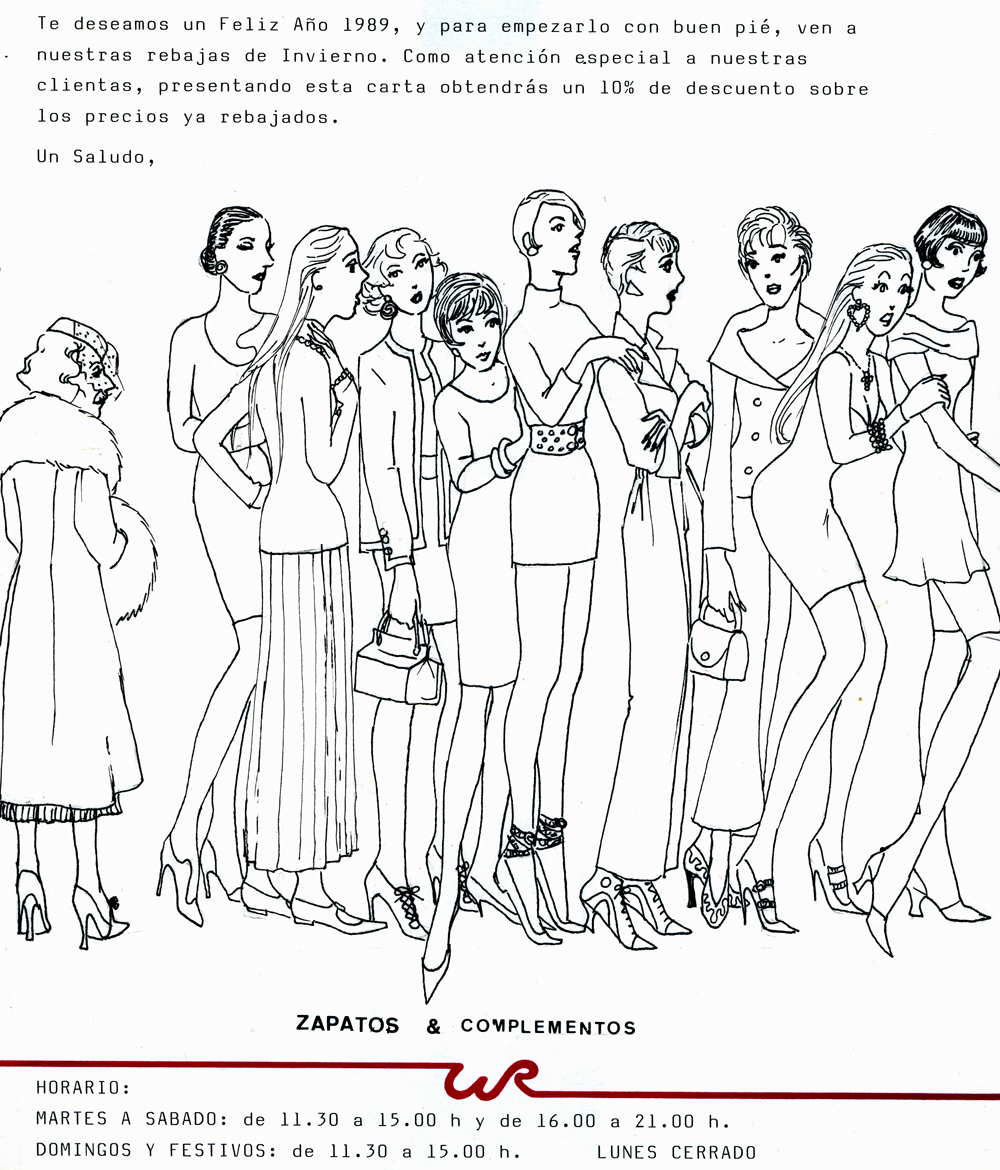 … or this funny invitation for our sales in the store… all the girls wearing our shoes and bags…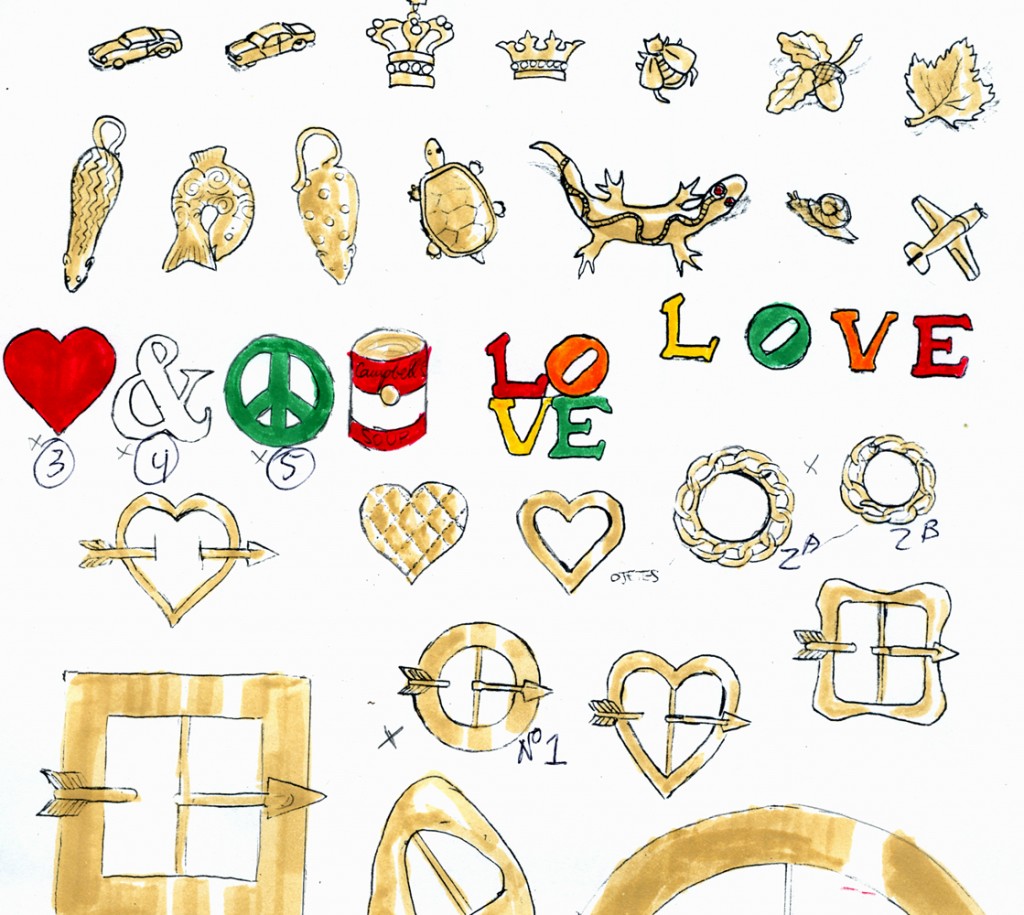 … his designs for buckles and studs…
his always very elegant designs…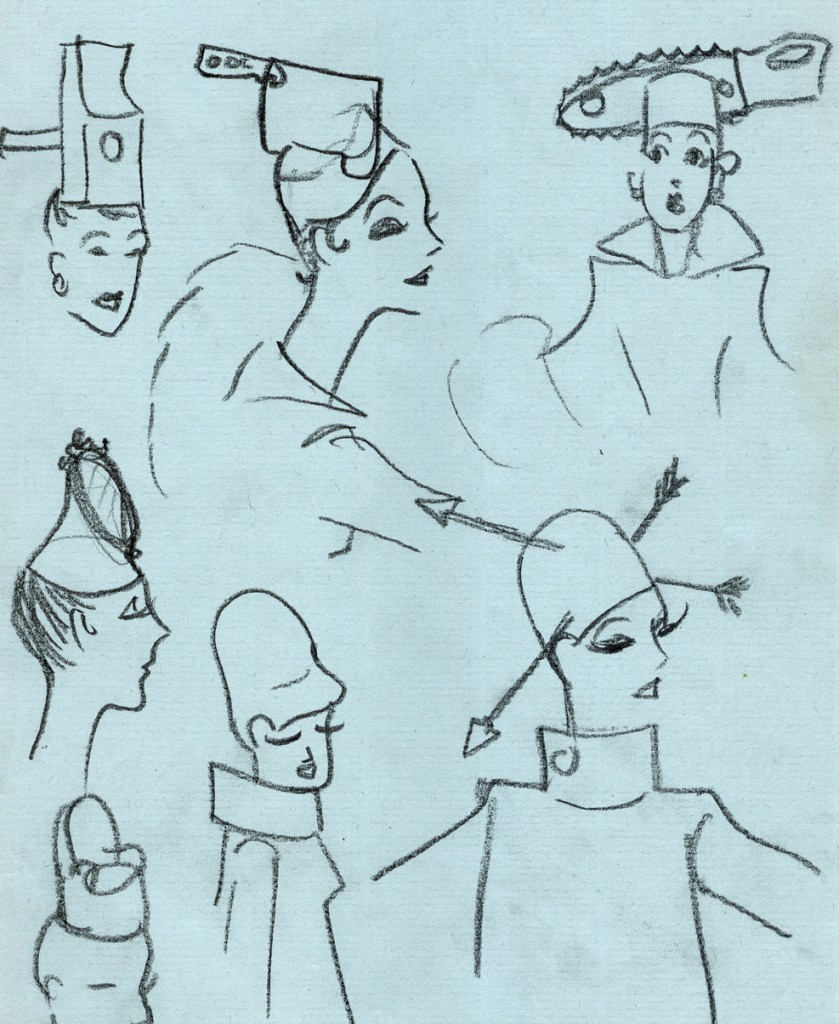 with lots of humor….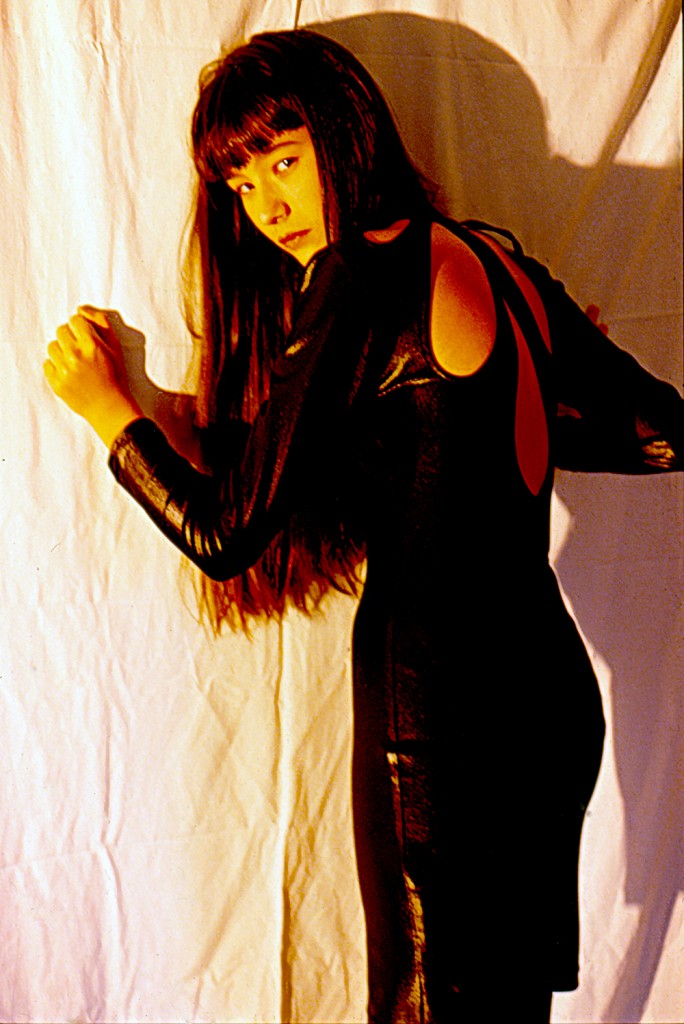 Photographing his sister Alegria  1991?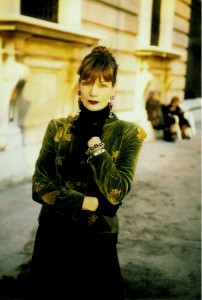 or me, here in Madrid showing my "leaves" jacket…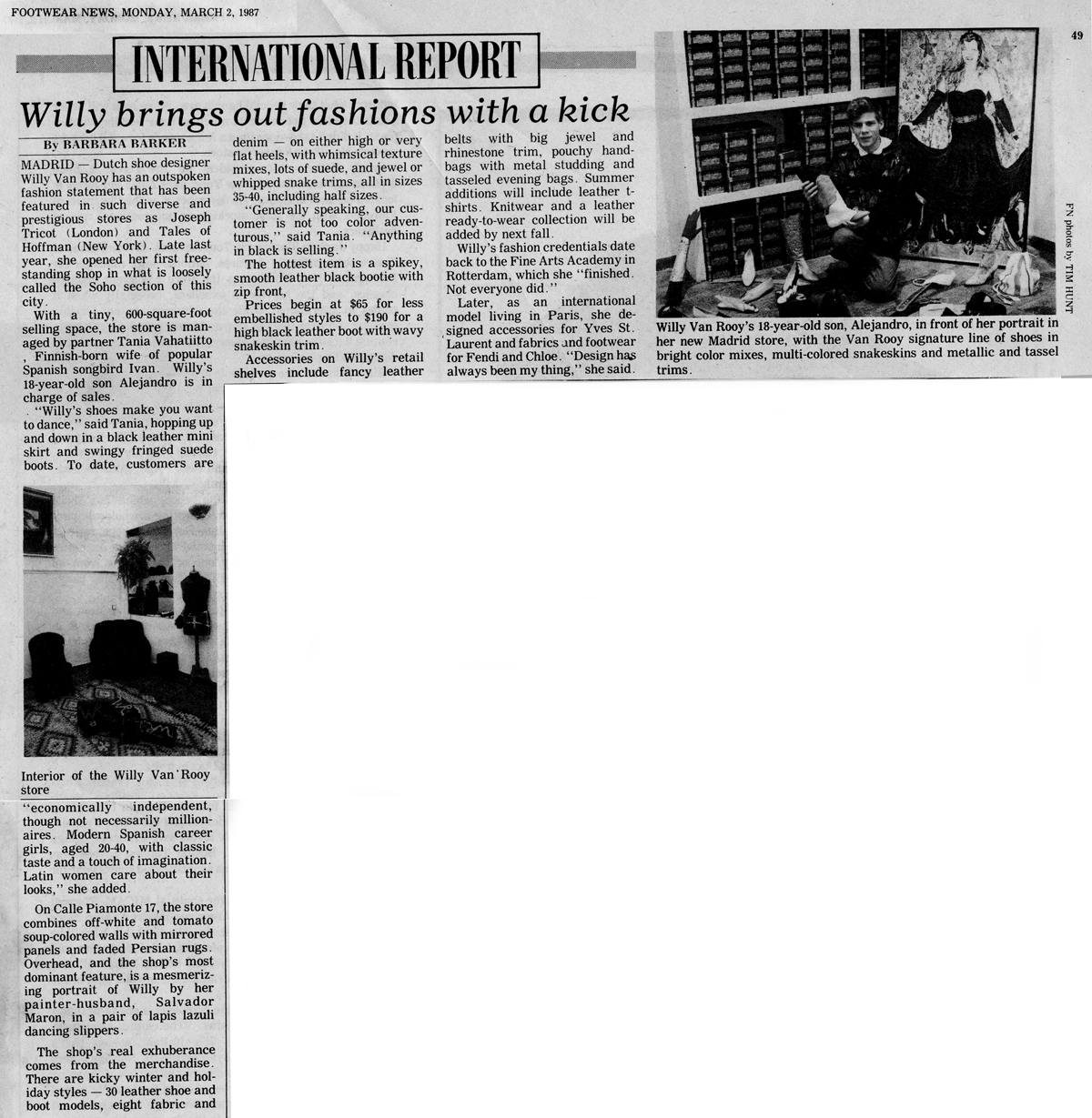 …working in the shop….
and here you can read a great interview of Alejandro by Raquel Cristobal (Gratis Total)
… and have a look at his blog, The Pilgrim or see more of his illustrations:
well friends, next time we go on where we left off in Madrid,
LOVE and PEACE