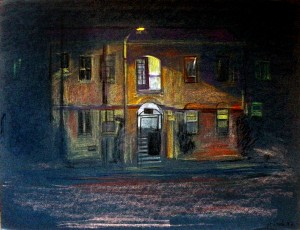 Salvador made this drawing of this hotel or drug house opposite our house…
Moving downtown , the Adams district, was quite an experience, Now 16 years later it has become sort of  fashionable for Artist and Architects.  It was already starting then,the owners of the house we rented were architects. The houses are beautiful with all wooden floors and stairs and some with walls with original paintings from the early twenties or even before. The house we found was all completely restored with original lamps and so on but a super modern kitchen. Lots of space to work, a garden with a fig tree that gave the best figs we ever tasted. We had heard how rough it could be around there because of heavy drugs and nut cakes, which was quite true. We discovered the house had some bullet holes in the front window and everything around the neighborhood looked quite suspicious to our eyes. The first night we were going to sleep there we came home late because we had gone to dinner with friends and this was the first time we were there at night. When we got out of the car we heard a fight starting really nearby , screams and curses and soon sirens and we got really nervous and Salvador who was trying to open the door…. but it would not go and because it was dark, no light around, he could not find where to put that key… it was scary but of course also very funny and once in the house we laughed a lot about it. I could fill pages and pages with the stories of that place and surroundings but let me say just this, once we got to know the people around, although all were cases, we became  friendly with some of them and I must say we were very respected and never bothered even that we often had the front door unlocked. Now, it became very different when we moved out… We had hidden the key for the owners but they called us the next day that everything in the house was gone! No broken locks but all, including heavy new fridge, washer and dryer and an incredible old fashioned enormous heavy stove, the antique lamps and pieces of furniture had gone, everything! We felt terrible and realized we had been closely watched and once we moved…. they must have been very organized to pull that off…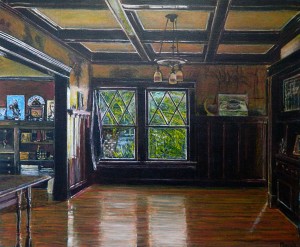 This was the dining room and to the left my office, painting by Salvador Maron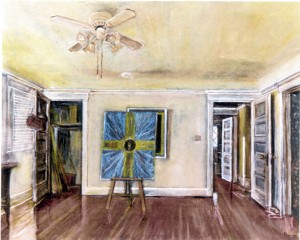 Painting of Salvador's studio by Salvador
While living there I started to work for BCBGas the brother of the owner was someone we knew and offered me the job to design accessories for them. At first I could work at home and loved it but later they wanted me to be there every day and I had to drive to down- down town industrial area, what a traffic…  in the heat in my old big Buick….
 I made lots of designs for hand bags and shoes….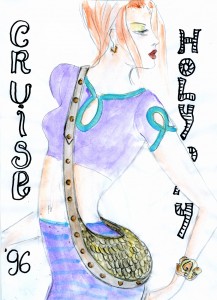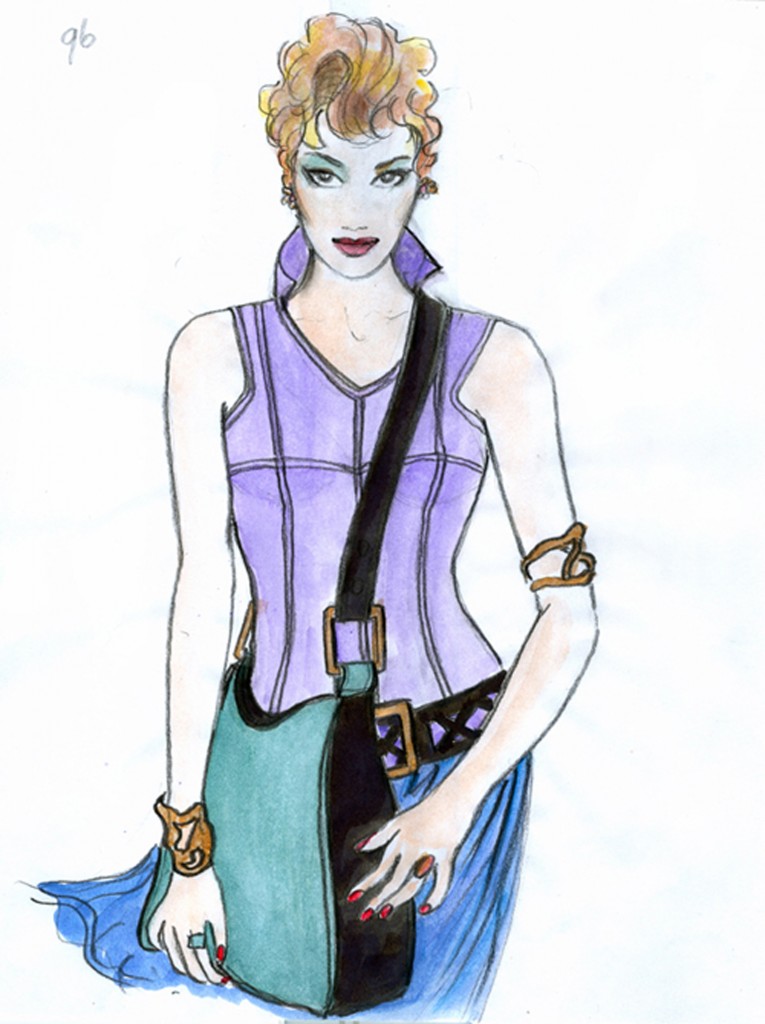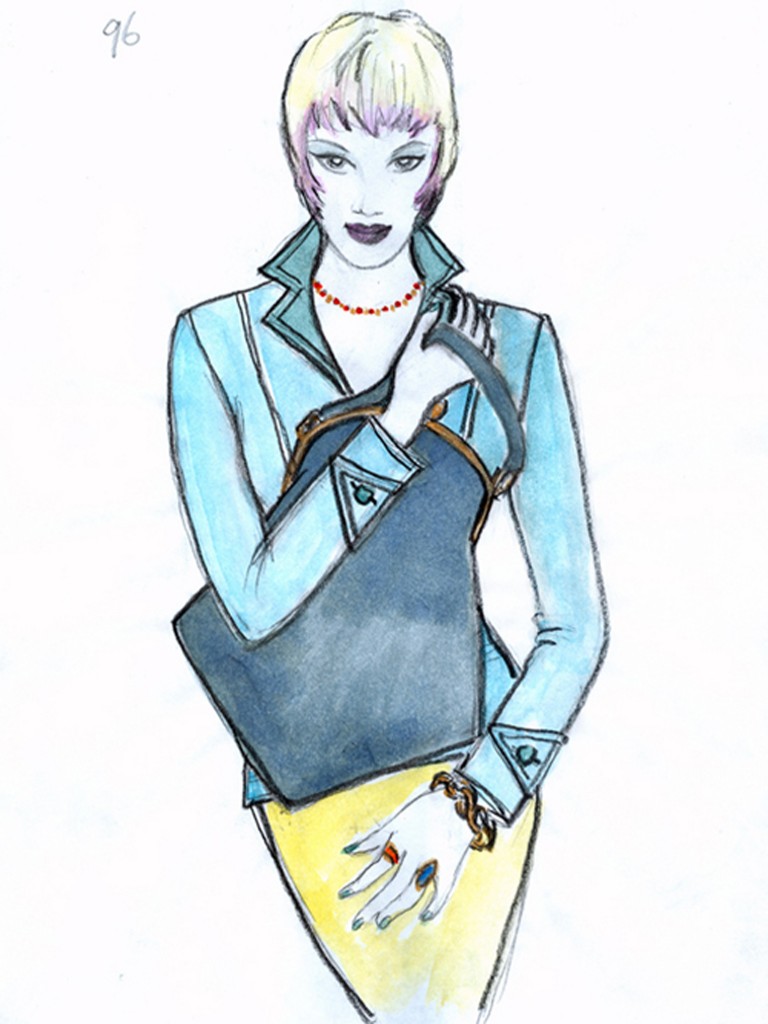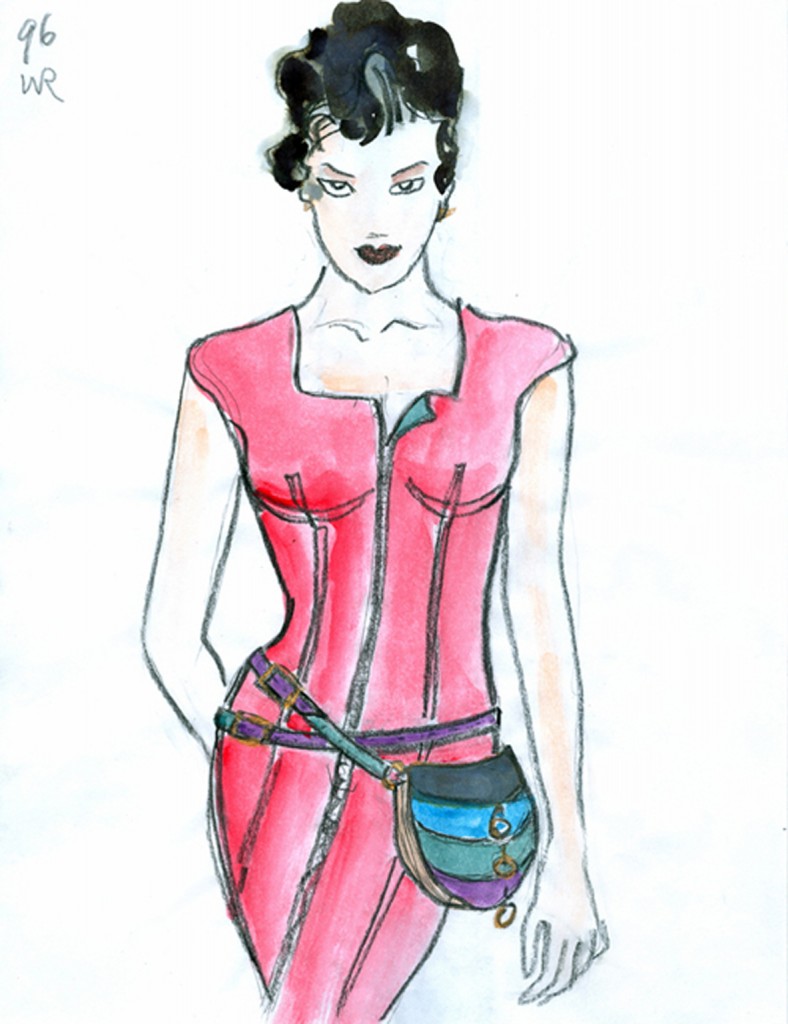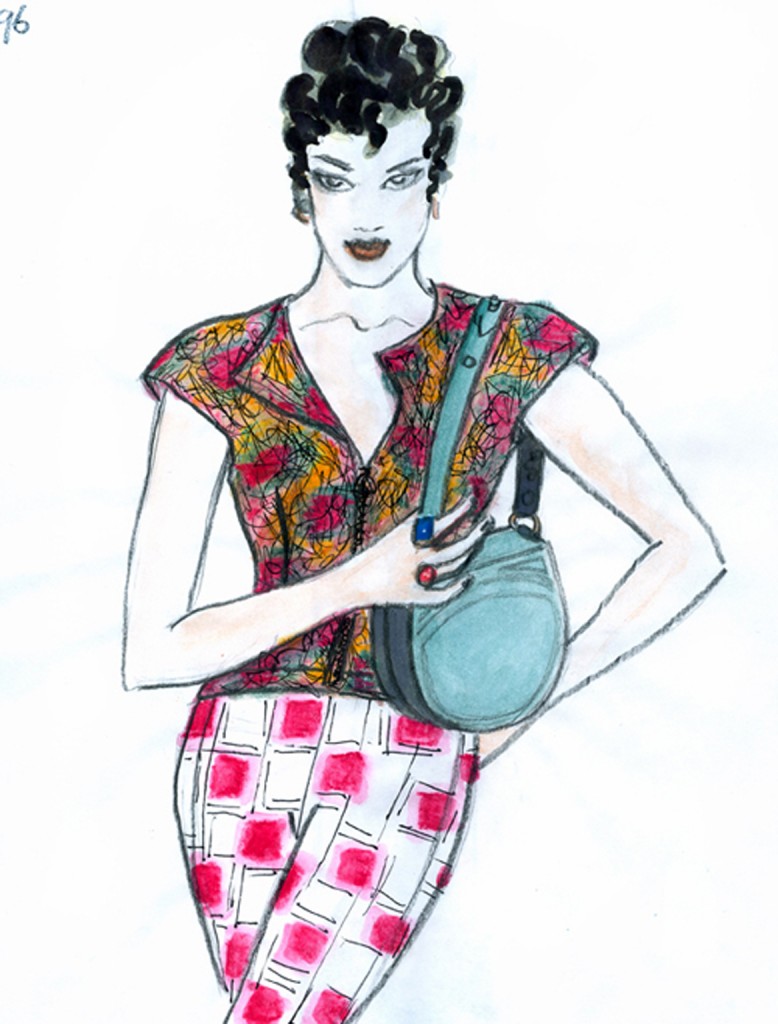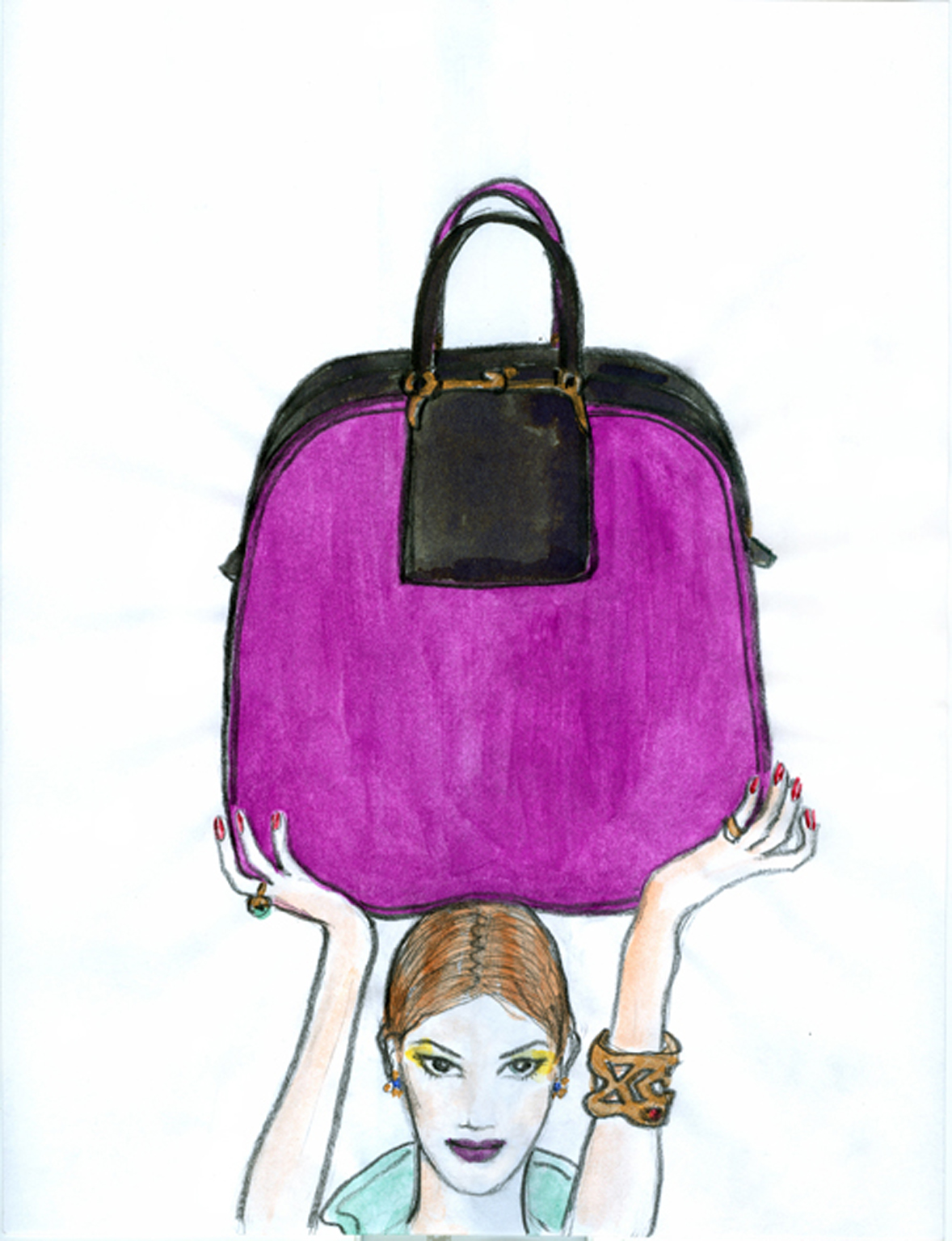 could not help to design besides the bags also the clothes and jewelry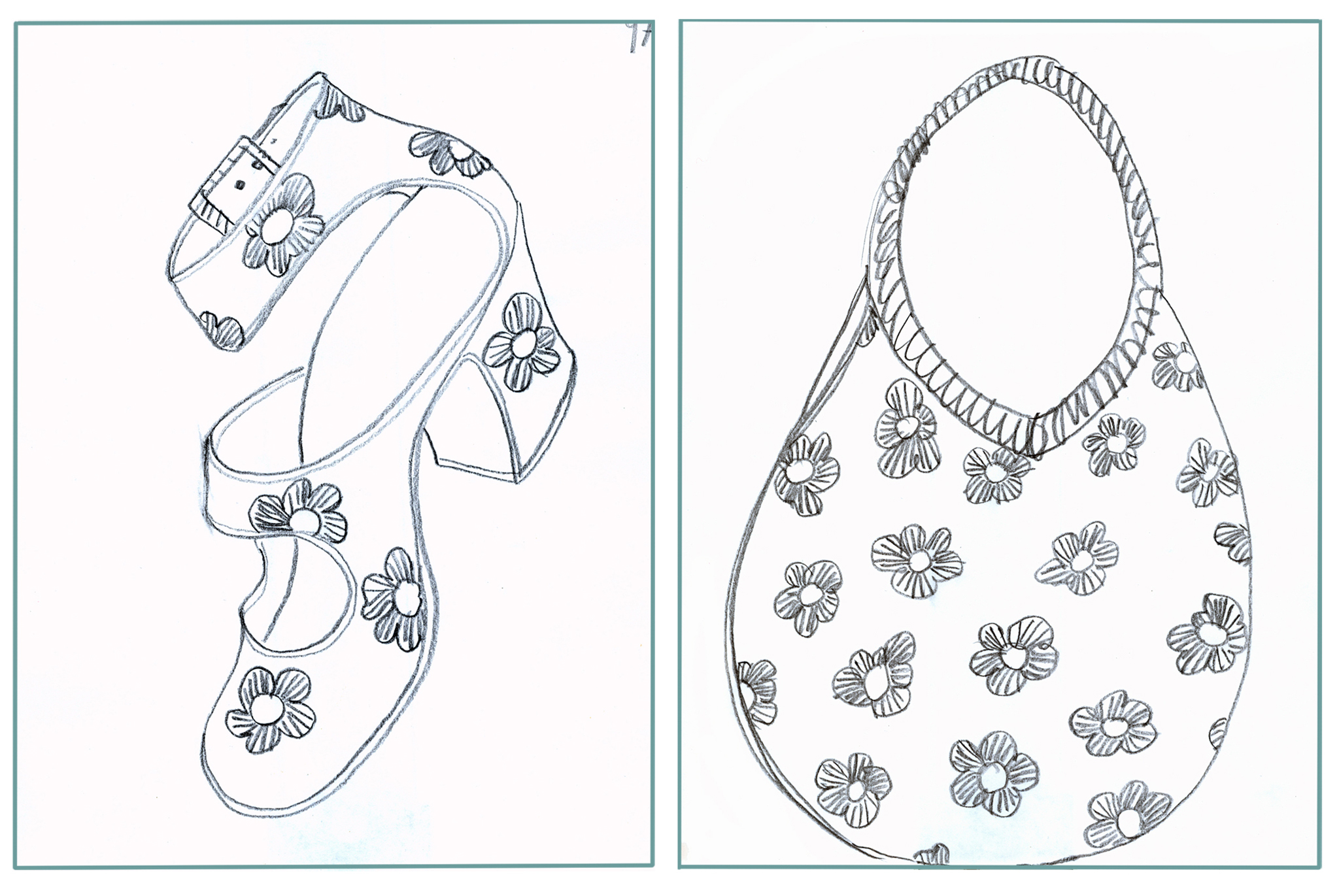 these are only some of them, I made hundreds but at a point they wanted me to work in the main building in industrial down-town. The way to get there was hellish, so much traffic that it took me more or less an hour to get there, ( I don't even know how I made it in that big Buick in the heat and the bad driver I am) and the same to get back both in the rush hour. They had me do different things there but mostly they wanted me to interpret Dolce & Gabana or Prada or Gucci hand bags as soon as the new collections came out, the same day, the same hour.. It was not really my thing and I gave up after a few months.
Then came the time Salvador wanted to go to Canary Islands because his mother was not well, I stayed a few more months with Alegria who had her own apartment now and then I followed Salvador to Spain…
Like always I did make some pictures…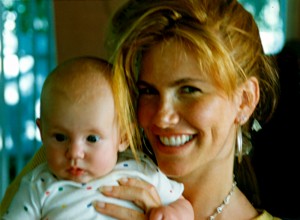 the actress Tawny Kitaen with her baby L.A. 1993, she liked my shoes.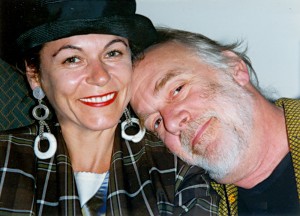 Actor Howard Hesseman with his wife Caroline, Salvador made 2 portraits of her, 1 of her face and 1 of her legs because they were very pretty…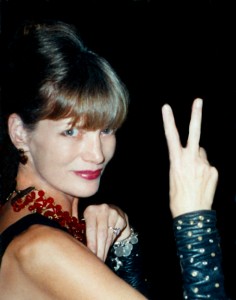 LOVE and PEACE