There I was taking off from Parati to Los Angeles, alone! Lucky for me the friend of Michael was at the airport, a beautiful young African American women who greeted me warmly and took me to her home. It was already night but the mother was waiting for us and they gave me one of the small rooms with a big TV, I had not seen TV in ages and that's what I mostly did in the following days, never went outside but took a peek once and saw as far as I could see small grey houses all the same. The mother and the  daughter were both so kind and took very good care of me but after about a week it became obvious I could not stay, the neighbors were getting curious. This was back in 68 and things were very different then, this was a neighbor hood with only African American people and it was probably a very strange thing for the mother to have me there, she probably was afraid the neighbors would talk, she said something to that effect, I don't know but had to go. So this wonderful girl, forgive me I forgot her name, wish I knew and I would look for her and thank her again, she was a special lady, took me to a friend of hers. It was my first time in Los Angeles and there I was, all alone longing for Salvador who was hanging out of a helicopter taking pictures of the Amazon River, no way for contact. No money and a total stranger in this big busy city. OK, first thing was to get some money and it was then I realized I had lost my little bankbook but lucky I still had some incredible beautiful amber beads from Morocco so I went to look for a boutique in Beverly Hills to buy them from me. This is funny because about 25 years later I met this woman and she remembered me coming to the store where she was then working and she did buy my beads, I mean…  The friend I now was introduced to was a woman painter ( paintress)? and she was again one of this wonderful persons that took complete care of me and I would just love to know where she is and who she is, never can thank them enough, in all my loneliness and precarious situation she made me happy and grateful. But then again I did not want to overstay and was a bit afraid to have the baby, which was due very soon, I did not know how soon because I had not been to a doctor once, but soon for sure.  In the end I decided to go to Vancouver where my 2 sisters were living, I would be safe with them. So I bought a ticket with the money of the beads and went to Canada. Lucky enough because I got all the care one needs, doctors, hospital and all the rest and there he was… our Alejandro.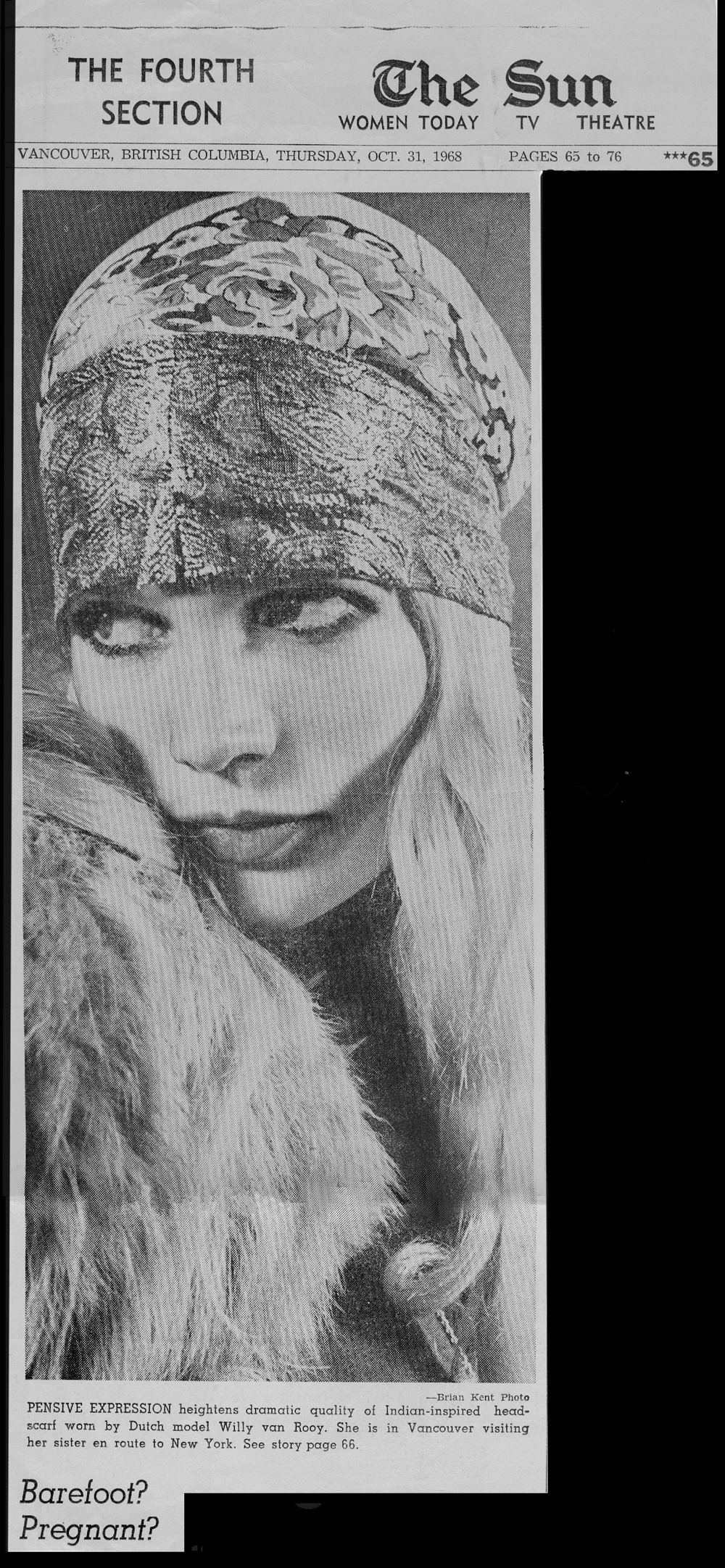 This came out in the Vancouver paper, one of the few pictures of that time.
Was great to be with my sisters who took very good care of me but my heart was crazy to be with Salvador who was now on his way to NY. via Miami and when we could get it together on either side, we would meet in LA. At least we were in contact and soon enough I set off for LA again and there he was, now sharing the beauty of our baby and of our love.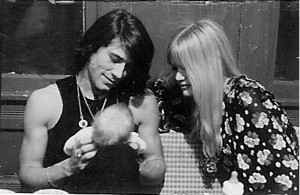 Tried to work but there was only one agency: Wilhelmina, they told me they worked mainly in NY and that's where I should go. We somehow got the money together to go to NY where I contacted Eileen Ford (big time American model agency) and from there on things got easier. I had met Eileen before when she came to Europe to look for models and she had asked me to come to NY and I had been in NY before when David Bailey took me to introduce me to American Vogue. Bailey was with Catherine Denueve and I was invited to stay with the Fords, who were very entertaining. There were several models staying there but I only remember Maud Adams vividly because she was so kind and always smiling. Well, I ended up with one picture in American Vogue,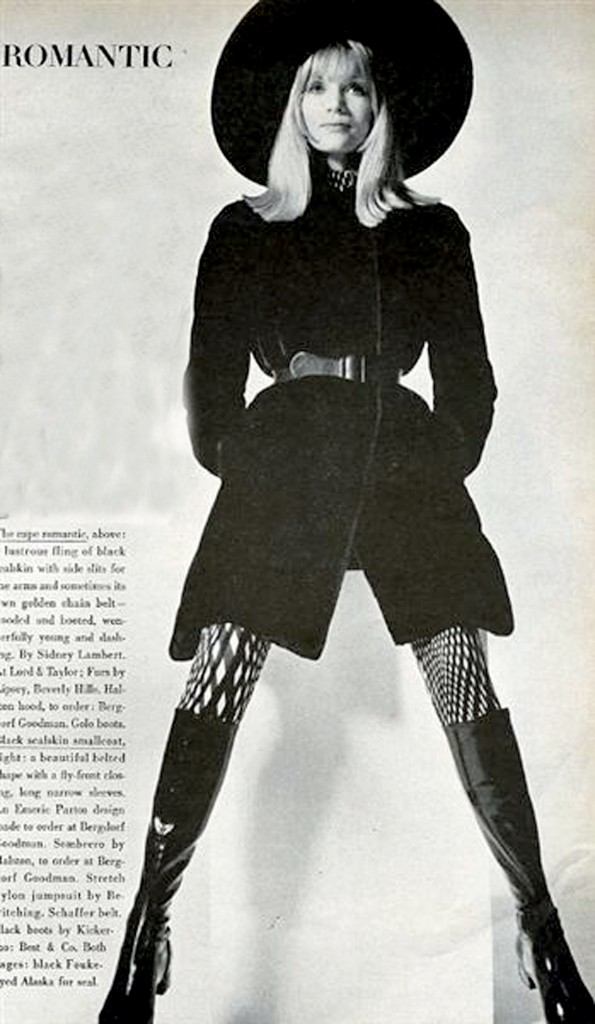 I was hanging out in the studio for 2 days where Bailey was photographing Lauren Hutton and I was so impressed with the way and easiness she moved and on top of that she was super kind and nice to me, another great lady. I somehow missed the boat then because I was invited by Diane Vreeland to come and see her, she was the empress of Fashion and very funny, had me turn and pose for her and then send me to the studio of Richard Avedon. Now, believe it or not but I was very shy and did not put my foot in the door so when I rang the bell to his studio some assistant opened the door and I said I came to see Mr. Avedon and he asked me if I had pictures and I said no, that was stupid of me not to take my book from London, what was I thinking? so He said well Mr. Avedon is very busy and has no time and closed the door before I could say that Diane Vreeland had sent me, because that opens all the doors.
Anyway this was the second time to come to the Big Apple and we were to stay for a while……