Lets go Photoshopping, I am a photoshopaholic…..


Isn't this amazing? Salvador found this piece of hardware here on the farm and noticed the face so we took a picture which I then took to the photoshop, put the picture straight and gave with the darkening brush a little touch to accentuate the nose and a little stroke on the left of the mouth. Only so lightly, the strength at 14. Next thing is to play with the levels, here of course I made it darker, took it then to the colour enhancer and the face came leaping out. Fun he? Like that, one can see images everywhere really, we always see some incredible faces in the branches and leaves of trees or the clouds, free for everyone to look at, forever changing into incredible patterns and stories. Children take the time if you make them attend to it but in general mostly everybody is too busy to see.
There are so many possibilities with the photoshop but you need time a little imagination or talent and patience.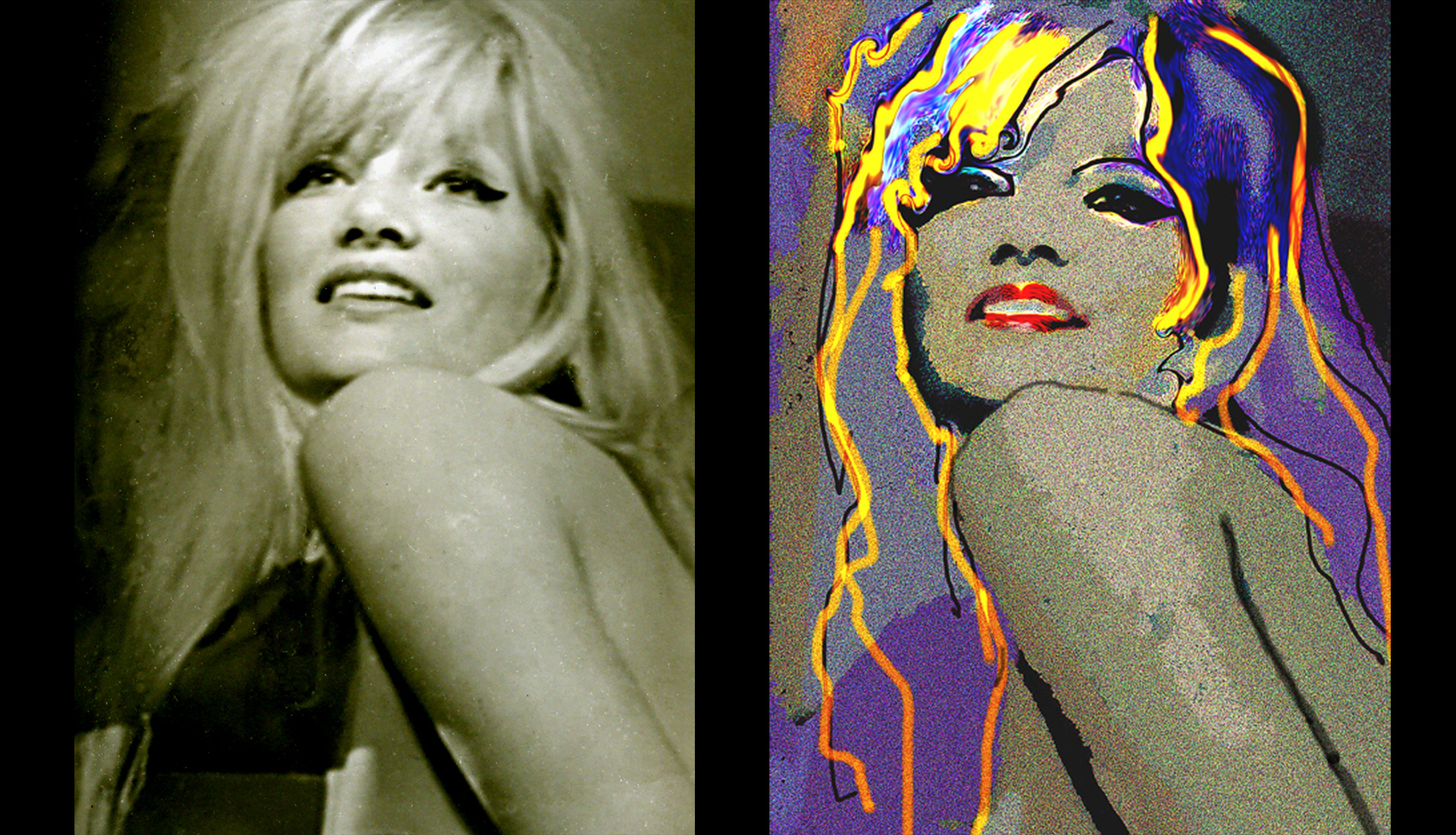 This kind of thing is quiet simple, just play for a while with the possibilities you can find and off you go. The real picture here was more difficult to retouch because it was very damaged by time and since I had printed it myself it was not well fixed so it got discoloured spots on it. I learned photography from this particular photographer who clicked this picture, I did the styling and setting up and later did the whole darkroom thing. When I was coming out of school one day, I was about 19 and went to the Academie of Fine Arts, and was looking in the window of this Photoshop, when a little skinny, in my mind then, old man came out and asked me very nervously if he could make my portrait to put in the window and I thought it was funny and agreed so he started putting green lights and blue lights in my face, changing lamps and spots here and there and finally made some pictures with that big Camera with plates. About a week later when I passed I saw my picture in the window, an artistic shot full of colours, well, this is 50 years ago so it was different, I liked it and later I went several times with a girlfriend and had him make very funny shots of us which I would style and direct, his name was van Buren. On my afternoons off he would teach me the darkroom because I wanted to work the pictures myself. It was great fun, this wonderful moment when the picture is in the liquid and it slowly comes up…  I have had a variation of darkrooms in bathrooms and closets and even a very real one not long ago in Amsterdam. Love making pictures and now with the photoshop almost all pictures can be made to look good. Not professional, that is something else but at least the people who do have a feeling for it, can go ahead.
For some things you need the real Photoshop (Adobe), I have an 8 but there is already a 12, they are getting more and more sophisticated. Here I used the Filter in the galleries of Filters and then "Style", just some click, click, click…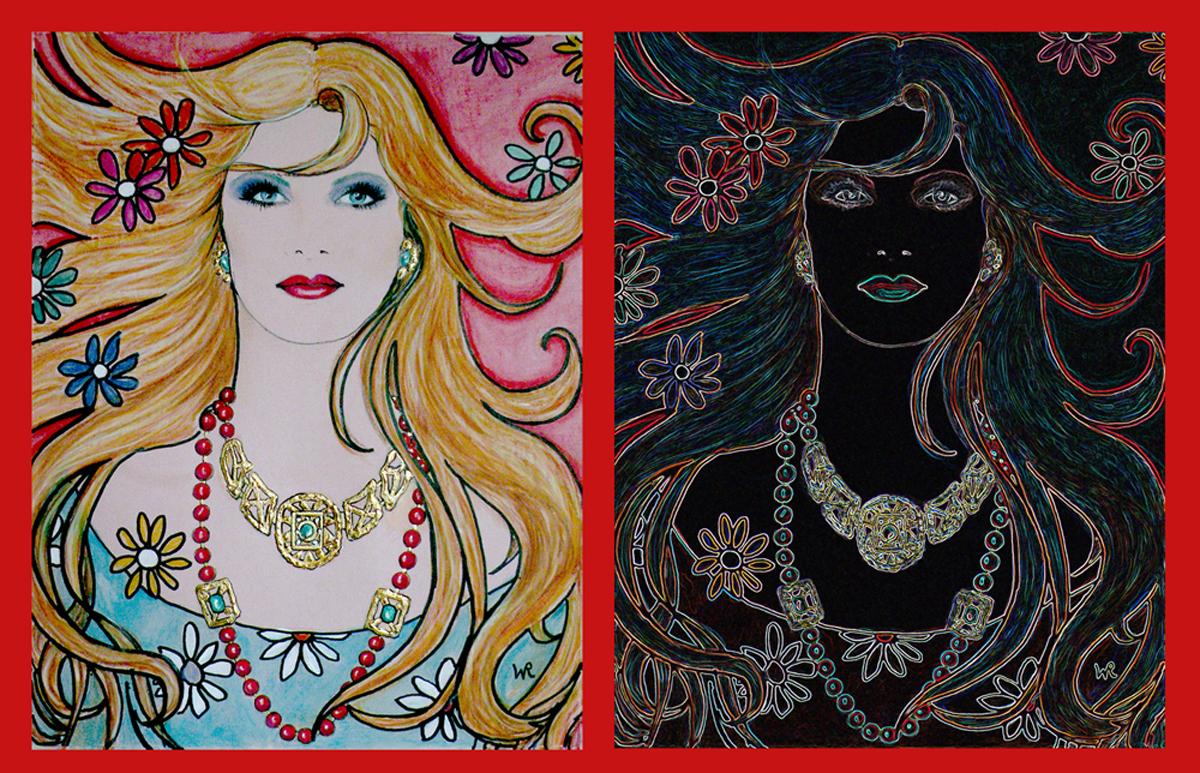 then there is this, restoring the whole thing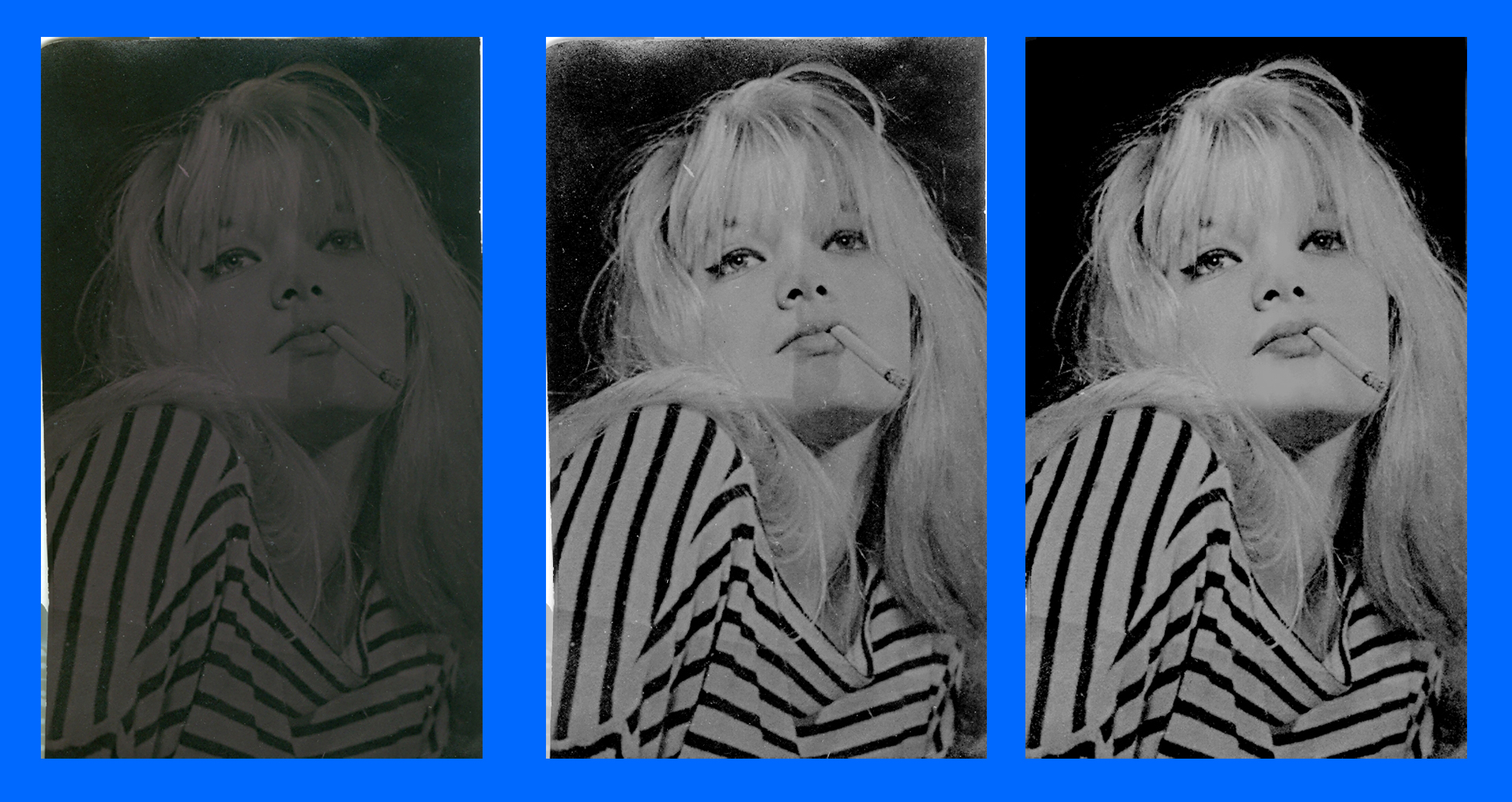 This is more precise and you do need patience here and it could have been even better but it really does take time, this already took me an hour!
Then I love to close up! Remember the movie "Blow-up" by Antonioni? With Verushka and David Hemmings.. ( if you did not see it, have a go) sometimes you see things in close up that you did not even see, like in the movie. Well the other day in the car on our way to Sherwood where we do our shopping, we saw in a field about a million birds and for some reason they all flew up and it was a cloud of birds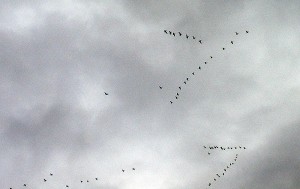 so I tried to get my camera out of my bag and open her and quick, quick, but too late… the birds had flown. I took a picture anyway from the car while we drove and when I closed up I saw that funny thing I had of course not noticed before and you probably also not, but one bird is flying the other way, like a general overlooking the army that is moving… Ha ha, are they not incredible? The birds I mean…